Ride Hard - Ride Long!
---
In case you did not hear I had a bad accident on my way home from the finish of the 2019 Iron Butt Rally. I was close to home when I came up on a construction area in a curve that had lose sand on top of asphalt. I slid and then high sided. Fortunately I was only going about 25 MPH but it still turned out to be a pretty bad accident. I was airlifted to the trauma center 90 miles away. I had a collapsed lung, 4 broken ribs, broken collarbone, broken shoulder bone and fracture of the L4 vertebra.
The accident was June 29, 2019 and it has taken 3 months to recovery from multiple surgeries and to be able to use my right arm. I returned to work September 23 and I am doing well now.
Below is a picture of my new Yamaha FJR motorcycle. I am working on farkling the hell out of this FJR.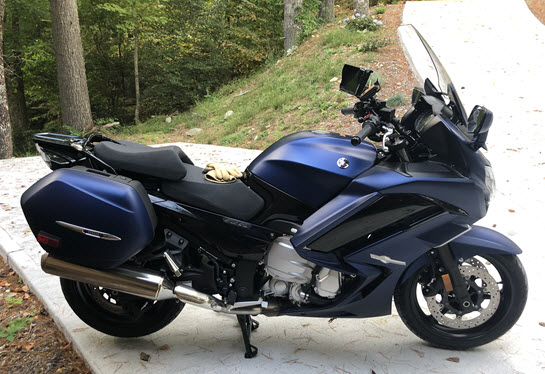 The BMW GSA was totaled because it flipped and the engine guard pushed into the engine case and cracked the engine housing. The engine alone cost $15,000!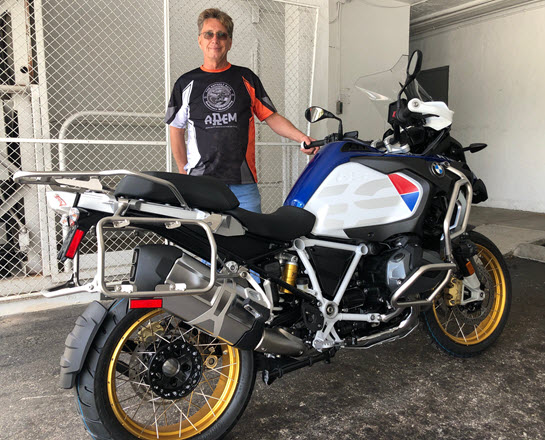 Taking delivery of my new 2019 BMW 1250 GSA HP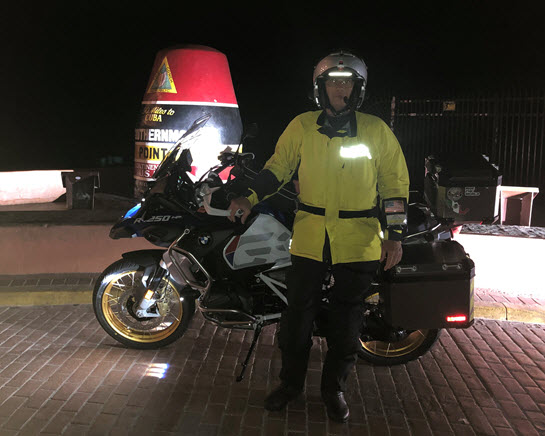 First Ride On BMW GSA - Southern Most Point - Key West
---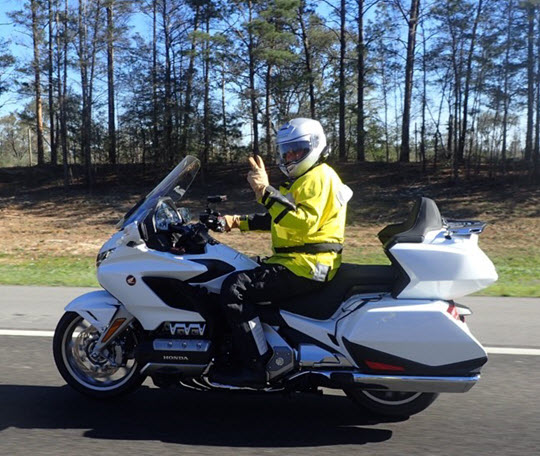 I sold my 2018 Honda Gold Wing After one year and 40,000 miles. I am moving to my new house in western North Carolina and I decided to go back to a BMW and I bought a 2019 BMW R1250 GSA as it is a better motorcycle for the mountain roads I will be riding.
---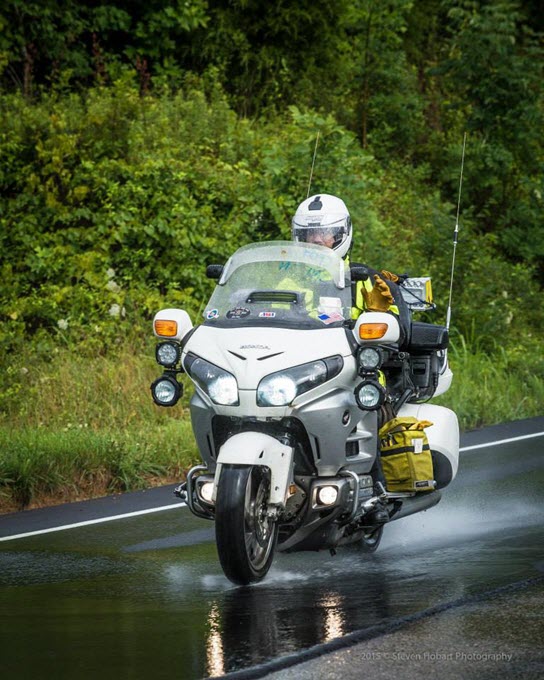 I sold my Gold Wing and for the first time in 14 years I do not own a Gold Wing. It feels funny after 500,000 miles but it was a move that I needed to do. We will see what Honda does in the future for the Gold Wing which will decide if I ever buy another Gold wing.
---
I am an avid motorcycle rider who likes to ride long distance and participate in endurance events. I enjoy riding and for me it is more the ride than the destination. For the last 12 years I have averaged around 45,000 miles a year riding all over the country, Canada and Alaska. I am involved in long distance endurance motorcycle riding and competing in endurance rally's like the Iron butt Rally across America. I have also traveled by motorcycle all over the USA and enjoy visiting new places when ever I can. You can view my "About Me" webpage to find out my professional and personal life. I have been riding motorcycles since the early 1970's and also rode with my father who was a Shriner and road HD Electra Glides in the Shriner parades. My first motorcycle was a Honda 500 Four and it was a hell of a motorcycle. I also owned a couple Triumph's back then that were a lot of maintenance. I started riding long distance on a Kawasaki KZ 650 when it was first introduced in 1976. It was a great motorcycle for its time. I bought one when they first came out in 1976 and rode it all over America. I used to ride from the Great Lakes Naval Base to Miami non-stop to visit family. Of course the reason I rode non-stop was out of necessity as I could not afford motels back then on a Navy enlisted man's salary.
---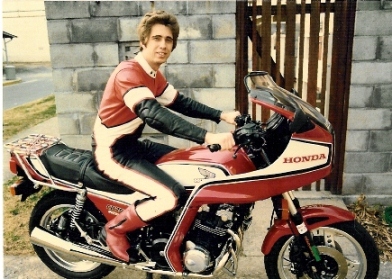 I got more serious into riding when I moved to Japan. I think that is when I really learned to ride motorcycles. I started riding dirt bikes along with high performance sport motorcycles like the Kawasaki Ninja and the Honda VFR. I had a couple 250 CC dirt bikes that were really fun to ride both in the dirt and on mountains roads. I learned to be more confident on the street after riding dirt bikes by becoming comfortable when the tires slide and how to crash. I used to tell people I drag my elbows not my knees on dirt bikes. I got more serious into riding when I moved to Japan. I think that is when I really learned to ride motorcycles. I started riding dirt bikes along with high performance sport motorcycles like the Kawasaki Ninja and the Honda VFR. I had a couple 250 CC dirt bikes that were really fun to ride both in the dirt and on mountains roads. I learned to be more confident on the street after riding dirt bikes by becoming comfortable when the tires slide and how to crash. I used to tell people I drag my elbows not my knees on dirt bikes. One the best motorcycles I owned while living in Japan was the Honda 750F Integra ( see above ). It looked a little like the Honda CBX as the fairing was very similar.
---
Check out my website as I have a lot of information related to long distance and rally riding. If you have any questions send me an email and I will be glad to answer any questions.
---
I really enjoy long distance endurance motorcycle riding and also competing in motorcycle endurance rally's. I have also completed over 30 Iron Butt Association ( IBA ) certified rides including 2 BBG Trifecta's. The BBG Trifecta is 3 BBG's back to back to back. A BBG is 1500+ miles in less than 24 hours. I am the only person who has completed 2 certified BBG Trifecta's in the world. Worldwide only 10 other riders have been able to complete this ride. I have also successfully completed 20 Bun Burner Gold's ( BBG's ). The BBG is ride of 1500+ miles in less than 24 hours. Other IBA rides I have completed include a 10n10th ( 10,000 miles in 10 days ), SS5000 ( 5000 miles in 5 days ), 3 100CCC's ( Jacksonville Beach to San Diego and back in less than 100 hours ), 50CC THW ( New York ( Coney Island ) to San Francisco ( 45 hours ) ), B2B ( 1650 miles in 22 hours ) and a SS2000.
I have competed in multiple rally's that include several multi day rally's. I finished 37th in the 2009 Iron Butt Rally and 9th in the 2010 IB5000. I have ridden in the Cape Fear Rally 5 times and finished in the top 10 4 times and first in 2012.
---
Rider Magazine asked me to write a short story about how I got involved in long distance riding for the Exhaust Note section of the magazine. Here is a link to a PDF version of the article.
---
Coast to Coast - 29 Hours 23 Minutes
On September 30, 2018 I completed a ride coast to coast in 29 hours and 23 minutes. I started near Dog Beach in San Diego and finished the ride at Jacksonville Beach. I started the ride at 7:22 AM east coast time and arrived in Jacksonville Beach at the finish at 12:45 PM. The ride was 2,370 miles. Click here for more information on this ride.
---
I received my Iron butt Association Titanium certificate at the 2019 IBA party in Jacksonville.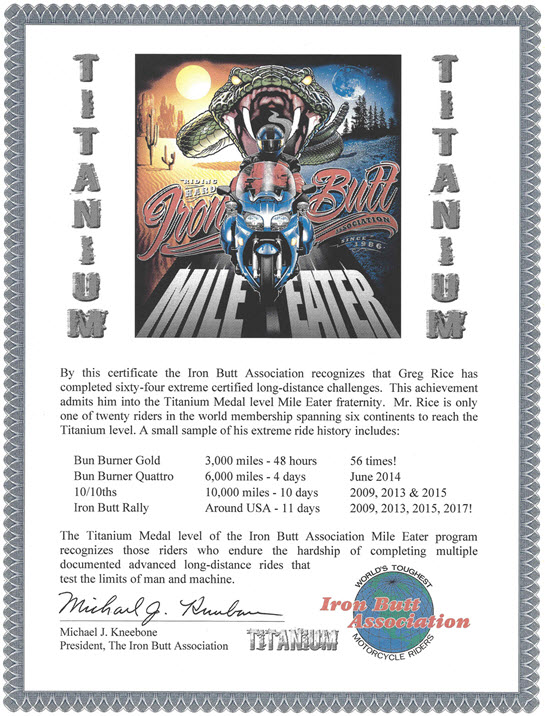 ---
I received a Iron Butt Association Platinum Mile Eater certificate at the 2018 annual IBA party at Jacksonville. I have ridden over 130,000 miles of IBA certified rides.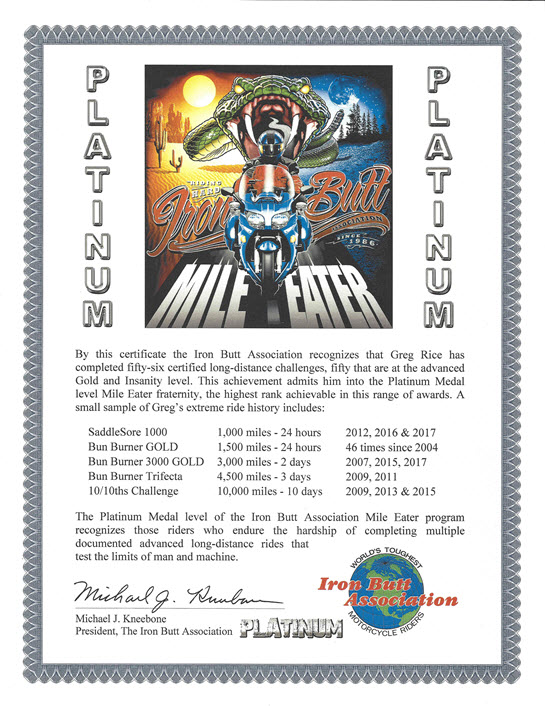 I successfully completed my 50th Iron Butt Association Bun Burner Gold ride July 28, 2018. I am the first person to complete 50 or more BBG's.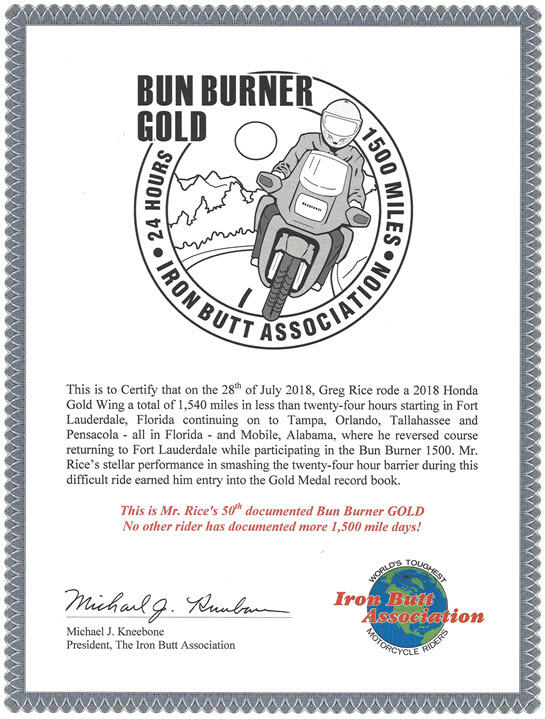 ---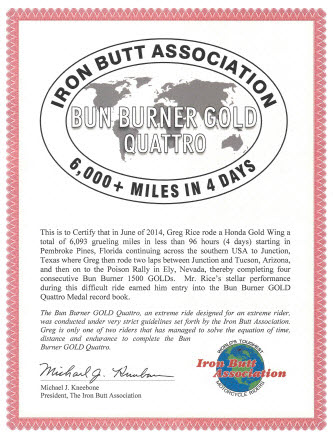 In June of 2014 I attempted and completed a new IBA ride called BBG Quattro Gold. A BBG Quattro Gold is four BBG's back to back to back to back. A BBG is 1500+ miles in a 24 hour period. This was a damn hard ride and required a lot of up front planning, preparation and determination. I started this ride near my house and completed in Ely, NV. I rode 6200 miles in less than 96 hours ( 4 days ). I rode through all types of weather and temperatures ranging form 38 degrees to 107 degrees.

This is my certificate from the Iron Butt Association for my Bun Burner Gold Quattro ride. I received this certificate on my birthday. It was a nice present to receive.
---

I put on a seminar the last couple years for rally planning at the IBA's Bike Week Party in Jacksonville, FL and a condensed version of the presentation was published in the Iron Butt magazine in the summer of 2014. Here is a link to a PDF version of the article.
Iron Butt Summer 2014 Edition Article.

Click here for the complete rally planning presentation.

---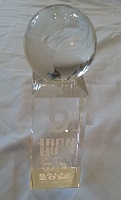 I rode hard and finished in the top 10 of the 2013 Iron Butt Rally. I wrote a pretty long 2013 Iron Butt Rally ride report and you can read by clicking here.

It was a hell of a ride that required great endurance to compete with the big dogs of the rally world. I rode 11,083 miles in the 11 day event scoring 81,703 points. I was the only touring motorcycle in the top ten as most were Yamaha FJR's which are perfect for this type of rally.

The Iron Butt Rally ( IBR ) is the toughest motorcycle rally in the world and really brings out the top competition from around the world. It was an honor to ride and compete with all of the 2013 IBR riders.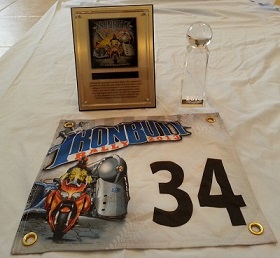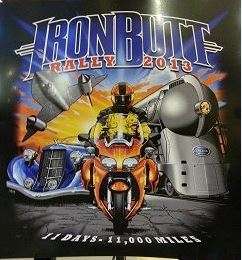 I have done a lot of work to my motorcycle to get it ready to compete in the rally and I created a webpage with photos and information that show what I have done. Click here to view the webpage.
I have developed a process over the years competing in rally's on how I approach routing in a rally and for the IBR I have made some changes to my approach. Click here for how I plan my routes in a rally.
I have also developed a webpage that allows me to check the weather across the US and Canada during the rally on my mobile device, click here to view the webpage..
---
I recently integrated a Garmin 2797LMT GPS into the Gold Wing so I could have voice command capability. Click here to see how I did it.
---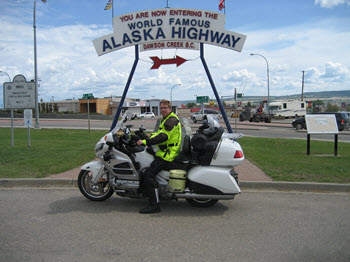 I finally made it to Alaska after 14 years of trying to make it happen. The MTF had a planned IBA UCC in June of 2012 and I was going to the be start witness in Key West. As the ride got closer I was able to find a way to get away for the two+ weeks it requires to ride to Alaska from Key West and back. So finally in the summer of 2012 I was able to ride from Key West, FL to Fairbanks, AK and back. It was a very memorable ride. I meet up with all of the MTF UCC riders in Dawson Creek, BC after being the witness for many of them in Key West. We then rode the Alaska Highway together to Fairbanks, AK.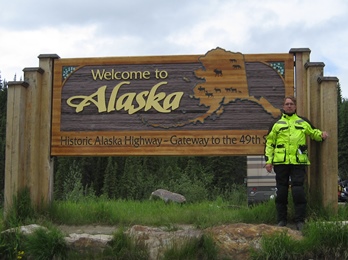 The ride to Alaska has many things to experience that are an experience you will never forget. The wildlife along the route is wild as I saw a lot of bears, Moose and other animals. The Alaska Highway was closed for three days on the ride up do to two washouts north of Watson Lake. I will be putting together a ride report.
---

I have a lot of farkles ( accessories ) on my motorcycle. One of them is a satellite tracking device called SPOT that I use in all of the events I participate in. Currently I am the top tracked SPOT user in the world on Spotwalla.com. Spotwalla was built by Jason Jonas and it allows family, friends and event organizers to track my progress and provide a level of comfort with the emergency capabilities built into SPOT. Spotwalla.com is the best tracking website on the internet.
In 2005 I became one of the first riders to use a tracking device. I started using real time tracking with a cell phone based service called Accutacking. That service allowed me to have a webpage with a map that showed my location over a 48 hour period. It was a good way to get into real time tracking.
---
I recently upgraded the suspension on my Gold Wing with Progressive Suspension front fork MonoCartridge Kit and a new rear shock with a new Progressive Suspension heavy duty spring. Click here for the write up.
---
I started riding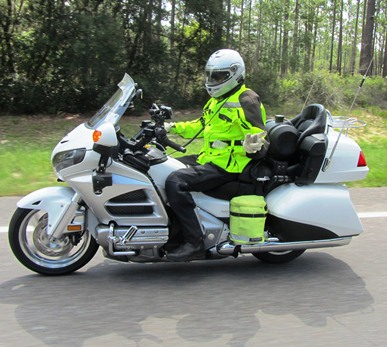 Honda Gold Wing's in 2003 and I have owned 6 Gold Wing's since then ( 2003, 2005, 2007, 2008, 2009 and now a 2012 ). My 2012 is well equipped to ride LD endurance rides and to compete at high levels in endurance rally's.
I have ridden over 380,000 miles on Wing's over the years and I have never had a problem. The wing is a very reliable motorcycle and that is one of the reasons I choose to ride a Gold Wing. I am never worried when I hit the road if I am going to make it back because the Gold Wing is so reliable.
---
I love to help other riders get involved in endurance and rallying riding and help grow the sport. Some of the ways I help is to answer questions on forums that riders have. Other ways include creating webpages of information showing how I added accessories to my motorcycle, webpages with weather information ( link for one of the weather webpages ) for different IBA rides and events and also files with lists of gas stations along a specific route. I also have provided list and information about states DOT websites and how to use them when planning a ride. All of this information helps make the rider safer out on the road and to be successful on the ride.
I also hold events that allow riders to attempt IBA rides with me. One of them is called BBG Weekend. This helps riders who want to attempt a IBA ride but do not want to do it alone.
If you are interested in becoming an LD endurance rider contact me at greg@gregrice.com.
---
I think we all should try and give back to the community when we can and some of the things I have done over the years to give back include:
Sponsored motorcycle racers with financial support and motorcycle gear

Provided new helmets and jackets to the local MSF course to teach new motorcycle riders

Former AMA Field Rep

MSF Instructor at Florida Keys Community College

Former Motorcycle Tourer's Forum ( MTF ) Associate Director - Long Distance Committee

Created websites to help others with understanding how to install accessories or to provide information that is helpful in planning rides

Donated 1000's of dollars' worth of new gear to organizations supporting motorcyclist

MTF Gold Member for helping and giving back to the community for many years

Providing support to riders on motorcycle related online forums

Holding events to assist others to promote long distance endurance riding

Writing ride reports to help others understand how I do some of the rides
Please look around and if you have any questions feel free to contact me.
Last updated August 2017.