BBG 3000
Jacksonville to Van Horn and Back
Greg Rice
Travel_Man
March 7, 2007
Well I was working my way down the list of IBA ( Iron Butt Association ) rides and the next logical ride was the BBG3000. I had been thinking about it for some time and really wanted to attempt the ride. The past three years I had been riding a LD ride with the MTF ( Motorcycle Tour Forum ) during the first week in March. In 2007 the MTF did not have a ride planned. I started asking around on the MTF forum to see if anyone was interested in attempting a BBG3000 and I got a few who said they were interested. One was Richard Buber and the other was Chuck Gittner. Both of these riders were probably much better than I was at LD rides so I was glad they said they were interested. While looking for others on the MTF forum I also received some advice about attempting the BBG3000. Some had said that I should attempt it alone as I would have a better chance of being successful. Well I donít like to be told it canít be done as a small group so I set out to see if it was possible.
Preparation
Here is the complete ride report for our BBG 3000. This ride included Chuck Gittner, Richard Buber and me. We rode 3015 miles to complete the ride. Many said that this type of ride should be attempted alone but for some reason this ride was successful because of us riding together. We feed off of each other and we did not want to let the others down.
We all met up Tuesday afternoon at the Ramada in Jacksonville, FL. We sat down and discussed our approach to the ride. We had never ridden together in the past so we needed to lay some ground rules. We talked about how we would handle separating if the need arose. We all agreed that if one dropped out for any reason the others would continue. We would stop to offer assistance if needed and then continue on. Fortunately the need to separate did not arise.
We also agreed the first stop might be early than the 300 miles because we may need to relive ourselves by around 200 miles. I know most of my LD rides I need to stop early on the first stop.
We had dinner together and then off to bed at around 8:00 pm. Richard and I shared a room and Chuck had his own. Richard was in bed by 8:30 pm and I was in bed around 9:00 pm.
The Route
We had filled up the bikes during the day so we would only have to get a splash of gas and a receipt in the morning.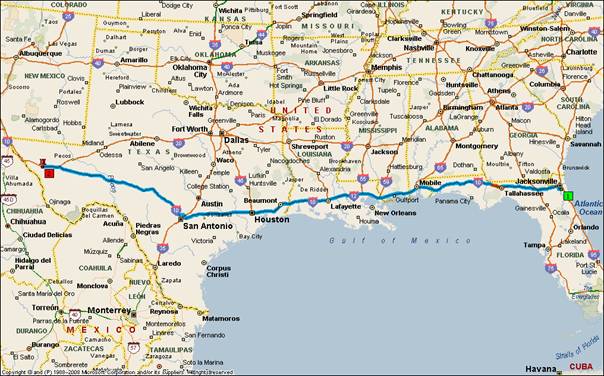 We had the alarm set for 2:00 am. We got up. I was surprise I had slept as usually it is very hard for me to sleep the night before a big ride. We put the rest of the things on the bike and headed for the office.
BBG One
We agreed to meet at 2:30 am in front of the hotel to get our witness signatures. We had spoken to the hotel manger on Tuesday about who would be available 2:30 am the next morning to sign us out. The hotel manager said that Gayle and the maintenance person would sign our witness forms. At 2:30 am we tried to enter the lobby of the hotel and the door was locked. The night manger would not let Richard in ( would you ). I went to the door and rang the buzzer and said I need to check out so after a few minutes she let us in. We asked her to sign the witness form as the manager had said she would and the night manager refused to sign. Saying she would not sign anything. We kept asking and she kept saying no. I went outside to call the local police department and see if we could get a witness. While doing that I went back in and found that the maintenance person was there and that Chuck had convinced them to sign. Wow what a relief.
Off to the gas station we went which was across the street, a lucky Exxon ( Richard hates Exxon as they always refused his card ). We filled up and got our receipts. I needed to plug in my electrics as it was a little cool out ( 45 ).
Richard and Chuck were ready and looking at me so I did not take the time to plug in and off we went. We got on I-295 and headed for I-10 west. We were moving at a good pace and no real traffic at 2:50 am. We reached I-10 and headed west. We were all riding within 1/4 mile of each other. We kept pretty close for the whole ride. The ride west on I-10 was going well. It was getting pretty cold as the temperature dropped to 36 degrees and I was getting cold since I did not get to plug in. After 240 miles of being damn cold I took the lead to find the next exit with gas and we stopped at a Pilot. I told them I was sorry I had to stop early as our plan was every 300 miles. We gassed up relived ourselves and I got too plug in and off we went. The heat from my Warm-n-Safe jacket and Gerbing gloves sure felt better.
Traffic was good as we entered Mobile and all lanes of the tunnel were open. We made good time all the way to Mississippi.
The ride through Mississippi and Louisiana was pretty smooth with no major traffic. Baton Rouge had some traffic on the bridge but nothing I have not seen in the past. I really like getting past the bridge over the Mississippi in Baton Rouge as it can be a big bottle neck if there is any problem. I once sat on the top of the bridge in a heavy thunder storm with the bridge swaying.
I had written some times on my windshield of locations along the route that I thought we should try and make. Things were going so good that we were ahead of the times by an hour or more.
We reached Houston around 2:00 pm. Traffic was not bad and we took the HOV lane. It was still light out when we reached San Antonio. We took the 1604 loop around downtown. At around Kerrville the speed limit changed to 80 mph so we were able to make good time until dark. We did not see too many deer on the way out but on the way back it was like every deer in Texas was on the shoulder or in the median. There were a lot of deer dead on the highway.
We reached Van Horn around 11:25 pm. We had a good ride on the first 1500 miles. We had made very good time so we stopped and had a burger before going to the hotel. We stayed at the Days Inn in Van Horn. Do yourselves a favor and do not stay there if you stop in Van Horn. It was pretty bad, no very bad. There are better and I think cheaper hotels than the Days Inn in Van Horn. We checked in and prepped the bikes for the return. We agreed to meet at 2:30 am in front of the hotel again. This gave us 3 hours to check the bikes, shower and get some rest. I went over the bike and moved a couple things around. I got out what I was going to wear for the return ride. Richard went in and took a shower while I cleaned off some bugs from my bike. When he was done I showered and we hit the beds. We had about 2 hours before we had to get up at 2:00 am.
All of our gas stops on the way were pretty quick. We were surprised since there were three of us. We thought it would take longer. We had agreed to stop at large truck stops for gas as they usually have many pumps and many stalls in the bathrooms so we could all do our thing with out waiting. I think most stops were around 6 minutes with one being a long one, around 15 minutes.
BBG Two
The alarm went off and wow it was 2:00 am already. I was surprised though that I did sleep some. I think I got about an hour and a half of sleep. We got up made a quick pot of coffee and geared up for the return. I was feeling a little tired. We met Chuck at the front of the hotel at 2:30 am and he said he did not get any sleep. Chuck said there was a train that passed by around 1:00 am that kept him awake.
We rode over to a Loves truck stop about a half mile from the hotel. Got our receipts and hit the road at 2:45 am. Chuck took the lead as he has 3 HID lights and man do they work. Right away the deer was heavy on both sides of the road and in the median. There was also a lot of dead deer in the roadway. After our first gas stop we had just gotten back on the road and a dead deer covered both lanes. It must have been hit by a truck that did not slow down.
I took the lead about 100 miles out from San Antonio and not long after Richard noticed I was looking a little tired. So Richard took the lead and hauled butt and made me have to chase him through the Texas hills. Man did this wake me up. I was fine the rest of the way.
We arrived in San Antonio around 7:30 am just in time for rush hour. We took the 1604 loop which was stop and go for many miles. We gassed up just before the end of the 104 loop. I needed to change my shield from a clear to a tinted to help block out the bright Texas sun.
We made good time to Houston. We did not take the HOV on the return as it was only opened in a few places. We did make pretty good time through Houston though.
As soon as we crossed the Louisiana state line the troopers were every few miles. All the way to Baton Rouge they were thick and working hard. We probably saw at least 25 troopers in that stretch. That was really the hardest part of the ride. The bridge in Baton Rouge was not backed up and we slipped across the bridge pretty easily. Louisiana had a lot of traffic all the way to the Mississippi state line. I donít know where everyone was going butt they were all out on the road.
Mississippi was next and it had pretty heavy traffic for the first 40 miles. It turns to 3 lanes then and the traffic opened up. The traffic was stopped at the I-65 and I-10 junction and it was a couple miles of stop and go. After the tunnel the traffic thinned out.
It was around 8:00 pm passing through Pensacola. The new bridge is open and traffic was pretty good. We were feeling pretty good about our ride right about now as we new we were going to make it barring any unforeseen calamities. We took more time on our last couple gas stops even taking time to have a hamburger at the last stop.
We arrived in Jacksonville around 12:20 am. This gave us two and a half hours to spare. We had a good safe return. The weather was great both ways. No accidents either way which really helped.
This is a very hard ride but I have to say that I was surprised about how easy it seemed after the ride. Instead of being dead tired I was thinking of the next ride. I think this was due to all of us being well prepared, the bikes well prepared and great weather and good traffic. This ride may have spoiled me for future LD IBA rides.