After signing up for a rally I do as much research as I can to find out about the previous running's of that rally. I also try and find a rally bonus pack for that rally if they are available. Since most of today's rally masters produce their rally bonus pack in electronic format this is not so hard to do. I mainly want to see what the format of the rally bonus pack is like. I do not pay much attention to the particular bonuses as they always change. Understanding the RM's approach to putting together the rally bonus pack helps me be prepared when I do get the rally bonus pack for the rally. That is one less thing I have to figure out which gives me more time to plan a route.

Once I know the length of the rally I use my Rally Planning Excel spreadsheet to estimate how many hours I will have for riding which then provides me a estimate of how many miles I can ride in that time frame. I use this information when planning my route to be sure I do not get to aggressive and plan a route with to many miles. My rally planning spreadsheet also helps with rally's that have mileage caps by providing an estimate of how many miles are possible to ride during the allotted time.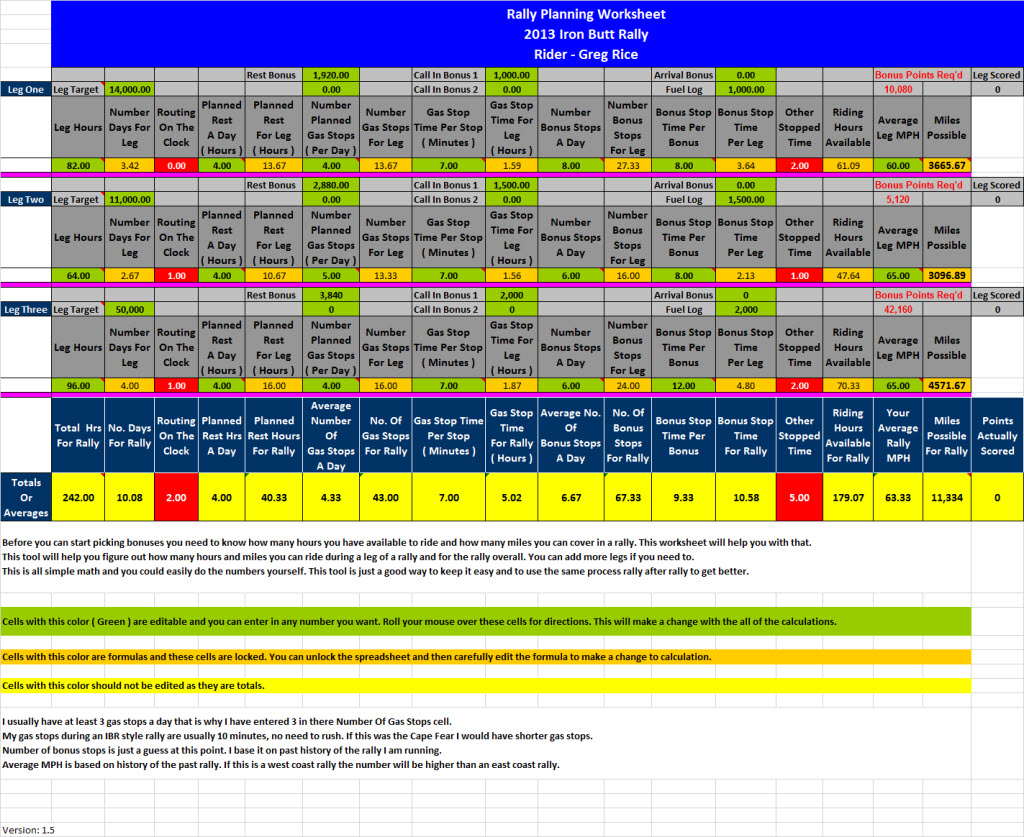 2013 IBR Rally Planning Worksheet

---
How To Read A Rally Bonus Pack ( Very Carefully J )
When I receive the rally bonus pack there are some steps I go through to create a route that I hope is the winning route. I always approach my route planning as if I am trying to win. I am also always fine tuning my route right up to the start and even during the rally I make changes on the fly if needed. It is fairly easy to make changes on the fly if you are well prepared and organized. I also use multiple GPS's so I can do what if analysis on the fly when I have long rides between bonuses. On a long rally there is usually plenty of time between bonuses to see what adding and or dropping bonuses does to your route.

The first thing I do when I receive the rally bonus pack is to review that I understand the information and that it is complete. I have had a few times where there were issues with the rally bonus pack both printed and electronic versions. At the start banquet for the Iron Butt Rally the RM tells you to be sure you have every page and that it looks complete. Once I am sure the rally bonus pack is accurate I make two copies of the rally bonus pack if possible. Some rally's do not allow coping the rally bonus pack and others allow it so check first before you make multiple copies. If the rally bonus pack is received printed I make another copy. Even if you are at a rally host hotel you can get copies made by going to the front desk. It is always a good idea to have a backup. The reason I create 2 copies of the rally bonus pack is that I use the first copy during the rally as a scratch pad by writing in the required information during the rally and if like usual my writing is not readable or the rally book got wet during the rally I will then transfer the information to the second copy before going to the scorers table. Remember before making a second copy check with the RM.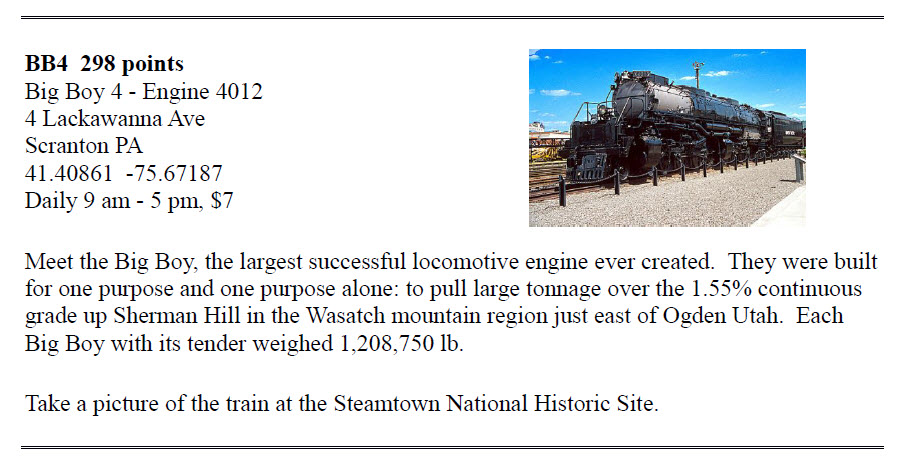 Bonus From 2013 Iron Butt Rally

The next step is to number each bonus starting with the first one, this includes the wild card and non-riding bonuses like a fuel log, SPOT tracking or something like bring a six pack of cold ones to the finish. Next I input ALL of the bonuses in my mapping / routing software ( Streets & Trips and Mapsource ). It does take time even if you receive the bonuses in electronic format. It takes time rename each of the bonuses so it follows my naming conventions that I have developed overtime by taking ideas from many big dog rally veterans and added a few ideas of my own. The reason I enter all of the bonuses is you can not plan well with out seeing the complete picture and with my naming conventions I can see possible route options to start my planning with. I usually enter the bonuses into Streets & Trips then do my route planning and then transfer the information to Mapsource for review and final transfer to my GPS's. I like to compare the planned route miles and time between the two and see how close they are. If there is a big difference I look at each part of the route to see where the difference is as some times the mapping programs choose different routes between bonuses.

While entering the bonuses in my mapping program I create a name for each bonus that consist of the number I assigned in the rally bonus pack, the point value of the bonus and part of the name of the bonus. In some cases of timed / special bonuses I also include the time window in the bonus name. I name the bonuses this way so it will show up on my GPS with that information. It makes it quicker to score the bonus when I arrive at the bonus as I know right where the bonus is in the rally bonus pack. The point value, waypoint symbol and color coding helps me when I am doing what if analysis on the fly. I can easily see if it is a daytime only bonus, point value and if there is any special conditions for the bonus.

Some examples of bonus naming:
108-211-Seaman's Memorial
93-2650-Worrell's Seafood - After 12
26-1250-CAS-1P-5P

---
When I am inputting the bonuses in my mapping software I use map symbols that are compatible with my GPS to designate the value and special conditions of the bonus. I use a circle or popsicle ( depending on what your GPS accepts ) for 24 hour bonuses, a square or cube for day time only bonuses and a triangle or flag for timed / special bonuses. I also assign a color to the symbol based on the point value. Usually I use green for bonuses 1000 points and below, blue for bonuses 1001 to 2500 point values and red for high point value bonuses. If there is a bonus with a really high point value I use purple to designate that.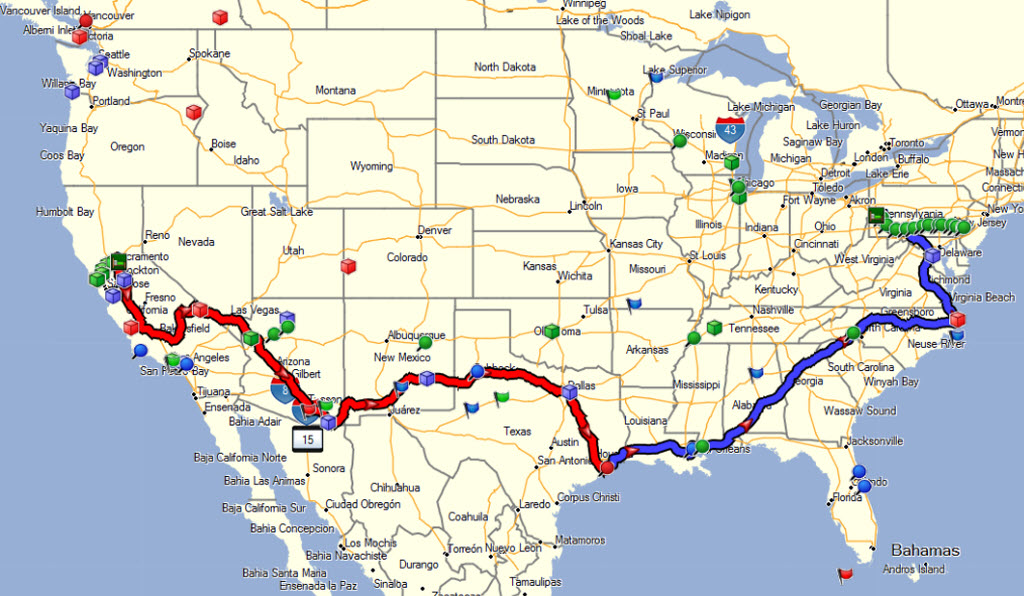 2013 Iron Butt Rally Leg 3 Route
---
I then start to plan a route. I first start to look at the map and all of the bonuses to see if I see a pattern that stands out with the high point value bonuses. I also look for a straight line from the start to the finish to see if there is a good route possible that is more or less a direct line to the checkpoint / finish. Leg 2 in the 2013 Iron Butt Rally was close to a straight line due to the distance between the checkpoints and the time available for the leg.
I usually plan my route around the larger point value bonuses and then see what other bonuses I am riding near and then add them to my route. I always plan an aggressive route as it is easier to drop bonuses on the fly than to add them. I also assign the time that I should reach each bonus and then monitor the timing during the rally to see how I am doing. This tells me if I am behind or ahead of my schedule and if I am ahead of schedule I can add more bonuses to my route or if I am behind my schedule I start to look at what bonuses I can drop from my route with out losing to many points. This is another area where following my bonus naming conventions including waypoint symbol and color makes it easier to add or drop bonuses on the fly.

When I am done I load all of the bonuses and routes into my GPS's so I have them in the event I need to make changes once the rally starts. It takes a lot of time if you have to stop and take out the laptop to see what bonuses are available because you did not have all of them loaded in your GPS. Reducing the number of stops means you can ride more miles which means you can score more bonuses. I know that sounds obvious but in the middle of a multiday rally things don't seem to be obvious. J
---
I usually create three or more routes depending on the length of the rally, the forecast weather conditions and types of bonuses. I will plan a route for bad weather that will hopefully route me around bad weather like snow or hurricanes ( it does happen ). I will also plan at least one very aggressive route and maybe one that is less aggressive as I come to my senses. The benefit of using Streets & Trips is that it allows you to add stopped time for all of your stops including bonuses and rest stops so I always include in my routes rest bonuses and gas stops every 300+ miles which gives me a more accurate time for the route. Even though I may not be sure where I will stop for gas or the rest bonus the stops I add to my route are place holders for the amount of time I will be stopped. For a rest bonus I add a stop in the route where I think I will be when I plan to stop for the rest bonus even though this may not really be where I end up stopping it still adds the time for the rest bonus to the route. I then compare the miles and hours to my rally planning worksheet. I then adjust the route accordingly.
The next thing I do is make at least two written list of all of the bonuses in my route with the point value and the estimated time when I should arrive at the bonus. I put this list in a map pocket attached to my riding pants and the second in the trunk of my gold wing as a backup. I refer to it during the rally to see how I am doing on time.
One of the benefits I get by also loading my routes in my GPS is that it is a route list that cannot get wet or lost. I have seen many others who have lost their route list or it got so wet it was not readable. They have to stop and boot up their laptop to see what's next and create another route list. If you keep having to stop for different reasons you are not going to win the rally.

When the rally starts I try and ride my planned route and keep track of my schedule, this helps keep me moving and does not give me too much time to have negative thoughts of how I am doing. Having a positive and confident mind set really helps in long rally's. One of my big distractions during a rally is that I like to talk a lot and hang out with the other competitors at bonuses. There have been times I have spent 30 minutes at bonuses talking to others in the rally as they arrive at the bonus. In the 2012 Cape Fear Rally I decided to be more efficient at my bonus stops which really made a difference. I decided not take of my helmet and jacket off at each stop which meant my bonus stops were shorter and that made it harder to talk to others while I was stopped. It is amazing how long it takes to gear up in cold weather with your electrics on.

My secret is that all of these steps are required for me to do well. I think the most important for me is being prepared and organized, it makes a big difference when something goes wrong, and it will.
---