Coast To Coast - 29 Hours 23 Minutes
September 29 & 30, 2018
San Diego Beach To Jacksonville Beach
Part Of The "Bad As You Want To Be" Series
This Ride Honored All Law Enforcement Officers Who Have Been Killed In The Line Of Duty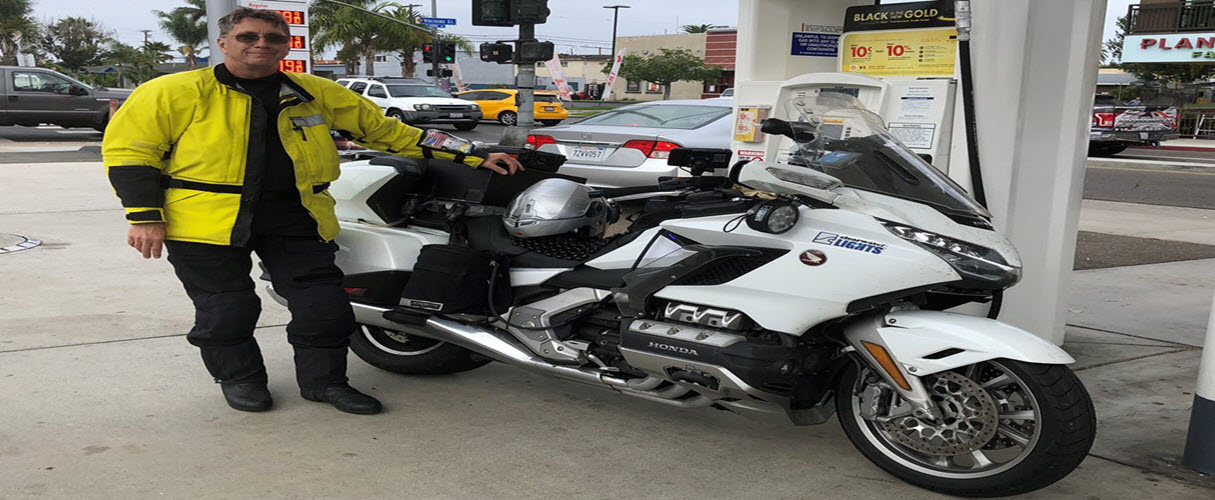 ---
---
San Diego Beach to Jacksonville Beach
---
I purchased a new 2018 Honda Gold Wing Tour DCT motorcycle in March of this year and I restarted my thinking about a Cannonball Run coast to coast ride right away. I wanted to see how fast I could complete the ride but knowing that the new Gold Wing has a speed limiter of 112 MPH I was pretty sure it would not be a record attempt ride.
This ride like many of my previous rides is again more about endurance than speed. Yes, I did ride a little over the speed limit ( not as much as you may think ) but the most difficult part of the ride was being able to ride coast to coast nonstop. I do like to push the envelope on what I can do and I have always found that we as humans are more capable than we give ourselves credit for.
Click here for an article about the planning of this ride, it takes good planning to be successful on rides like this.
The new Gold Wing really performed great in all conditions and I could not break it no matter how hard I tried. One of my objectives of this ride was to see how well the Gold Wing performed and how well it withstood being run hard all day and all night.
On September 29, 2018 I attempted a 2,370 mile coast to coast ride starting in San Diego Ocean Beach riding to Jacksonville Beach. I completed the ride in 29 hours and 23 minutes. I rode pretty much nonstop except for gas and bio breaks. I had one 30 minute stop while I waited for some food at a truck stop.
I had been planning this ride for a few years and I had a lot of planning into this ride. My original plan was to ride coast to coast to coast and try and pretty much ride nonstop in both directions. I had all of the panning in place and a friend, Dan Thaler, was going to ride with me. The day before, Wednesday, that we were leaving for our ride my work asked me to be in San Diego for the week following the ride to start a new contract. So my first thought was ok, we will attempt the coast to coast to coast ride arriving back home on Sunday evening and then I will fly back to San Diego on Monday morning so I bought a ticket to fly back and continued with our plans. We started the ride Thursday, September 20, 2018 at 3:00 AM in Jacksonville Beach as planned. On the ride out we were taking a little longer than I had hoped due to weather and lots of construction and as we neared the west coast I was thinking more and more how dumb it would be to ride to San Diego and turn around and ride back knowing I need to be back in San Diego 2 days later. I started thinking that if something happened on the return ride I may not make it back to San Diego on time and the work in San Diego was important as I was starting a new project that was going to extend my contract for another year. As we crossed the California state line I decided to stay in San Diego and I would ride back at the end of the week when the work was finished.
We completed our coast to coast ride in 32 hours and 7 minutes which is a great time for riding across the country as not many people have been able to complete the ride in that short of time on a motorcycle. Of course I was thinking I could do better.
I worked all week in San Diego while Dan continued his ride after a 7 hour layover in San Diego. Dan made it back to Jacksonville Beach in pretty quick time.
My wife flew out to spend the week with me in San Diego to keep me company and she had never been to San Diego before and always heard how beautiful it was.
---
Coast To Coast Ride Planning
I had a custom auxiliary fuel tank built by Boyd Welding ( great welder & great price ) that had a capacity of 4.8 gallons to go along with the stock 5.5 gallons of the 2018 Gold Wing that would give me a range of around 325 miles at highway speeds. After testing I felt this was not enough auxiliary fuel if I was running a little above the speed limit. ;) so I had another auxiliary fuel tank built by Boyd Welding that has a capacity of 5.7 gallons which gave me a total of 11.2 gallons ( under the Iron Butt Rally limit of 11.5 gallons ) and a range of around 350+ miles between fuel stops at a good speed.
I needed better auxiliary lighting so I contacted Clearwater Lights and made arrangements to purchase the Sevina's LED lights with a total of 14,000 lumens that would really light up the road especially in the dark areas of the ride. I knew that these LED lights would come in handy in west Texas, New Mexico and Arizona and along the gulf coast where my ride planning had me in the middle of the night. I was able to connect their light controller to my high beam headlight switch so the Sevina LED lights would switch to 100% when I turned on the high beams. This was a big help in making enough light to ride at speed in the middle of the night along my route. Where there are many creatures that jump out in to the road.
The new Gold Wing has built in navigation on a 7 inch screen and it also has for the first time on a motorcycle Apple CarPlay. Just before the start of our ride Apple released iOS 12 and that allowed the use of Google Maps and Waze with Apple CarPlay. I also mounted my Garmin Dezl 770 and Garmin BMW NAV 6 GPS's to assist me with route navigation and timings.
I developed my route in Garmin Basecamp and loaded all of my GPS's and I also loaded the route in Google My Maps by importing a KML file. This would allow me to use Google Maps in Apple CarPlay during the ride and take advantage of the Google traffic and other notifications along the route.
I also loaded all of my planned stops into Waze as favorites so I could use Waze on my ride and get notifications of debris in the road, parked vehicles on the shoulder and police along my route.
I wear Aerostich gear, Darien Jacket and AD1 pants because they are really waterproof and provide great protection in the event something happens and this gear came in handy on both the ride to San Diego and the return coast to coast ride back to Jacksonville Beach as it rained damn hard on the ride to San Diego and it rained for about 200 miles on the return coast to coast ride back to Jacksonville Beach.
I bought a new Valentine 1 radar detector for this ride and I made some custom configurations to help reduce false alerts and to increase the range of the radar detector.
Since I had some time while in San Diego I made some fine tuning on my return coast to coast route so that I could take advantage of riding through some of the larger cities at night like Houston, TX. I planned 15 minute gas stops along my route knowing I would not use the full 15 minutes at most stops but it helps cover for the times when I do go over 15 minute gas stops and helps pad my time to account for slower traffic. My planned route had me starting at 7:00 AM east coast time.
Coast To Coast 29 Hour 23 Minutes Ride
My objective for the return coast to coast ride was to see if I could improve on the 32 hours and 7 minutes it took Dan and I on the ride out to San Diego Ocean Beach. I really wanted to do the ride in less than 30 hours if possible. My plan was to only stop for gas and bio breaks and I was not sure what range I had before I would need to rest.
With my planning complete and work done for the week I dropped my wife off at the airport Friday night and made it back to the hotel to get some rest before starting my ride.
I got up at 3:00 AM San Diego time ( 6:00 AM east coast time ) and geared up and finished packing the Gold Wing. I headed out for the Shell gas station in Ocean Beach San Diego to start my ride. It was 25 miles to the Shell gas station so by the time I reached the Shell gas station it was a little after 4:00 AM ( 7:00 AM east coast time ). This Shell gas station is used in may IBA rides as a start or end location. I did not want to rush my start and forget anything so I took my time looking over everything and resetting my GPS's and starting my route. By the time I was ready to buy gas and get my starting receipt it was 4:20 AM ( 7:20 AM east coast time ). I started my ride at 4:22 AM ( 7:22 AM east coast time ) and decided to use east coast time for the ride since the end of my ride was in east coast time zone.
I had to ride over the mountains just east of San Diego before I could get to the open interstate. It is about 90 miles before I descended out of the mountains headed east on I-8. It was another 80 miles before I reached the Arizona state border where I could open it up a little since the speed limit was higher and I was out of California.
I rode hard all the way through Arizona and New Mexico making good time as traffic was light. It was starting to get hot since the sun was up and for a few miles it felt good as it was 55 degrees crossing over the mountains. As I descended out of the mountains the sun came up and before long it was in the upper 90's and just damn hot. I had no issues riding through both Arizona and New Mexico making two gas stops, one at the Shell in Gila Bend, AZ and the other at a gas station in Deming, NM. Both gas stops went pretty quick and less than 8 minutes. I call the stretch of I-8 in Arizona from Yuma to New Mexico state line the Yuma express as it seems there is no speed limit there. No mater what speed I am going someone always passes me.
I entered Texas and soon there after the city of El Paso and traffic was not bad as usual and I made pretty good time. It takes a long time to ride through El Paso before you are on the other side and the traffic starts to thin out. Once east of El Paso I was able to open it back up as the speed limit in west Texas is 80 MPH.
One thing I noticed pretty quick on my ride was that there was not near as much construction as there was on the ride out. We did our ride out on Thursday and Friday night when it appears construction crews are working. I started my return ride on Saturday morning and thankfully many of the construction crews do not work on weekends.
Traffic in west Texas was not bad and I was able to make good time all the way to Fort Stockton where I had a planned gas and food stop at the Love's truck stop there. I rolled up to the gas pumps and saw that they had a Carl Jr restaurant there. Right away I was thinking this is going to take more time than I wanted based on my past experience at Carl Jr's. I gassed up got my receipt and documented the stop. I then went inside for a quick bio break and over to the Carl Jr to order a combo meal. I thought about not buying food hear and waiting but I was hungry and I know food would give me a boost. Then I waited and I waited, it took 15 minutes to get my order. Since it took so long I took the bag of food and went back out to the gas pumps so I could eat and check out the motorcycle at the same time. This stop turned into a 30 minute stop and I was pretty frustrated.
Back on the road making good time I was headed for San Antonio and the 1604 loop around the north side of San Antonio. This is a good short cut around San Antonio that most long distance riders use heading east or west. As I was closing in on San Antonio it got dark and I started thinking about all of the restaurants and bars along the 1604 loop and decided to stay on I-10 through town as I wanted to limit the possibility of traffic and drunk drivers.. It was now 9:40 PM on a Saturday night in San Antonio and there was a lot of people on the road. I am not sure if I made the best decision on staying on I-10 but I had no delays and made good time through town.
I rode to the other side of San Antonio on I-10 to where I-10 and the 1604 loop intersect and there was a large Shell gas station there so I decided to stop about 5 miles short of my planned gas stop. It turned out to be a good place to stop as I needed to refill my water jug with ice and water and the store was big and had a lot of services.
I had now been on the road for 15 hours and ridden 1280 miles which was pretty good and I was feeling good. There had been no issues so far on the ride and I was on a good pace. I did see on my weather radar some rain up ahead but I noticed that it was dissipating as it got later into the night and the temperatures cooled. It turned out that as I continued riding east the rain dissipated pretty much just as I was riding into it.
I got back on the road pretty quick and was headed for the Texas Louisiana state line which seems to take for ever to get too since the ride across Texas on I-10 is 880 miles. For most people it takes 1+ days to pass through Texas.
I made good time all the way to Houston where the roads were wet but the rain had stopped and traffic was not bad. I have the TX toll transponder so I merged onto the Katy Freeway and HOV lanes west of Houston and I was the only one using the toll road which allowed me to make great time getting through Houston. Now that I was on the east side of Houston I knew the traffic was going to pick up on I-10 and the speeds were going to slow down. I did not make as good of time for the rest of the ride as I did getting to Houston.
There is some big I-10 road construction in east Texas that runs pretty much from Beaumont to the Texas state line and then there is more I-10 construction in western Louisiana that kept my speed down and cost me some time. It was now in the middle of the night and traffic had thinned out but there was still a lot of truck traffic ( seems to be 24 hours and 7 days a week now ) and I got stuck behind trucks trying to pass each other at a whopping pace of 68 MPH. This was very very frustrating. Fortunately I keep my cool and waited until they passed each time this happened.
Just after entering Louisiana I had reached the 1500 mile mark of my ride and I stopped at a Shell gas station in Iowa, LA to get a receipt to mark the 1500+ mile mark of my ride. I had been on the road for 18 hours and had covered 1500 miles which is a pretty good overall pace.
I made it to the long bridge across the swamps west of Baton Rouge and the traffic moves pretty slow on this bridge as the speed limit is 60 MPH and they have setup permanent X band radar guns on each end of the bridge to slow down drivers who use radar detectors. There was a light rain now and the road was wet. I was able to not lose any time on the bridge and made it to the bridge crossing the Mississippi river in Baton Rouge pretty quick.
In Baton Rouge is where you merge on to I-12 to bypass New Orleans where I-10 runs through. It was still raining and it rained all the way to the Mississippi state line. I did make pretty good time though as the rain was very light and it was mostly just wet roads. I have noticed over the years that when it is raining there is less traffic so I do not mind a little light rain as it keeps the tires cool and cuts down on the number of cars on the road.
I reached the 1800 mile mark of my ride in eastern Louisiana and I wanted to get a receipt to mark this accomplishment as it is a pretty big deal to ride 1800+ miles in less than 24 hours. Of course I still had an hour and a half before I reached the 24 hour mark of my ride. I stopped at large Circle K on I-10 in Mandeville, LA to get the 1800+ mile receipt at 5:30 AM east coast time. I felt pretty good at this point and it was a pick me up knowing I had reached this goal.
It was early Sunday morning as I entered Mississippi and I only had a little over 500 miles left on my ride. I was feeling pretty good but I noticed that I had eased off the throttle some after getting the receipt to prove I had ridden more than 1800 miles in less than 24 hours. My pace stayed slower until I crossed into Florida.
I rode across Mississippi with no issues and not much traffic and entered Alabama at 7:00 AM and I still had 22 minutes before I reached the 24 hour mark of my ride. Just as I was entering the tunnel in Mobile I reached the 24 hour mark and noticed I had ridden 1940 miles in 24 hours, damn that's not too bad. I had a pretty good overall pace but as I said earlier I noticed I had backed off a little once I made the 1800 mile mark of my ride.
I entered Florida on I-10 at 7:46 AM east coast time and I picked up the pace a little as I was in the home stretch and only 380 miles to the finish. Now I was watching the time as I really wanted to finish this ride in less than 30 hours. I needed to make one more gas stop to be able to make it to the finish. I stopped at a Loves in Cottondale, FL and I took about a 20 minute stop to be sure I was ready to push hard to the finish.
The temperature had started rising as the sun was coming up and it reached 95 degrees when I reached Jacksonville. There was no issues or construction the rest of the ride and I entered Jacksonville at 12:15 PM and I still had 25 miles to go to get to my end point in Jacksonville Beach.
I arrived at the BP gas station on A1A that runs close to the beach at 12:45 PM. Not bad for a ride across the country as it only took a little more than a day.
I Just Rode Coast To Coast NONSTOP For The Second Time In A Week And This Time In Less Than 30 Hours, WOW!
---
On my coast to coast ride I rode from San Diego Ocean Beach to Jacksonville Beach which was 2,370 miles in 29 hours and 23 minutes. Not too bad for a day ride on a speed limited Honda Gold Wing.
During the ride I rode 1000 miles in 12 hours, 1500 miles in 18 hours and 1940 miles in 24 hours.
For my metric friends 1600 kilometers in 12 hours, 2400 kilometers in 18 hours and 3104 kilometers in 24 hours.
I made 7 gas stops and my stopped time was 1 hour 50 minutes, which is not very good. A big chunk of that time ( 30 minutes ) was at my Fort Stockton gas stop and waiting for a hamburger at a Carl Jr at a Loves truck stop. I almost left but I needed some food and I was committed to it.
My route planning including gas stops was 29 hours so I was very close even though I had some long stops. I missed it by 23 minutes. I usually put in a 15 minute layover at the gas stops to cover other slow periods of the ride.
I really rode the Gold Wing hard and it never missed a beat. The new DCT transmission really performed flawlessly and by the time the ride was over I was really sold how I liked DCT.
---
Below Are My Gas Stops
| | | |
| --- | --- | --- |
| Location | Time | Ride |
| Shell on Voltaire St in San Diego, CA | 7:22 AM EST | Start |
| Shell on I-8 in Gila Bend, AZ | 10:45 AM EST | |
| Mimbres Mart on I-10 in Deming, NM | 2:30 PM EST | |
| Love's on I-10 in Fort Stockton, TX | 6:55 PM EST | |
| Shell on I-10 in Converse, TX | 10:40 PM EST | |
| Shell on I-10 in Iowa, LA | 2:58 AM EST | BBG |
| Circle K on I-10 in Mandeville, LA | 5:58 AM EST | BBG1800 |
| Love's on I-10 in Cottondale, FL | 9:27 AM EST | |
| BP 2517 3rd St, Jacksonville Beach, FL | 12:45 PM EST | Finish |
Interactive Maps Below
Below are interactive maps of my ride, Google Maps route and Spotwalla tracking map.
Google Route Map
The Google route map and the Spotwalla tracking map allow you to zoom in and out using the + and - buttons in the bottom right of the maps and you can drag the map with a mouse. You can also zoom in and out of the maps with a mouse that has a wheel. They show our planned route ( Google Map ) and below that map is a map of my current location with the use of a SPOT satellite tracking device and Spotwalla.com ( thanks Jason Jonas ). Before the national weather radar map where you can see the weather radar along our route there is information on 15 cities along our route that shows weather averages that we can use for planning purposes only.
---
Spotwalla Satellite Tracking Map
Below on the my Spotwalla satellite tracking the green color dots are the start, gas stops and finish. I also marked the 1000, 1500 and 1800 mile locations with the yellow Spot custom message.
---
San Diego Beach To Jacksonville Beach
My Satellite Tracking Map From Spotwalla.Com