48 States ( Less Than 10 Days )
Starting July 31 2021
A Ride To All 48 States
Part Of The "Bad As You Want To Be" Series
---
This ride will honor police officers in the USA! As a former police officer I am honored to support the police, I hope you are too!
---
It's that time again to be "bad as you want to be"! It is time for another attempt at Iron Butt Extreme ride.
Done! I completed the 48 State Ride In 6 days and 11 hours.
---
The IBA 48 States In Less 10 Days Ride
---
I have been wanting to attempt the 48 State plus Alaska ride since 2003 when I created my first 48 State Plus Alaska route. This ride has always peaked my attention since I had bought and read Ron Ayres book 'Against the Clock' and was fascinated by it. Every so often I break out my 48+ routes I had create and tweak them thinking this year would be the year I would have the time to attempt this ride. Well this is the year since I did not ride in the 2021 Iron Butt Rally I still need to feed the beast by attempting some type of extreme ride. I am going to use part of the time I would have taken off from work for the IBR to attempt the 48 State ride. I also need to attempt this ride soon since I will be 65 later this year so I need to get after it.
My goal is to ride to all 48 states in less than 10 days documenting that I was in each state during this ride. Since the Canadian border is still closed I will not be attempting the 48 State Plus Alaska ride at this time. I will save that ride for a later date.
I am not going to be attempting the shortest route which is around 6,500 miles or the fastest time which is 5 Days, 22 Hours, 55 Minutes, 55 Seconds as that would mean that I would need a route that starts in one corner of the country and riding a zig and zag route across the country and ending on the other side of the country. That would leave me about 2,800 miles from home which would add another 2+ days to the ride which I don't have. The shortest route is about 6,500 miles and the fastest time for a 48 State only ride on a motorcycle with one rider is about 5 1/2 half days which belongs to Dan Simmonds. I only have so much time off so I need to start and end as close to home as possible which means a route that basically loops the country with some route deviations to get to some of the states. My route ( see map below ) is 7,700 miles long and starts 90 miles from my house and ends 400 miles from my house.
Now I will tell you that just because I am not riding the shortest route and not attempting to set any "records" that does not mean I am going to be hanging out in gas stations eating honey buns if you know what I mean.

---
The Planning
---
This type of ride takes a lot of planning and some good luck as there are many things that I cannot control like the weather, highway construction, accidents and the amount of police presence along my route. I have been playing with a 48 State route since 2003 and I have looked at many other riders 48 State routes and I was also involved in helping Dan Simmonds with his route planning on his 48 State Plus Alaska record ride so I had some good information to work with. I took what I liked and developed a route that works for me and meets my goal of riding to all 48 states and starting and ending close to home. I have many different routes and I finally decided on the below efficient route that meets my objectives.
I plan to tackle the northeast first and I am starting my ride on a Saturday afternoon riding northeast so that I will be in the northeast after midnight Saturday night. Based on my route the northeast should be the hardest part of my ride so I wanted to hit that area at the beginning of my ride and not the end of my ride when I will be more tired.
I am a big weather guy and I know the weather can make or break a ride so I am constantly monitoring the weather riding or not. I use a lot of weather websites and I am constantly monitoring the weather conditions along my route during my rides. I have built a few webpages to make it easier for me to get a quick glance at the weather conditions along my route.
---
The Goal
---
I like to think of myself as a long distance endurance rider and capable of extreme rides so my planning and goal is to complete this ride as quick as I can. I am not planning on taking the full time allowed to completed the ride which is less than 10 days. I will be trying to make good time when ever the situation allows it. I do have an idea of how long I want to take to complete the ride and I only took one week off of work so I need to finish in less than 7 days so lets see what happens on the road.
---
The Ride Logistics
---
Below is my route and the order of states I am stopping at. I am starting on Saturday, July 31, 2021 at 1:00 PM in the afternoon so I arrive in the northeast late Saturday night and hope to be heading west by Sunday morning. The northeast should be the most difficult part of my route as it has me stopping in 12 states in 24 hours. Once I get past Ohio ( I think the only state that has the death penalty for speeding ) the only other place for a potential traffic problem is when I will be riding just south of Chicago heading west.
I broke my route up into 3 legs one being the east and northeast part of the country, the second heading west and south and the third the home stretch heading back east to the finish. The first and third legs are about the same length in miles with the second leg being the big push to cover 3,300 miles. For me it works to break long rides up into smaller legs to focus on smaller parts of the ride and when I finish a leg it gives me a pick me up as I had accomplished something.
There are some large fires in the western part of the country and my route does take me to close to some of them so I will be monitoring the fires on a couple different websites that give frequent updates of the fires.
I will be running two Spot satellite tracking devices ( Spot 4 & Spot 3 ) set to transmit my location every 5 minutes to help document my ride. My Spotwalla tracking map and link are below.
I will be starting the ride at the Race Way gas station in Lavonia, GA at 1:00 PM Saturday and end at a Marathon gas station in McDavid, FL.
---
My Stops In Order
---
| | | |
| --- | --- | --- |
| 1 - GA | 17 - NY | 33 - ID |
| 2 - SC | 18 - PA | 34 - UT |
| 3 - NC | 19 - OH | 35 - NV |
| 4 - TN | 20 - MI | 36 - CA |
| 5 - KY | 21 - IN | 37 - AZ |
| 6 - VA | 22 - IL | 38 - CO |
| 7 - WV | 23 - WI | 39 - NM |
| 8 - MD | 24 - IA | 40 - TX |
| 9 - DE | 25 - NE | 41 - OK |
| 10 - NJ | 26 - MN | 42 - KS |
| 11 - CT | 27 - SD | 43 - MO |
| 12 - RI | 28 - WY | 44 - AR |
| 13 - MA | 29 - ND | 45 - LA |
| 14 - ME | 30 - MT | 46 - MS |
| 15 - NH | 31 - WA | 47 - AL |
| 16 - VT | 32 - OR | 48 - FL |
---
My Route Map From Basecamp
---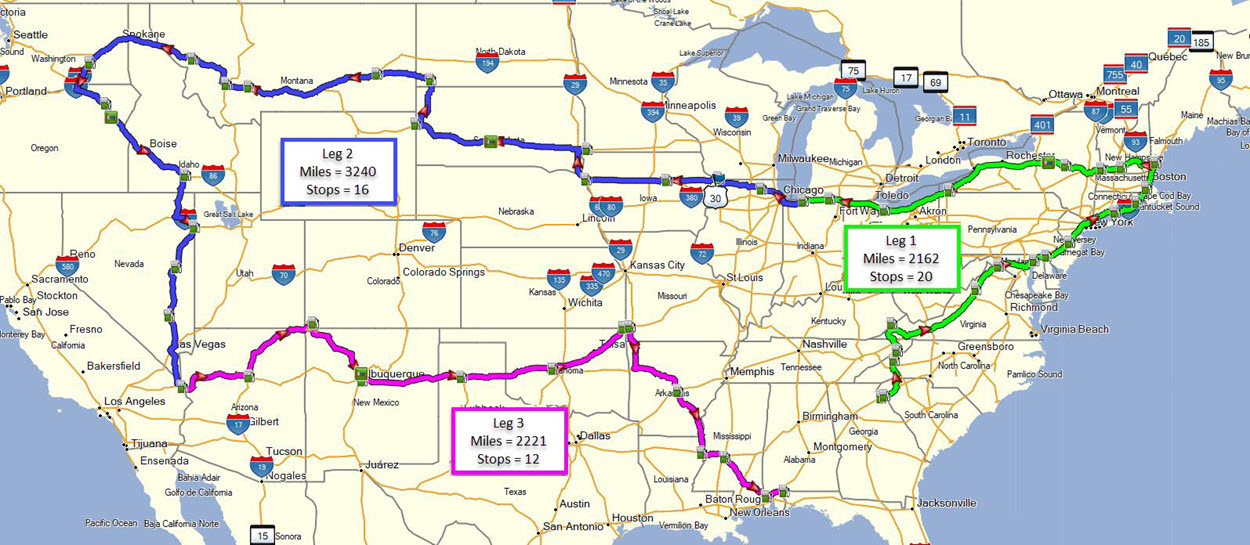 ---
Here is a link to download my route GPX file: GregRice-48-State.gpx
---
The Motorcycle
---
I will be riding my 2019 BMW GS Adventure HP. I have made some changes to the motorcycle to make it more comfortable and I have also added a LOT farkles to make the motorcycle safer and to help give me a better chance of being successful on my IBA extreme ride attempts. Every farkle I add to my motorcycles is to make me more comfortable or safer going down the road. Below is a list of changes and additions that I have done to my BMW GSA.
One of the best farkles I have added to my BMW GSA is new Sevina Clearwater Lights. These lights put out a total of 14,000 lumens which will really light up the road ahead of me. I am sure they will come in handy in many parts of the country as I will be riding through the night during this ride.
---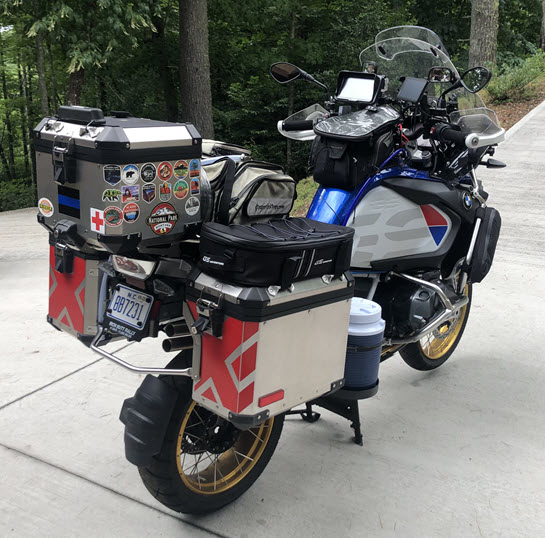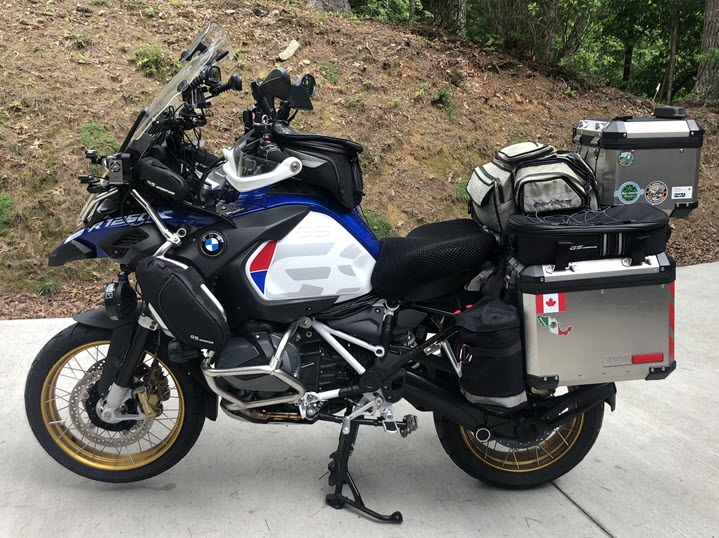 Click Images For Original Size
I use a lot of electronics on my motorcycles including two GPS's, satellite tracking device, cell phone, thermal imaging camera, radar detector and laser jammers. There is no Bluetooth headset that is able to connect to that many devices and in reality no Bluetooth headset can connect to two devices reliably. Sometimes I can get my BMW GSA and a GPS to connect to my Sena 50S at the same time but it does not work always. Also the BMW implementation of Bluetooth only allows for two devices to connect to it a cell phone and a headset. You cannot also connect a GPS and be able to hear it. You have to connect the GPS to the headset along with the GSA.
My problem is that I have two GPS's I want to hear navigation commands from and I also want to hear my radar detector and laser jammers audio so I bought a Mix-It 2 which allows you to connect up to 4 devices to it that have an audio out capability. The Mix-It 2 then mixes all of the audio from those 4 devices and has it's own audio out which you can then plug into a Bluetooth transmitter and connect that to your Bluetooth headset as a second cell phone. For me that still does not work because if I am hearing audio from one device I may not hear my radar detector. So I have two Sena headsets mounted on my helmet, once on each side, that I use to be able to hear all of the devices I have on my GSA. My Sena 50S is connected to the GSA by Bluetooth and my cell phone is connected to the GSA by Bluetooth so I can make and receive phone calls, stream audio from my cell phone ( I like to use the XM radio app on my phone ) and I hear the Waze announcements all on my Sena 50S. The other Sena headset is my Sena 20S Evo and I tired the option of the Bluetooth transmitter connected to it and it just was not 100% reliable so I went with a hardwire from the Mix-It 2 to the Sena 20S Evo audio input and now I can hear the audio from both GPS's and my radar detector and laser jammers. It sounds complicated but it really is not. I do all of this so I can pipe all of the audio from my electronics into my helmet so I don't have to be looking at electronics and I can keep my eyes on the road.
---
List Of Accessories / Farkles
Custom Seat Lowering Kit

Russell Day Long Seat

BeadRider Bead Seat Cover

Aero-Flow Seat Cover

SW Motech Passenger Seat Rack

3.5 Gallon AUX Tank With Linda T Custom Cover

Custom Risers - Two Sets Of Rox Bar Risers

Clearwater Sevina AUX Lights

Garauld TechWorks Hydration System

Puig Touring Windscreen From FJR

Wunderlich Windscreen Reinforcement Cross Support

MRA X-Creen Spoiler

Saeng Quick Scan Mirrors

MirrorLok Mirror Extensions

Weiser LED Turn Signal Conversion Kits

AeroFlow AeroGards

AeroFlow HandFlare Extensions

Givi Handguards Extensions

ADV LC Headlight Protector

Machine ArtMoto R1250GS ADV LC Front And Rear Fender Mudguards

Upper Crash Bar Support Extensions

Excel Cycle Werkes Exhaust Extension

Crash Bar Waterproof Bags - Good Storage And Blocks Some Wind

Waterproof Fairing Bags - Good Storage And Blocks Some Wind

Givi XS5112R XStream Tool Bag

Pannier Top Luggage Bags

Aerostich Pannier Bag

Toolbox For OEM Panniers

Highway Pegs

SW-Mototech Tank Bag

HEX EzCan Controller

SpeedIR Thermal Imaging Camera

Garmin Dezl 770 GPS

Garmin Zumo XT

SPOT Satellite Tracking Device

Valentine 1 Gen 2 Radar Detector

Antilaser Priority Laser Jammer

Cell Phone Running Waze

Mix-It 2

Sena 50S Bluetooth Headset - BMW TFT Connection, Cell Phone Communication And Waze Audio

Sena 20S Evo Bluetooth Headset - Zumo XT, Dezl 770, Radar and Laser Audio Alerts

Multiple USB Ports
---
The Riding Gear
---
I wear some of the best riding gear you can buy that keeps me comfortable and protected from all types of weather. It also helps keep me safe in the event of a incident, I know from experience.
The first thing I put on before anything else is my LDComfort underwear / base layer as this is what keeps me comfortable in all types of weather from damn hot to freezing cold LDComfort really does a great job of transferring the moisture away and keeping me dry. I have been wearing LDComfort gear for over 13 years and I can't find anything better.
I wear Aerostich Darien Hi-Viz jacket and AD1 pants that will keep me safe and dry through out the ride. This setup works so well and is comfortable enough that I may not take them off for 3 days at a time. I wear TCX Gore-Tex boots that keep my feet dry and protected.
LDComfort Underwear

Aerostich Darien Hi-Viz Jacket

Aerostich AD1 Pants

Aerostich Deerskin Gloves

TCX X-Five Gore-Tex Boots

Nolan N100-5 Helmet
Ride Maps Below
Interactive Maps
The Spotwalla tracking map below allows you to zoom in and out using the + and - buttons in the bottom right of the maps and you can drag the map with a mouse. You can also zoom in and out of the maps with a mouse that has a wheel.
---
Google Route Map
---
Below is a Google map showing my route where you can zoom in and out and pan the map with your mouse.
---
Weather Maps
---
I like to know the weather all the time and especially when planning a LD endurance ride. I use many sources for weather information to help plan the timing of my rides. I also develop my own weather webpages to consolidate all of the current information on one webpage that I use during my rides.
Here is a link to my 2021 Iron Butt Rally weather webpage with weather for 30around the country and 15 different national weather maps. This is a great way to see what the weather is on the route. I will use this weather webpage during the ride on my cell phone to see what the weather is in front of me.
Weather Webpage Link: 48 State Weather Map
Other sources of weather information that I use for long range weather forecasting are Weather Trends and Windy.com.
Also below is a current national weather radar loop map.
---
Spotwalla Tracking
---
Here is my direct Spotwalla tracking link that will open in a new browser window. There will be two route lines on the Spotwalla map as I am running two Spot devices and the new version of Spotwalla allows multiple tracking devices on the same trip. Also below is my embedded Spotwalla tracking map. You need to wait a few seconds for the map to load when viewing it.
My Spotwalla Tracking Link: https://new.spotwalla.com/trip/396c-65680-0077/view
---
Traffic Websites
---
I use the following state DOT websites for traffic and construction information during ride planning. If I see any large scale construction zones along my route I will mark them with custom POI's in my GPS's so I get alerted when I am getting close to them. This information helps me understand why traffic may be slow in those areas. This is a link to the SAFETRAVELUSA.COM website that has links to all of the states traffic DOT websites.
---
---
My Planned Route On Google Maps
---
My Current Location From New.Spotwalla.Com
Current US Weather Radar