Well since I was selected as a participant in the upcoming 2009 Iron Butt Rally I had been thinking about how I could get in the right kind of practice that not only includes eating up miles but also managing time and good route planning. I also wanted a good ride to test my new tracking device, SPOT. I wanted compare my current tracking device with how SPOT worked.

I knew the best way was to participate in multi day rallies and there are a few coming up that would be great practice. The problem is I cannot get away this summer to participate in any of them because of family and work commitments. I had already planned our summer vacation for this year and had already taken other vacation days off like the week of the IBA Pizza Party to ride the MTF / IBA Ride In 100CCC. I have already marked my vacation days next year during the IBR.

So how do I get in good meaningful practice between now and August of next year. I do plan to ride again in next years Cape Fear Rally and hope to find at least one other rally to ride in that gives me the opportunity to practice routing. One of my ideas was to ride some type of LD ride and include bonus stops where I would take photos and log the normally required information at each bonus stop. As I mentioned earlier I do not have the time to get away for four or more days to get in the best type of practice so I needed to come up with something that I could compress into a couple days. So I thought why not ride a BBG and include at least eight stops and a lot of route changes.

I started doing some route planning in Streets & Trips to see what I could come up with. My mind started to get a little crazy ( normal for me ) and was thinking of a Florida in state BBG. This was not really that hard if you ride up one coast and back down the other. I started working on the route and saw that just riding up I-95 and across I-10 and back to I-75 and down I-75 to Fort Lauderdale was not going to be enough miles. This worked out to only 1420 miles. I needed another 100 miles to make it a successful ride. As I was thinking of how I could add more miles staying in the state I saw that I could come up with a route that would require a lot of stops to prove the route I rode. This would work great as it gave me the miles I wanted and provided me with a lot of stops that I could treat like bonus locations. I saw I was going to need at least nine stops to get receipts to be able to prove my ride.

While I was thinking about a route I was making sure my Wing was ready to go. I normally keep my motorcycle in the ready condition as I never know when I am going to get the time for an LD ride. The Wing had good tires and only needed an oil change and a good going over to check the other fluids and other key components. I mounted the AUX tank and installed SPOT.

I bought SPOT and registered it but did not sign up for the automatic tracking yet as we are going to get a 50 percent discount in a week for the firsts years tracking cost. So I would have to mount SPOT in a place that I could easily reach the OK button, you press the OK button anytime you want to send a message saying your okay and provide your location. I also wanted it to be in my line of sight so I would remember to press the OK button.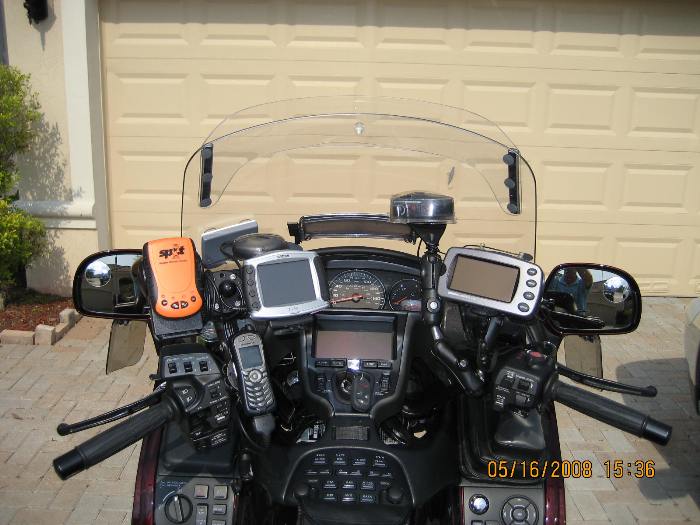 I started the planning on Monday and was thinking I would make the attempt Friday night into Saturday as usually the constructions zones are shut down for the weekend in Florida starting Friday afternoon. There are always a lot of weekend travelers in Florida with I-75, I-4 and I-95 having the most traffic. By Wednesday I had a good route and was confident that I would be successful. You see I have completed other BBG's getting two of them certified by the IBA. I have also completed a BBG3000 so I know what it takes to complete a BBG. I came up with a planned route which was as follows, I-75 east to I-95 north to Fort Pierce, Florida Turnpike north to I-4 east to I-95 north, I-95 north to Jacksonville, I-10 east to exit number five near the Florida Alabama border, I-10 west to I-75 south to Florida Turnpike south to I-4 west, I-4 west to I-75 south to the finish. This would give me 1520 miles.
<![if !vml]>
<![endif]>

This was going to be a more complex than just finding a long stretch of road and grinding out the miles. I have done that for my previous BBG's and knew this would not give me the right kind of practice for the IBR.

With the route worked out and the Wing ready to go now I had to get in ride mode and get the needed permission from the wife. My wife knows when I am thinking about an LD ride as I change and become more of an introvert with emphasis on the word MORE. I also start piling up my riding gear on the table and spend more time in the garage. My wife would be attending a local seminar this weekend so I was good to go.

My plan was to work Friday and then try and get some rest Friday evening and head out around 10:00 pm after the traffic dies down and the temperature has a chance to cool down. I work for IBM and work from home so getting ready Friday was not too hard. I normally go through a lot of steps to get ready for a ride. I try and take care of things around the house like clean the pool, shop for food and other things so that if something happened and I was gone longer than planned my family would not have to worry about any of that stuff.

I have a lot of gizmos on my Wing. I am in technology so I do not have just one GPS, I have three. I use them all for different routing and as backups. Two of them have traffic and one has basic weather. I have had a tracking device for a couple years now and I just added SPOT as I hope it will replace my current tracking device. My current device is cell phone based and has a lot of areas it does not work. SPOT is satellite based and works in most of all of North America. I also have my cell phone integrated with my Zumo so I can send and receive calls while riding. Another technology item I have is the ability to leave a voice mail message and have it transcribed and posted on a blog or sent to contacts as an email or text message on their cell phone. I use this to send emails to family or work colleagues. I also use it as a way to help me document my ride by posting messages to my blog. All of these items help me pass the time while on a long ride.

I wanted to make this ride difficult as possible but still have the opportunity to complete the ride successfully. I thought that this would be a good way to get in some meaningful practice in a single day ride. I thought that starting the ride with only a little rest would be like riding the third or fourth day of an IBR. I also wanted to include more miles and stops than is normally ridden in a twenty-four period during an IBR. So that brings me to my planned ride of a BBG with at least nine stops.

I got up Friday morning and started work and monitoring the weather. There was a strong cold front moving east with a couple strong lines of thunderstorms starting to move through the gulf states. I started to monitor the heavy storms hoping that they would be moving fast enough to pass through before I was going to be in the area. I do not mind riding in the rain but saw no good reason to ride through lines of strong thunder storms with tornado warnings just for practice. I could always put this off for another time. In the afternoon the storms were in the Florida panhandle and moving pretty quickly. I was not sure if they would be completely through the area before my planned route would put me in that area.

I looked at my planned route to see what I could do to minimize my chances of having to ride through the storms. I decided if I ride the reverse of my route I probably would come in behind the storms as they would probably have moved offshore before I get to Jacksonville.

I finished up the preparation for the ride, had dinner and went to the ATM to get some money. I took a shower and lay down around 8:00 pm to try and get a couple hours of sleep. Well at 8:45 I knew I was not going to sleep so I got up. Decided if I am not going to sleep I might as well get on the road and making miles. I was not feeling too good as I have been not feeling well for over a month. I think I have some bad allergies that are making me feel tired and slow.

I put on my gear and said goodbye headed out to the gas station around the corner from my house. It takes about two minutes to get to the station. I had decided to ride the reverse of my route and not use a route on the GPS but only route to individual planned stops. I thought this would make it more difficult as I had to do more thinking.

Finally what this ride report is about the ride. I arrived at the station and filled up with gas got my starting receipt and took the first photo. My ride started at 9:35 pm. It was still 80 degrees at this time of night and the skies were clear.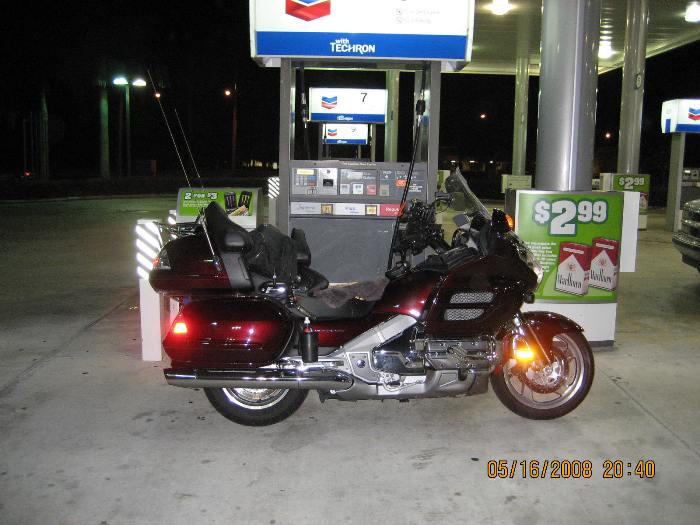 I headed out Sheridan St to US 27. It is a ten mile ride to get on I-75 north bound. Where you get on I-75 is where it crosses the Florida Everglades and is really heading west for eighty miles. It was a good ride across the "alley" except for all of the bugs. Whenever you cross the everglades at night be prepared to get the front of your motorcycle covered with bugs. Watch out, there are some pretty big bugs out there.

I was headed for my first planned stop which was a gas station just after turning on to I-4 east bound near Tampa, FL. There is a lot of construction on I-75 near Naples. It runs for about thirty miles and keeps the traffic moving pretty slowly. Another good reason for reversing my route is that it gets me through many of the construction zones when traffic is at its lightest. There was a lot of traffic for that time of night though. I remember thinking what are all of these old people doing out after dark. <![if !vml]>

<![endif]> You see Naples is a big retirement area.

As I am getting close to I-4 east bound there is a lot of traffic around Tampa. I guess since its Friday night a lot of people are out and about. It is 79 degrees and clear still. Before I left the house I saw that the heavy storms had moved offshore and I was not going to have to deal with them. I thought I would still run into some rain in north Florida.

I made the turn on to I-4 east and got off at the planned exit to buy gas and get a receipt to document this corner of my route. I stopped in Seffner, FL at a Shell station. It was 12:50 pm and things were going well so far. The skies were still clear and it was 77 degrees.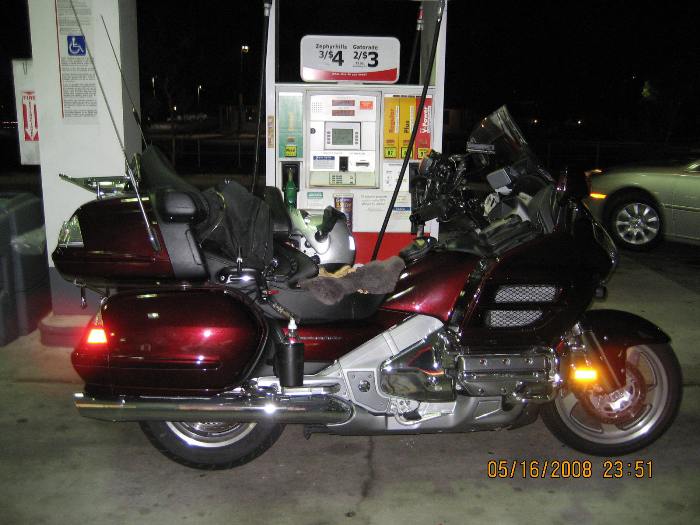 Back on the road headed east bound for Orlando and the fun capital of the world. There is always a lot of traffic headed for Orlando no matter what time of day it is. I was still feeling slow and not to in to the ride and I was thinking what the hell am I doing. I see a lot of big hotels and man I'm ready to stop and I just getting started. I hope getting into the grove here soon. My body was tired and I was not as into the ride as I normally would be. I was hoping I would get into the grove after a couple hundred more miles. Normally deeper I get into a ride the more I start to feel it.

I arrived in Orlando and even though it was 1:30 am there was a lot of traffic. I arrived at my second change of route and I turned on to the Florida Turnpike north bound. I got a receipt at the tool booth to document this corner of the route. I headed up the turnpike to where it ends. There is one more toll booth and I got another receipt. Normally I do not have to stop as I have Sunpass and can g through the toll booths with out stopping. I stopped so I could get receipts. Since my route was not so straight forward I think the more ride documentation I have the easier it will be for the IBA to confirm my ride.

The turnpike runs into I-75 north and I stayed on I-75 to I-10. Just before turning on to I-10 I stopped for gas at another Shell station. I needed gas and wanted another receipt to show how far I rode on I-75. It was 3:30 am and the skies were now cloudy and the temperature was 72 degrees.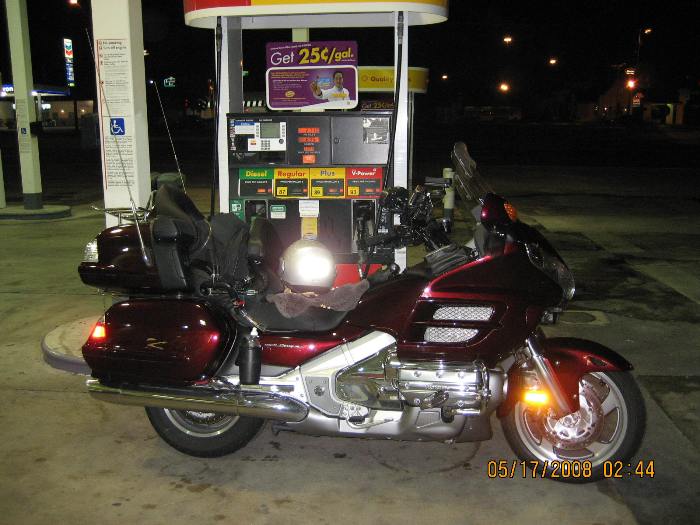 Out on I-10 I headed west for exit number five. It is 290 miles to exit five from where I got on I-10. I plugged into my GPS my planned fuel stop and saw that I would arrive around 7:30 am. The ride across the Florida pan handle was good with light traffic. The temperature started to drop as I made it through the front with no rain. The skies were clear again and it was 64 degrees. I was able to actually use my high beam lights for the first time since traffic had lightened up. The farther I headed west the lower the temperature got. Just before reaching Pensacola it dropped to 59 degrees. This was a little cool but I did not need the electrics.

There is a lot of construction on I-10 around Tallahassee and I was glad to be passing through in the early AM as traffic was light.

I was slowly but surely getting into the ride I started to feel better and not feeling that "what the hell am I doing" feeling. At the next stop I would be about half way into the ride this made me feel a lot better.

Coming into Pensacola I saw that in both directions the new bridges are finished after being destroyed in the hurricane. It was slow going across the bridges for a couple years. Now they are new and three lanes.

I made it to my turn around point at exit five at 7:28 am. I pulled into the station ( another Shell ) feeling tired and needing some coffee and a bite to eat. After I filled up and went to the restroom I bought a honey bun and a cup of coffee. I went outside and saw another motorcyclist on a Killer getting gas. He came over and asked was I there to go to the breakfast. I said no that I was riding an IBA ride. He said every Saturday riders meet there and ride over to the Oasis Travel Center ( big gas station ) in Alabama for breakfast. We talked for a while and another rider on a BMW rode up. It was good to take a break and talk to some real people instead of talking to myself which is what usually happens when you're on the road. They eventually left and I finished my coffee cleaned my face shield and windshield. I geared up and hit the road.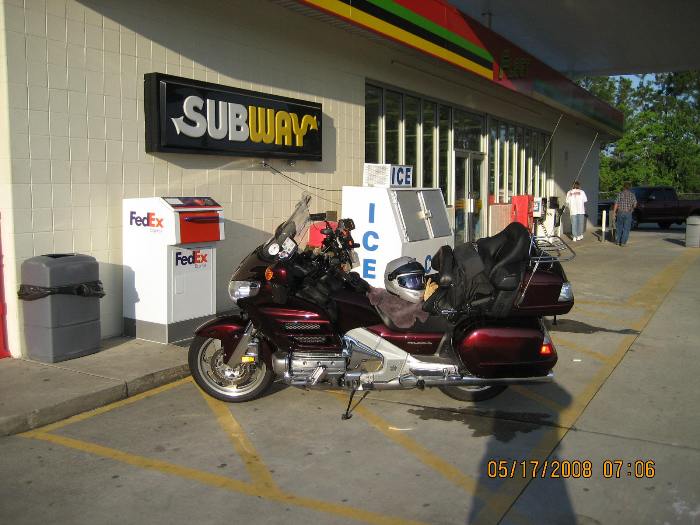 Back on I-10 heading east bound was a good feeling. It was warming up a little, 63 degrees, and the skies were clear blue. Traffic was still light and I was making pretty good time. The farther I rode on I-10 the more LEO's I spotted. My V1 was getting a good work out.

After 895 miles I am finally in the grove. It took a long time and I hope it will last for another 600 miles or so. It is now 68 degrees and just beautiful. I like riding I-10 in the pan handle as this is the closest it gets to wide open road in Florida. It's not Nevada but it's not bad either.

I stopped for gas a new Love's that has an Arby's inside at 11:10 am. I really like Arby's so when I saw the sign I made that my stop. I gassed up, took my photo and went inside for some lunch. I took my time and took off my jacket and sat down. The sandwich was really good, I guess more so than usual since that was my first meal since last nights dinner.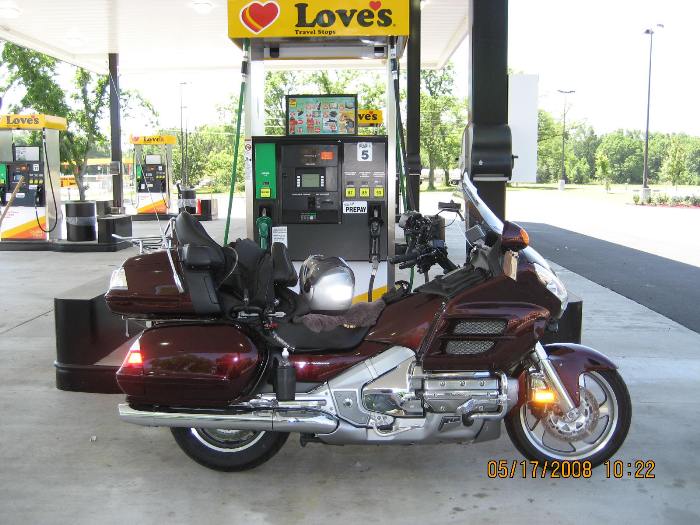 I was back out on I-10 east bound and figured I had another 105 miles to go before I turned south on I-95. It was a quick run to Jacksonville and the turn off for I-95. I made another gas stop at 1:04 pm to document my corner. I stopped at a BP just for gas. It was a quick stop no bathroom break.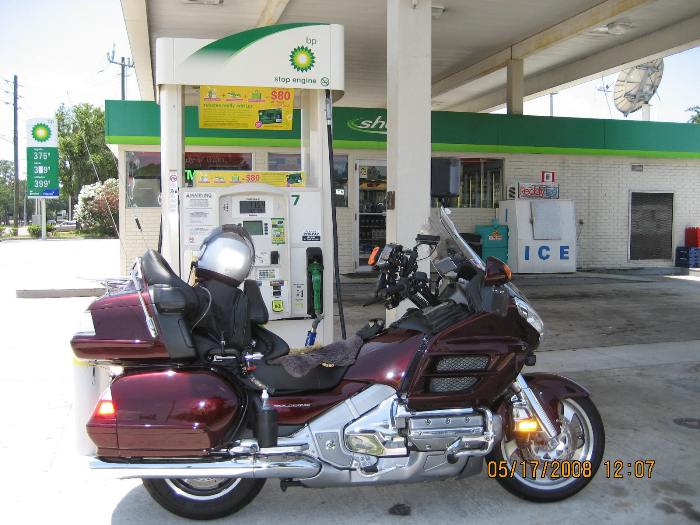 Back on the road and traffic was picking up and it was getting hot. It was now 84 degrees and climbing fast. My plan was to ride to Daytona and turn on I-4 towards Orlando. So I rode on. There was some traffic on the way to Daytona and in this area you always see more motorcycles on the road. My arm was getting tired from waving at all the passing motorcycles.

I made my turn on to I-4 in Daytona and right away knew this was going to be a slow ride into Orlando. The road was packed and there was some heavy construction along the way. I met up with another rider who was on a Busa. I watched as he was hunched over trying to get behind the small windscreen and thought about the differences between us. I was relaxed with one hand on the bars listening to music while the other rider was hunched over trying to stay out of the wind. We made some maneuvers to get around some traffic and I think the guy on the Busa was thinking how was I keeping up. He kept looking back and would see me there. It was some good entertainment to pass some time.

The temperature really climbed by the time I reached Orlando. It was 95 degrees and man I was hot in my gear. I had on my Olympia AST jacket and my Aerostich AD1 pants like on all of my LD rides. I had all of the vents open and poured some water down the front and back of the jacket to help cool me off. There was a lot of traffic in downtown Orlando. It was close to stop and go. I finally made it to the other side of town where I was making my next turn to get on the Florida Turnpike south.

I made the turn and stopped at the toll booth to get a receipt. The person reminded me in this section you do not get a receipt until you are getting off the turnpike. So I made some notes and headed out. Even though I did not need gas I stopped at a service plaza on the turnpike ( Canoe Creek Plaza ) to get another receipt to document my location on the turnpike.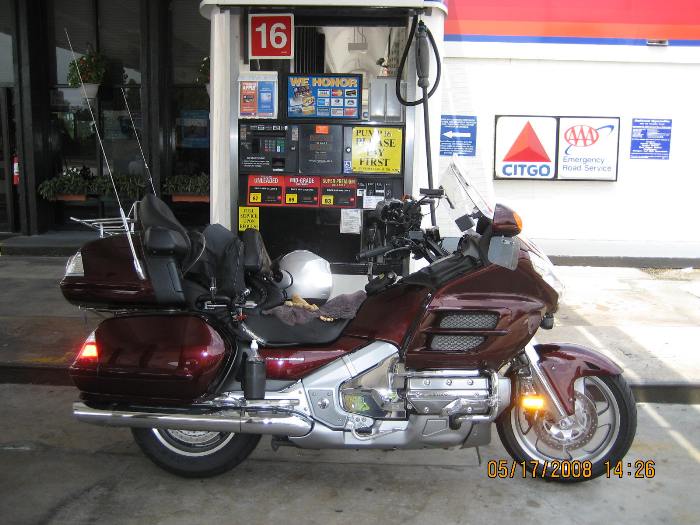 I rode the turnpike to Fort Pierce and got off there to take I-95 south. I got my receipt getting off the turnpike and stopped to check the information and write down the mileage. When I got off the turnpike I only had 200 miles to go. I was in the home stretch and feeling good even though I had not slept all night. I was sure I was going to make the finish in time and was ready to go!!!

On I-95 south, traffic was better than I thought and I was making pretty good time. It was hot and the LEO's were working pretty hard so I had to keep my ear to the V1. Did I say it was HOT. I rode I-95 all the way to State Road ( SR ) 826 in Miami. This was past Fort Lauderdale by about ten miles but I needed these extra miles to be over 1500. I took SR 826 west and started looking for a gas station to get a receipt to document this corner. I got off at an exit and pulled into a gas station. A sign on the pumps said no gas. Damn. I rode across the street to a BP station and saw that the pumps did not have a card reader. So I bought five dollars of gas and went inside to pay. Damn, no printed receipt. I got back on SR 826 and rode a few miles to look for another gas station. I got and saw a Hess and thought they must have a printed receipt. So I pulled in bought three dollars of gas since my tanks were full and WOW a printed receipt with all of the correct information. I really needed this receipt to document my route. I was so pissed off I forgot take a photo of the gas station. I did not even realize it until the next day when I was going over my receipts.

Okay back out on SR 826 I rode to I-75 north. I made the turn and headed for the last few miles of the ride. I had called my wife to have her order some food so it would be there when I got home. My exit on I-75 is Sheridan St and it was only a few miles. I made the turn and had three miles to the finish. I pulled into the gas station that I started out from the night before. The receipt said it was 6:39 pm. Not bad considering how many stops and road changes I made.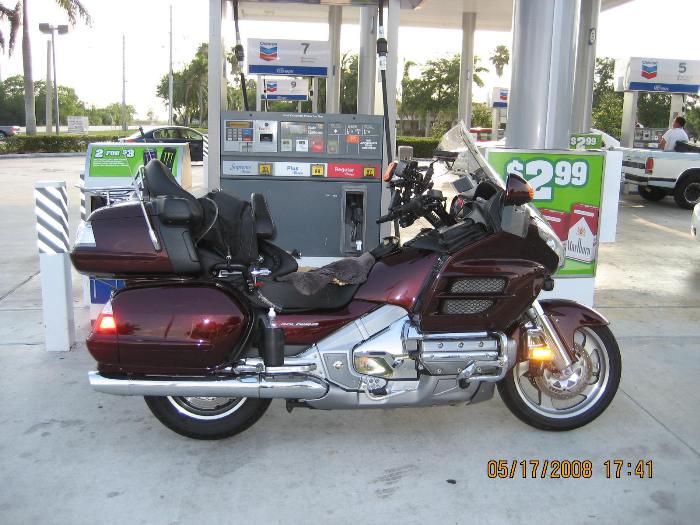 Here is a photo of my Zumo showing how many miles I rode. It is a little less than I would want but should be good to go.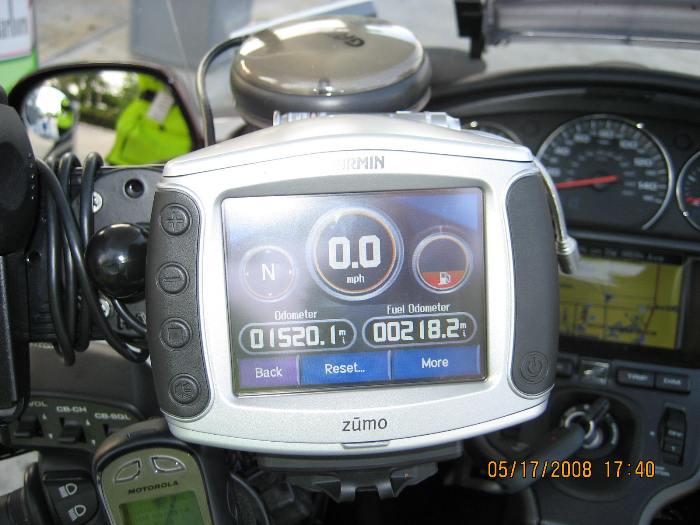 I got home and took a long shower and had some good Italian food. I hung out with the family for a couple hours and went to bed around 9:30 pm. I slept until 9:00 am the next day.

It turned out to be a good ride. At the beginning I was not so sure I was going to make it as I felt like hell and I had not gotten any sleep. I was not feeling the ride until I was over 700 miles into it. Eventually I felt better; riding does that to me, and was really into the ride. The last few miles were hard as it was hot and I had a hard time getting the receipt. I had no problems on the ride and there were no road closures or any accidents. I wanted to make this ride hard and force me to think the whole ride. I think I did okay until I did not take the photo at the gas stop. I made seven gas stops not counting the starting and ending stops. I also made three others stops on the Florida Turnpike for receipts. So I have twelve receipts to help document my ride.

This was a hard ride and I hope helps me prepare for the 2009 IBR. My next ride will be a BBG3000 with many stops and route changes.

In case you did not notice I made an error before I even started the ride. The time on the camera was off by about an hour ( daylight savings ). I forgot to check it before the ride.