Garmin Zumo XT GPS
---
Updated June 9, 2020

I bought the new Garmin Zumo XT motorcycle GPS to replace my Garmin BMW Nav 6. This new Garmin Zumo XT has all of the features in a waterproof motorcycle GPS that I have always wanted. This new Zumo XT will be the replacement for the Zumo 595.

In my mind this new Zumo is much better than the previous Zumo's and definitely has a better screen and not just because it is bigger than the previous Zumo's.

Over the years Garmin has been dumbing down their GPS and giving the user less options to control. This new Zumo XT is a trend in the other direction and gives back some of the control that we used to have. The biggest feature Garmin gave us back in the Zumo XT is the ability to see our waypoints / favorites / bonuses zoomed out to 50 miles. This is a big deal for riders who will use the Zumo XT in rallies! See screenshots below.

I have found having one or two GPS mounted on my motorcycles have made my long distance riding a little easier and I have less stress when I am on the clock because of the information available on the GPS's.

This is a big step up for Garmin in building a new motorcycle specific GPS. It is also nice that the price is more reasonable compared to previous Zumo GPS's.

Garmin has a new phone app called Garmin Drive that provides a lot of information that will display on the GPS including weather radar, text messages and more.

One neat safety feature of the new Zumo XT is incident notifications, this is where the Zumo XT will send out a message in the event of an accident or other type of abrupt stop.

---

I may have found a possible issue with the power cords on the new Zumo XT's.

Garmin moved the power transformer ( 12 volts to 5 volts ) to the hardwired power cord. It is a small black box. The black box may not be waterproof as I found on two rides that after riding in heavy rain the Zumo XT would switch between hardwire powered and internal battery powered.

On my last ride I waterproofed the black box power transformer and the issue of switching between hardwired powered and internal battery power did not happen.

---

The new Zumo XT has other types of notifications that make riding safer. I have turned on all of the alert types that are available so I can see what they do when riding. On a recent ride I was riding the Cherohala Skyway in western North Carolina and I noticed the sharp curve alert and the speed limit change ahead alert. Both of these alerted me with a on screen alert and a beep in my Sena headset.

You can stream music or audio from your phone with most any app that has audio, I stream XM radio. You can also load MP3's to the GPS and play them on the GPS.

The Zumo XT comes with it's own new cradle and Ram mount parts. It does not fit any previous Zumo cradles. It is easy to mount with the mounting hardware that comes with the GPS.

I could not find a company making a screen protector so I took a left over iPad screen protector and cut it to fit the Zumo XT.

I think you will find this new Zumo XT GPS to be a big improvement over previous Zumo GPS's. There are a lot of good features that should help keep you safe out on the road. The incident notifications and rider alerts, rest break planning and animal crossings are nice new safety features that will help keep us safe on the road.

One nice feature that was added to the Zumo XT is called Up Ahead, this replaces the Exit Services feature. The Up Ahead feature is much better than the Exit Services and it has been on many Garmin Nuvi's along with the Dezl 770. With Up Ahead you can configure what you see up ahead and it works on all roads not just Interstate highways. Up Ahead also shows you what side the of the road the POI is located which is nice when you are looking to find a gas station on your side of the road.

On a recent ride I experienced a couple new nice features with the new Garmin Zumo XT during my I-20 E2E ride.

One new feature was that the Zumo XT alerted me with a alert tone and on screen alert that I was going the wrong way on a one way street. This is a very nice feature when in arears that you are not familar with.

The other new feature was that the Zumo XT alerted about stopped traffic ahead when approaching an accident. There was an audable alert and on screen alert with the distance to the stopped traffic. To be able to receive this type of alert you need to have the new Garmin Drive app installed on your phone and have the phone connected to the Zumo XT by Bluetooth. I am sure it will not work for all accidents so always stay alert.

I have the audio from my GPS's plumbed into my headset so I do not have to take my eyes off the road to know where and when I need to turn and to receive many different types of smart notifications from my cell phone. For me this really makes me safer on the road and allows me to spend more time paying attention tot he road.

---
Zumo XT Features
The Zumo XT has many nice features that make riding long distance and rallies a little easier. The Zumo XT has many features that I like that the Dezl 770 has that I really like.
Motorcycle Specific GPS

Waterproof

Big 5.5 Inch Screen

Super Bright Screen Even In Daylight

Ability To See Waypoints / Favorites Zoomed To 50 Miles

Large Internal Memory ( 32 Gig ), Handles Maps And MP3's

Connect To Bluetooth Headset

Built In Wi-Fi For Firmware And Map Updates

Built In Topo Maps

Birdseye Satellite Map Capability

Easy To Switch Map Types

Rider Alerts - Animal Crossings, Curves, etc.

Route Break Planning

Icons Are Configurable On Screens

Configurable Up Ahead Feature

Cities Up Ahead With Distance And Services

Adventurous Routing Options To Route You Off Road

Incident Notifications - Sends A Message When You Have An Accident

Smart Notifications - View Text Messages And Alerts From You Phone

Music And Audio Streaming From Phone

Track Recording

Weather And Weather Radar Display With The Garmin Drive App

Works With Basecamp
---
Zumo XT Screen Shots
For rally riders I have a couple new Zumo XT screen shots that show you how bonuses look on the Zumo XT so I wanted to make them the first screenshots on the webpage.
With the new Zumo XT GPS we can now see waypoints / favorites / bonuses zoomed out to 50 miles which is a really nice feature Garmin added back to the Zumo line of GPS's.
To see the waypoints / bonuses on a map you need to select the "Saved" button ( highlighted in yellow ) to go to the waypoint / favorites list. Then in the top right touch the map button ( highlighted in yellow ) on the next screenshot to go to the map screen that will have the waypoints on the map. I highlighted in yellow the map zoom range of 50 miles in the bottom right of the screenshot.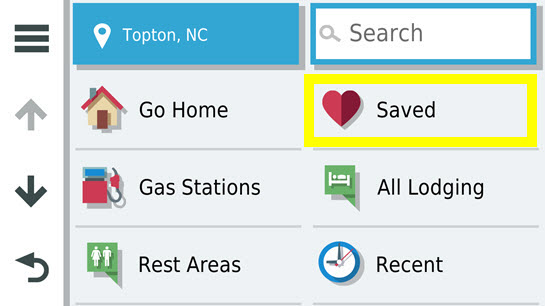 Click For Larger Image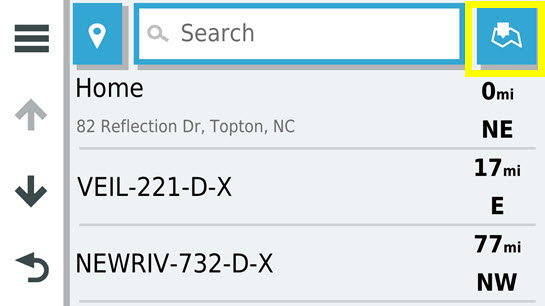 Click For Larger Image
Click For Larger Image
On this screenshot and the one below you can see the map is zoomed to 50 miles and you can see your waypoints / favorites on the map. The waypoints / favorites are all the heart shaped icon.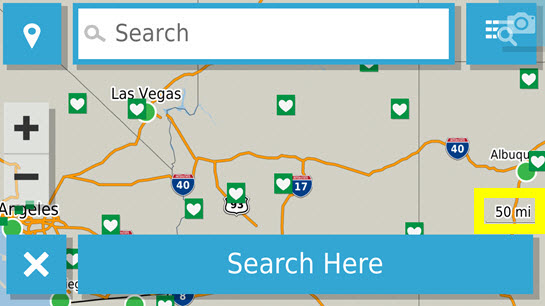 Click For Larger Image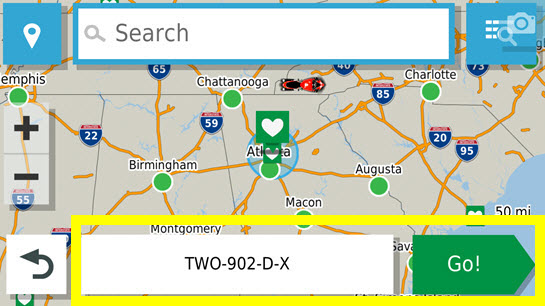 Click For Larger Image
When you are on the browse the waypoints / favorites screen ( above screenshot ) you can select one of the waypoints / favorites and either touch "GO" or touch the waypoints / favorites name at the bottom of the screen to see more information on the waypoints / favorite.
---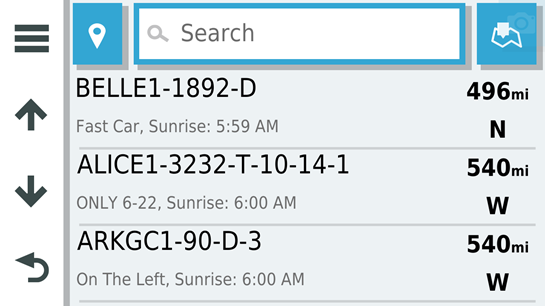 Here is a screen shot of the saved waypoint / bonus list after importing from Basecamp. You can see a lot of information on this screen.
---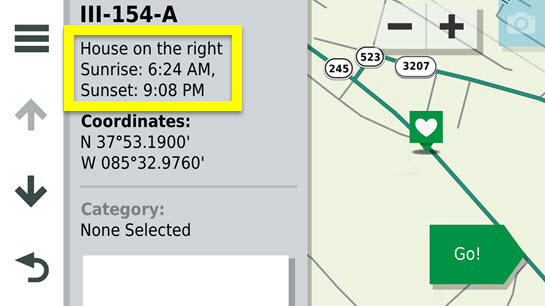 A view of the waypoint / bonus after selecting the waypoint on the saved waypoint list. The bonus comment, sunrise and sunset information is from my bonus prep spreadsheet. Click here to take a look.
---
I have 46 different Zumo XT screens shots below with a description for each screen shot.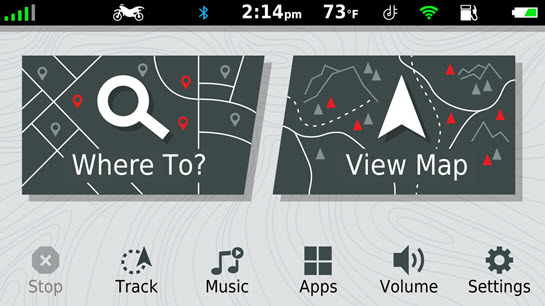 The First screen you see after tuning on the GPS. There is a lot of information on this screen like GPS profile, Bluetooth connection, time, temperature, Wi-Fi and fuel range.
---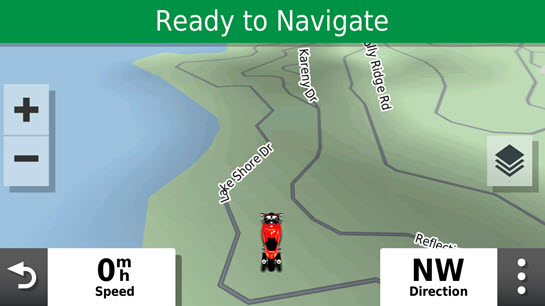 Nice big easy to read and see screen. The shortcut to change map type is right there on the screen. The GPS tools menu shortcut is also in the bottom left.
---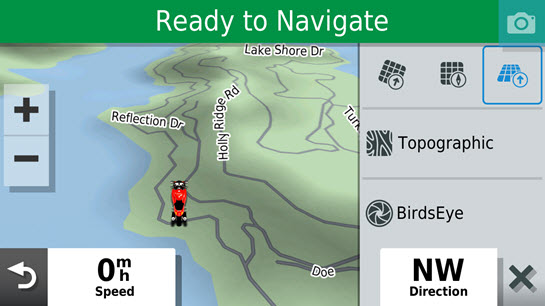 The menu to switch the map from standard to Topo or Birdseye pops up over the map screen. It also allows you to switch the map display from 3D, to north up or track up. No need to return to the setting menu to do this.
---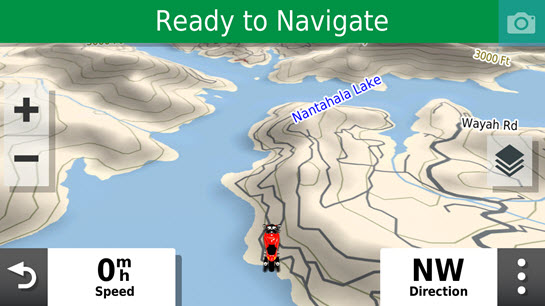 Topo map screen. It is easy to switch between the different types of maps.
---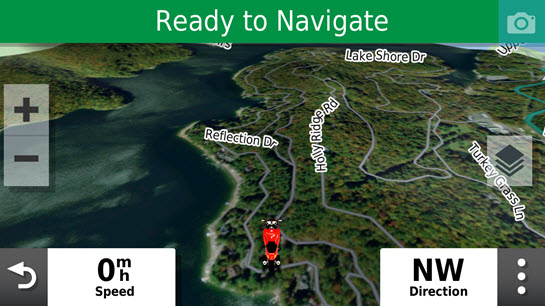 Birdseye map screen. You can download Birdseye maps of the areas you want when you are connected to Wi-Fi.
---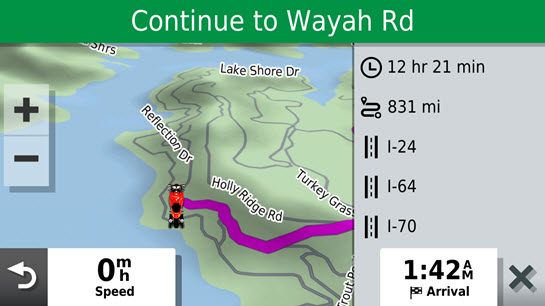 Route displayed on the map with the route information in a popup box.
---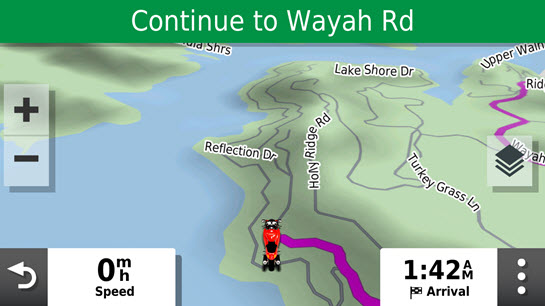 Route displayed on the map screen.
---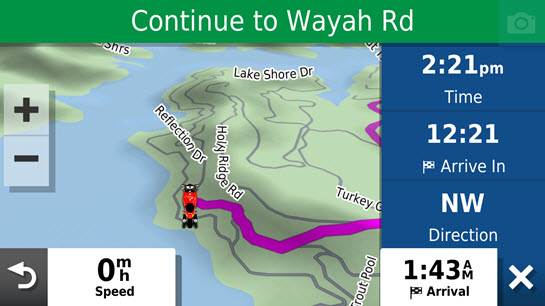 Route data display that is configurable as to what fields are displayed.
---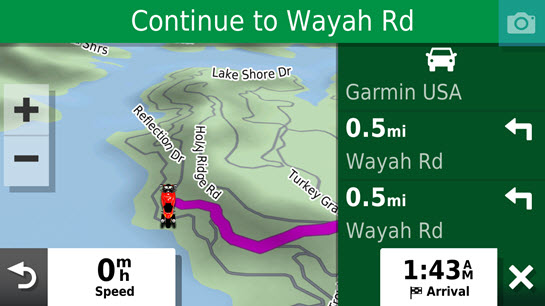 Upcoming turns along your route.
---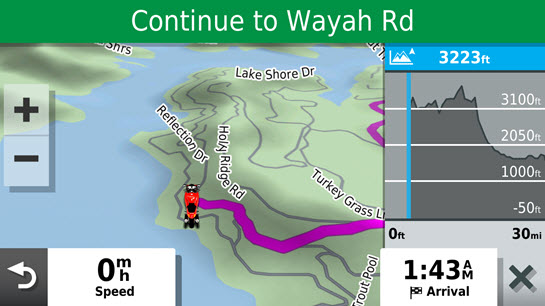 Elevation changes along your route.
---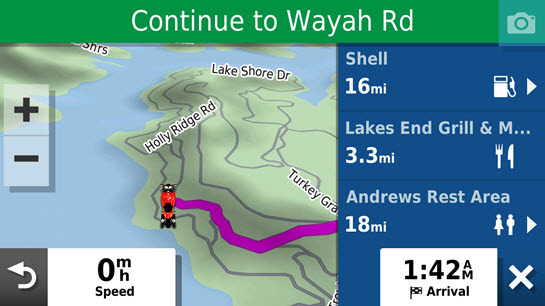 Up Ahead feature showing POI categories that are configurable. These are POI's up ahead like gas stations and restaurants.
---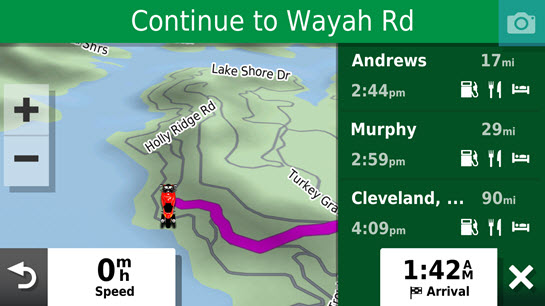 Cities up ahead along your route with type of services available.
---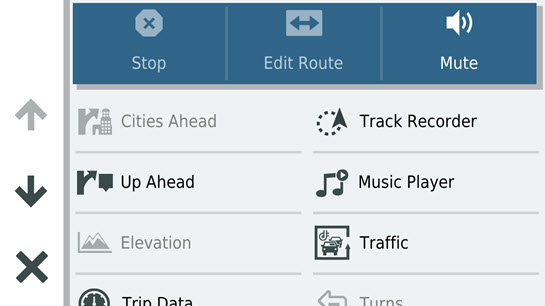 Map tools popup menu showing things you can do from the map screen.
---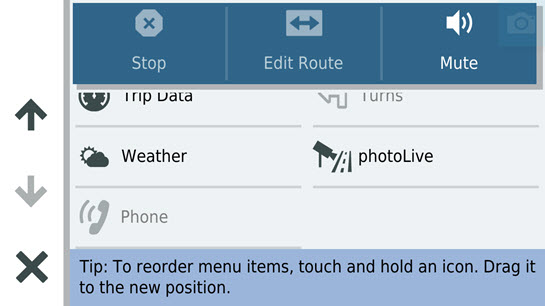 More of the tools popup menu options from the map screen.
---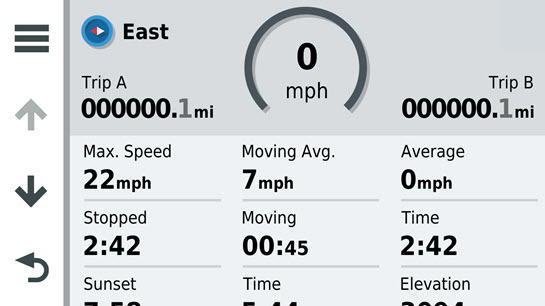 GPS data screen with two trip odometers.
---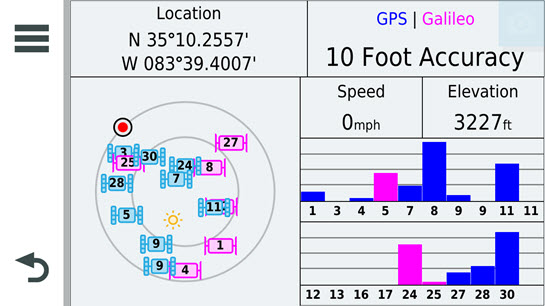 Screen showing the satellites that are used to determine your location. There are multiple satellite systems being used on the Zumo XT including the US and Russian GPS satellite systems.
---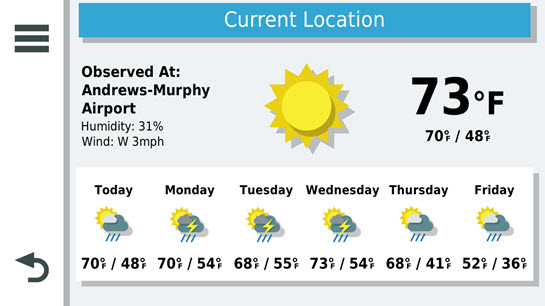 Current weather at the closest city.
---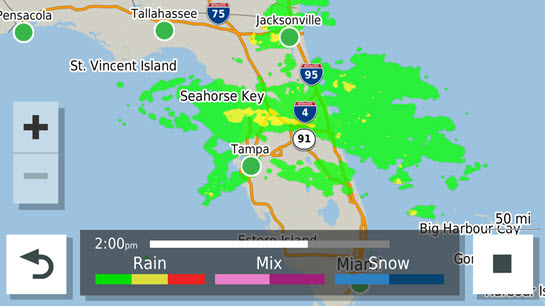 Weather radar display. You can scroll the weather radar map.
---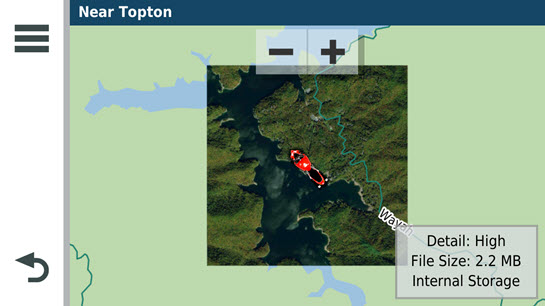 Overview of one of the Birdseye maps that can be downloaded.
---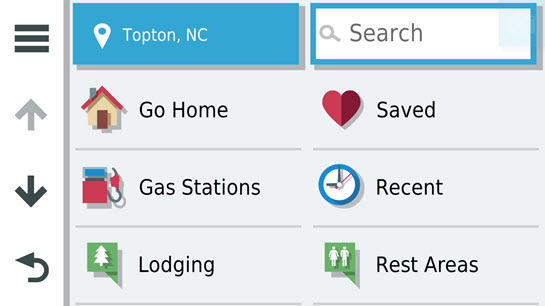 Main GPS search screen, the icons are configurable including the order of the icons.
---
GPS settings menu screen. This is where you would configure how you want the GPS to work.
---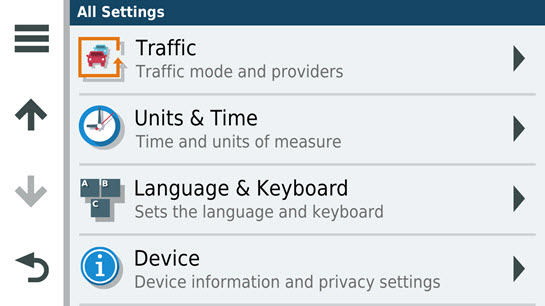 More GPS settings menu options.
---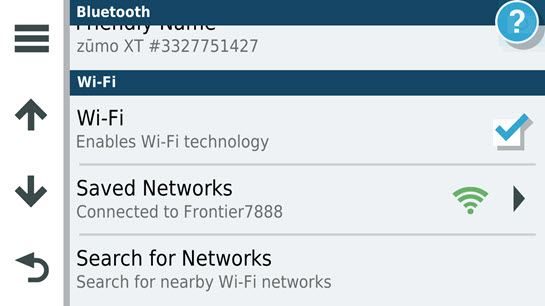 Wireless networks menu ( Bluetooth and Wi-Fi ) configuration.
---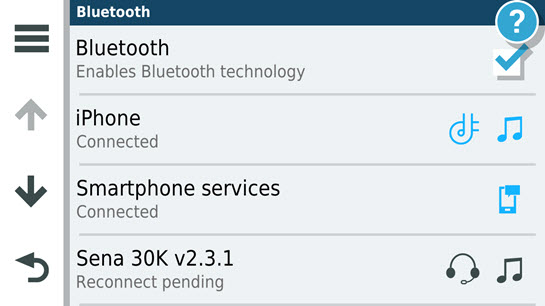 Bluetooth connection menu screen.
---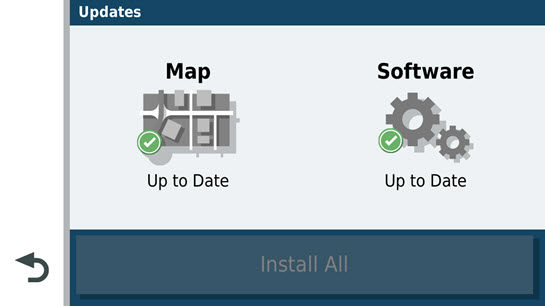 Wi-Fi menu screen for updating the maps and firmware. You can be connected to any Wi-Fi like at McDonalds to get map and firmware updates.
---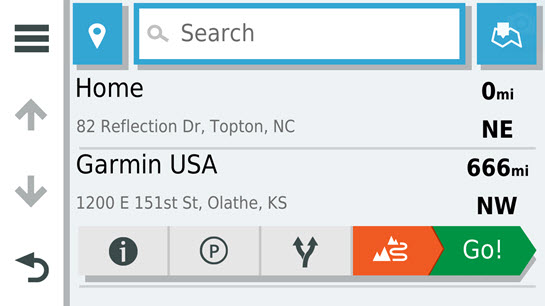 POI search menu screen. Just start typing to find a specific POI or saved waypoint.
---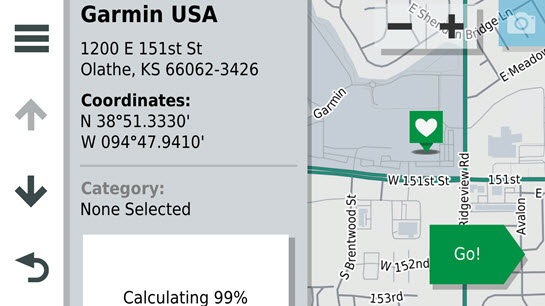 POI Screen showing information about that specific POI.
---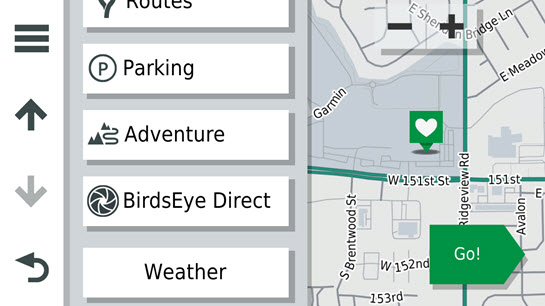 More of the POI screen showing options for that POI like creating a route to the POI or a Birdseye view of the POI.
---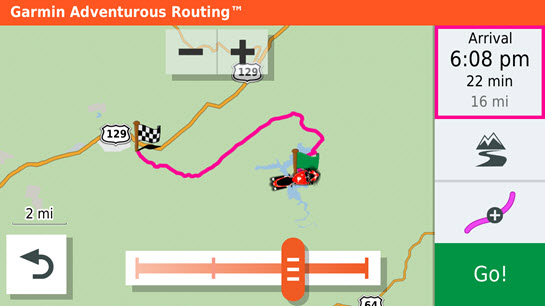 Garmin Adventurous routing option where it will route you off road or though other places that are more adventurous.
---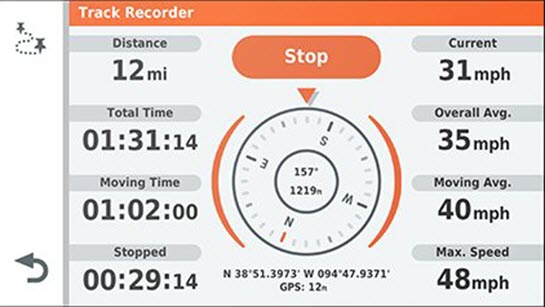 The Zumo XT has the ability to do advanced track recording that you can then download to Basecamp or other mapping application.
---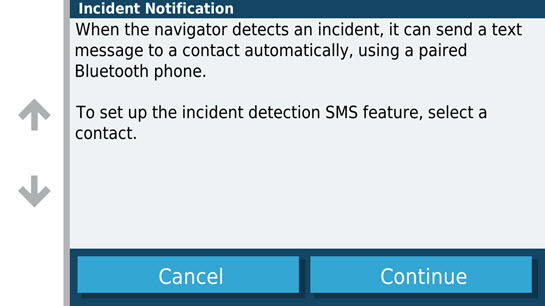 Incident notifications will be sent if you are in an accident or if you have some other type of abrupt stop. A text message with your location information is automatically sent to your predetermined contact that you have setup in the Zumo XT.
---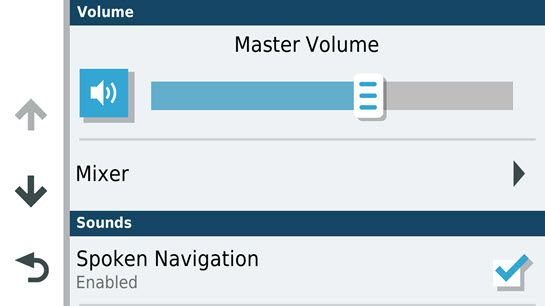 GPS volume settings screen.
---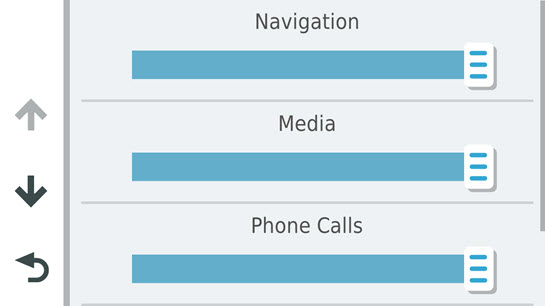 Secondary GPS volume setting screen.
---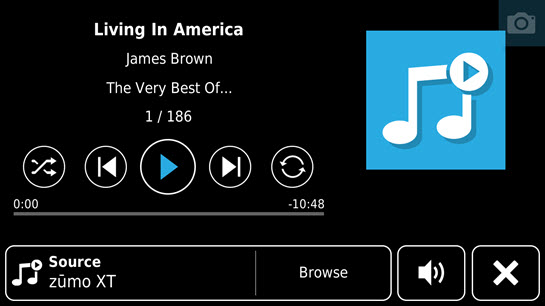 You can play MP3's stored on the GPS or connect to your phone and stream pretty much any audio source. I stream XM radio from my phone through the GPS.
---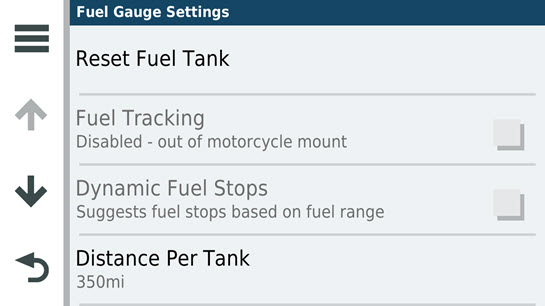 The Zumo XT has the ability to track your fuel range based on how many miles you enter as the range of your fuel tank. Once you reach the range you set a popup will alert you.
---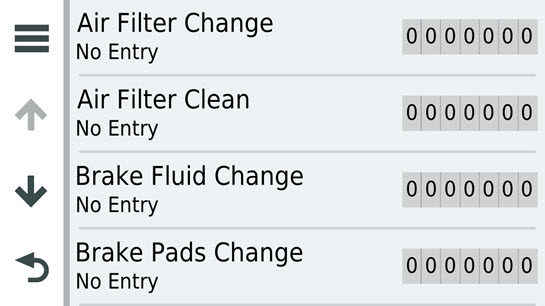 The Zumo XT has a screen that allows you to track your motorcycle service history like oil changes.
---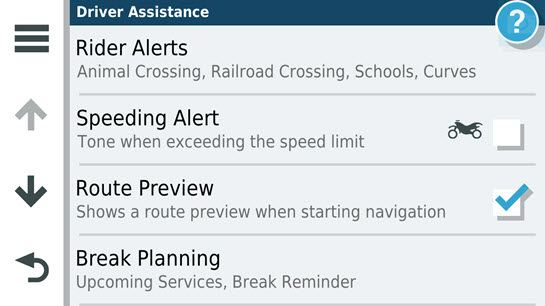 Rider assistance menu options screen. On these menus you can turn on or off different of alerts that will popup on the screen.
---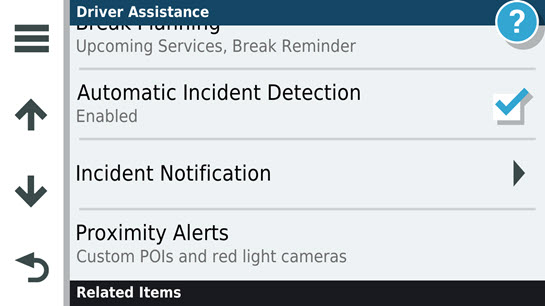 More rider assistance menu options screen where you can turn on or off different types of alerts that popup on the screen.
---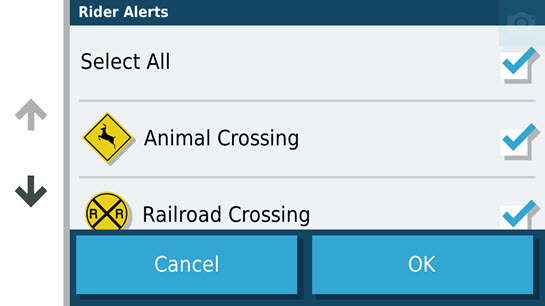 Menu screen to turn on or off different types of rider alerts.
---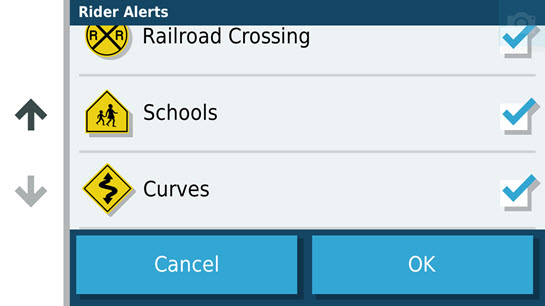 More types of rider alerts to turn on or off.
---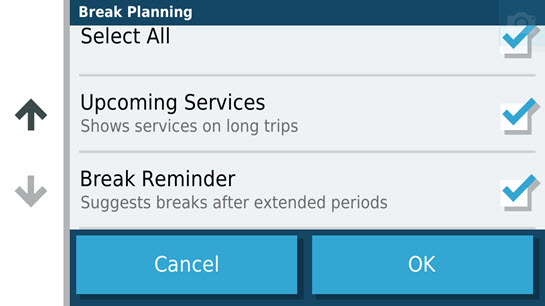 Route break planning menu options. You can set specific times to stop for a break and the GPS will popup a reminder.
---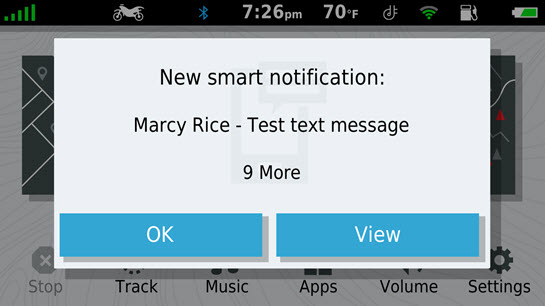 GPS smart notifications from you cell phone. This is a nice feature that allows you to keep your eyes on the road while listening to the notification. The GPS will read out to you the text message or other types of smart notifications.
---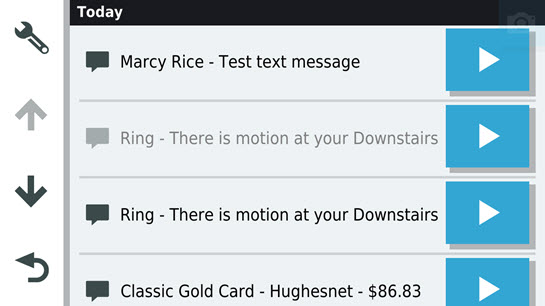 Smart notifications from my cell phone including text messages and notifications from my Ring security cameras at home.
---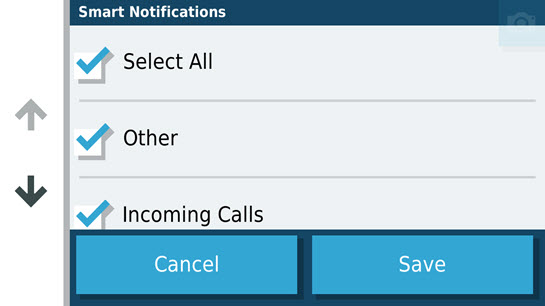 Smart notifications configuration menu where you can turn on or off the different types of smart notifications that popup on the GPS screen.
---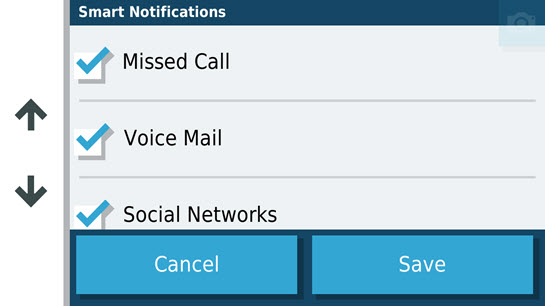 More smart notifications you can turn on or off.
---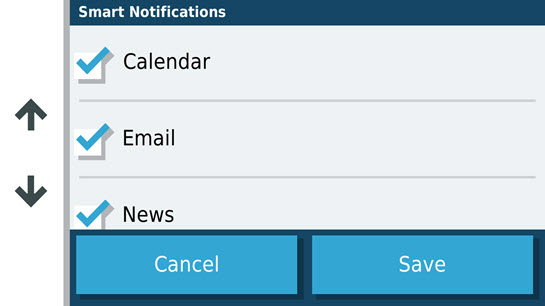 More smart notifications you can turn on or off.