Memorial Weekend BBG
Honor the Fallen
May 28, 2011
Greg Rice – Travel_Man
All week long I was trying to find out from the family if we had any plans for the Memorial holiday weekend. I wanted to go riding but just was not sure if I was going to be able to. I keep the wing in battle ready mode in the event an opportunity comes up to get out and add a few miles to the clock.
The Planning
I had been asking Wrugboy if he wanted to meet for BBQ somewhere but he was in the prepping mode to get his V-Strom 1000 ready for the IBR. Many other MTF members had ridden a SS1000 the weekend before to a RTE ( Ride To Eat ) in Helen, GA so I knew trying to plan another one so close together would be hard.
As the week went on it became clear that the family had no plans and that I will have a day to go riding. Thursday I started looking at Streets and Trips to see where I may want to ride to. I was not sure yet what type of riding I was going to do. I know I wanted a long ride but was not sure if I wanted to be on the clock or not.
Friday, while at work things in my mind cleared up and if I was going to ride it was going to be a BBG. Now I needed to decide where to. There are a couple route options. One is to head up and back on I-95, another is up the Florida Turnpike to I-75 into Georgia and back. The third option is up I-75 to I-10 to Mobile and back. Since it was Memorial Day holiday weekend I decided to ride to the USS Alabama Battleship to honor the soldiers who died in all past wars.
While looking over the map to see which direction I would go I was going back and forth as to if I wanted to ride or not. I was not sure why I was a little unsure but it kept coming back into my mind right up to getting the wing ready.
I had done two BBG's in the past to the USS Alabama Battleship back in January of this year and in 2007 during Thanksgiving weekend. I know it is a very doable route and I really like riding on I-10 in the panhandle of Florida. There are so many wide open stretches along that route that allow me to keep a good pace.
So the route was chosen and all I needed to do was finalize some preparation to the wing and load the USS Alabama Battleship as a waypoint.
The Route
When I got home from work I talked to my wife and she said it was okay to go for a long ride. She asked me where I said not far probably to north Florida and back.  J
I went into the garage to give the wing a once over and mount my new Spot 2 as I wanted to give it a good test to see how it well it works and to try out some of the new options Spot 2 has like custom messages. I looked at the AUX tank to be sure it was secure. Then I checked the tires and added a couple pounds to the front and rear. I like to run about 41 pounds each on LD rides. It does make the ride a little harsher but I get the best mileage out of the tires that way. Keeping the tire pressure around 40 pounds or so will give me over 18,000 miles a set.
I also mounted my Aerostich tank panniers with my hydration system. I have a one gallon rubber maid jug that I bought at Wal-Mart with a hole drilled in the top. I have plastic tubing coming out of that with a 90 degree bite valve. This setup has worked for me for many years and gives me enough fluids to last a day on the road. ( This will be tested ).
Wing With Hydration System ( Yellow Pannier )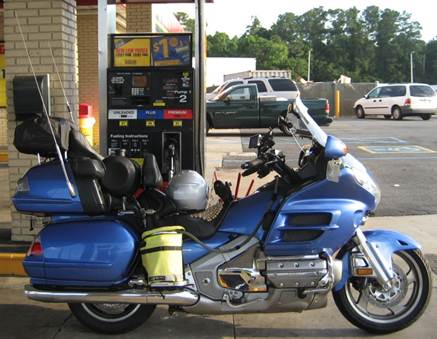 The last thing I needed to do was add the USS Alabama Battleship as a waypoint in the wing's on board navigation and in the Zumo 665. So the wing was ready and now I needed to get myself prepped and ready for bed. I put my riding cloths out on the chair in the living room so I would have them ready in the morning and not wake the wife while getting dressed.
I set the alarm for 3:30 AM as I wanted to be at the start a little before 4:00 AM. I live about a mile and a half to the Chevron I use for many of my IBA rides. I went to bed around 9:30 PM hoping to get at least 5 hours sleep. I had to use ear plugs as the wife was watching TV in the living room and my son was pounding away on the keyboard in the kitchen. I have pretty good hearing and it is hard to turn off the mind when I can hear sounds in the background. Heck, some nights the refrigerator keeps me awake.
The Ride
I woke up at 3:15 AM just before the alarm came on. I got right up and started getting ready. I was having some pain in my left shoulder and I had to take some Motrin before I even left the house. I was hoping this was not going to be a problem all day long. I put on some Brute so I would smell good the first 100 miles. This reminded me of what Richard said to me back in the 2007 Cape Fear Rally. "He said you're like a girl that I had to clip my nails and brush my hair at each gas stop." J
I opened the garage door and backed the wife's car out of the driveway so I could back the wing out of the garage. I grabbed my helmet and was out the door. I started the wing and checked the lights and turn signals to be sure everything was working.
I pulled out around 3:45 AM and headed for the gas station it was a quick ride. It was pretty warm out for that time of the morning. I arrived at the starting point and set the USS Alabama Battleship as my destination on the GPS and cleared out the trip data. I did a walk around of the wing for one last check. I had decided to take photos of each gas stop so I took my first photo of the ride.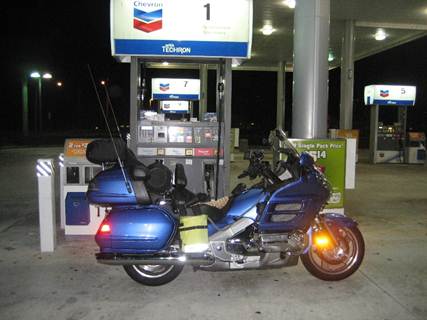 I wanted to get out by 4:00 AM as I wanted to be at the turn around point by 2:30 PM and it was 760 miles. I put my credit card in the pump right at 4:00 AM and bought 7.5 gallons of gas. My receipt said 4:00:51 AM as the start time. I checked the receipt and wrote my miles ( 84,469 ) on the back along with the time and weather conditions. I pulled on my helmet and headed for US 27 for the 10 mile ride to I-75. It was 74 degrees out and clear skies at the gas station. I only had 93 miles to my first stop as I needed to prove a corner of my route.
The ride across Alligator Alley ( I-75 ) was dark and foggy. There was some pretty thick fog in places and the temperature dropped all the way to 68 degrees. I was thinking I was going to need the electrics that I had left at home in the closet. J It was so foggy I was having a hard time looking for gators. I did see a dead big foot ( wild pig ) on the side of the road with about 20 miles to go on the alley. I was listening to a little Deaf Leopard on the jukebox and hoping the fog would lift so I could lift off.
The wing and Zumo 665 both have weather with radar and both alert you to weather in the area. I heard the wing announce rain with thunder and lightning in the area. I could see the rain on the radar off to the southwest offshore. It was putting on a pretty good lightning show.
I arrived at my first gas stop at 5:14 AM, 93 miles from the start. I wasn't even settled in yet and I had to get off the bike. I filled up the tank and went inside to take a quick bathroom break. I was back on the wing and headed out in 6 minutes.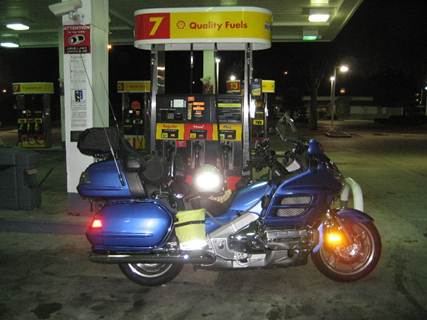 Back on the road with 300 or so miles to go to my next gas stop. I had left the fog behind and traffic was light. I was not sure what kind of traffic I would have on the route being it was a holiday weekend. I planned for the worse and hoped for the best.
At 7:00 AM I was coming into Tampa and it was 72 degrees and mostly clear. I had another 514 miles to go to get to the battleship. I was listening to Pat Benatar on the jukebox rolling up the miles. That girl had a set of lungs as she could belt it out. North of Tampa the traffic picked up, I guess it was a little holiday traffic headed north.
I made my second gas stop in Gainesville at 8:30 AM. I had only ridden 287 miles but I had to pee and was getting hungry. I filled up took and took 9.7 gallons of gas. I made a quick bathroom break and bought a honey bun. I had decided to eat it on the bike after I got back on the road. I had about an 8 minute stop and was back on the road.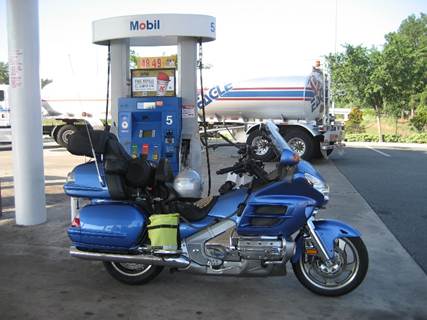 Back out on I-75 I started trying to eat my honey bun and man did I make a mess all over my face and glasses. Luckily I keep a rag close by so I was able to clean my glasses. It took about 20 miles to finish that honey bun.
Traffic was still a little heavy so I guess there were some holiday travelers heading somewhere. I made it to the I-75 and I-10 intersection at 9:20 AM and I had 334 miles to the battleship. It was 80 degrees and beautiful out. Once on I-10 traffic cleared out and it was easy riding.
I came up on a group of motorcycles about 30 miles east of Tallahassee and there was about 20 of them. It was the Outlaws or something like that. They were in the left lane going around 70 or so and there was a lot of cars in the right lane. I noticed ahead a lot of cars pulled off the side of the road with FHP troopers having a conversation with the drivers. J It was Click It or Ticket weekend and I think they were enforcing the law. It seemed the riders in the left lane noticed the troopers a little as they panicked and slowed down so quick that one rider had to veer left in to the medium. He road over a half mile in the medium before he was able to get it back out on the road. I am sure he was checking his pants at his next stop. We road about a mile and they all pulled off on to the shoulder to wait for him. I finally got by them but had to keep the pace a little slow as I was near Tallahassee and FHP troopers headquaters. The FHP troopers protect their territory either side of the city for about 30 miles.
I made it through Tallahassee with no problems and the weather was beautiful as it was 82 and sunny. About 10 miles east of Marianna I came up on four squids ( sport bike riders ) hammered down in the left lane. They were tucked in tight and moving. I waved as I went by in the right lane on cruise control with my feet up watching the Green Hornet and the water pipe bubbling. One of them looked kind of funny at me and pointed for his friends to look. J
I rode on by and got back to what I was doing when I noticed in the rear view mirror the four squids a little ways back and moving up. I guess they were trying to keep up and maybe a little pissed I had passed them while they were hammered down. I knew I was coming into a long stretch of wide open I-10 so I put my feet down and eased the throttle back and looked in the rear view mirror to see if they were keeping up. They were there but you could tell they were having a hard time. I thought what the hell, let's let the wing stretch it's legs a little and see what they got so I eased the throttle back a little more. I kept looking in the rear view and they started fading back. About 15 miles down the road they were not in sight. I kind of felt bad for those four squids I am sure when they got where they were going they decided not to tell their friends they got passed by an old man on an old man's motorcycle. J
At 10:45 AM EST I stopped for my third gas stop at DeFuniak Springs at a Chevron station. I bought 9.2 gallons of gas and took a bathroom stop. I was back on the road in less than 8 minutes. It was a little crowed at this stop as there was a popular restaurant right next to the gas station.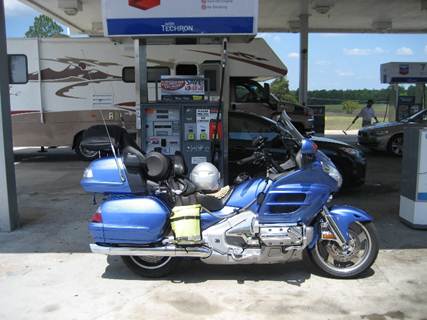 I now had 130 miles to go to the battleship and it was warming up a little as it was 87 degrees. Traffic was still good and I was making good time and I would soon be coming into Pensacola. I arrived in the Pensacola area at 12:40 PM and traffic picked up. It was now hot as it was 91 degrees. I had another 55 miles to go to the turnaround point.
Midway
I arrived at the USS Alabama Battleship at 1:23 PM. There was a nice size crowd of people there. I found a good parking spot up close to the gift shop and went in and bought a coffee mug as a souvenir and to get a receipt. I got back to the wing and took a quick photo with the battleship in the background.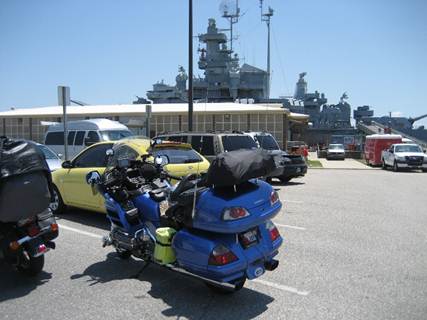 I moved the wing over by the B-52 to get a couple more photos.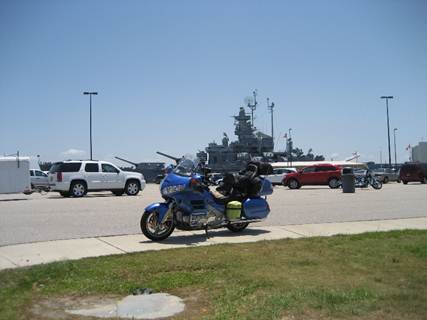 The Ride Back
I was at the battleship for about 10 minutes and quickly got back on the road. The ride back seemed to be a bit less eventful as I made just as good time as the first leg of the ride. It was now 93 degrees and officially hot. I crossed back into Florida at 2:00 PM and traffic was a little heavy with shoppers and holiday travelers.
I had a little bit of a tail wind since the turn around point and my mpg's were better. I made my first stop on the return at 3:44 and had traveled 315 miles since the last gas stop. I bought 10.5 gallons of gas. It was 95 degrees at the gas station. I took a bathroom break and bought an old breakfast sandwich and quickly eat it. I was back on the road in less than 10 minutes.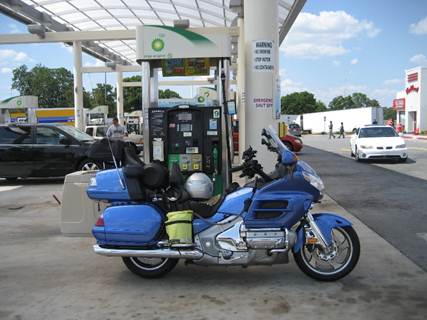 Ok, back on the road with 585 miles to go it was hot and getting hotter. It was 95 degrees and I was drinking a lot of water which is a good thing. I was testing out a new voicemail transcribing service called Dial2Do on this ride and I noticed I had stopped making calls to leave a message as often as I had been on the ride up. The reason was it was so hot I just was keeping my extra stuff to a minimum to conserve energy. It was a pretty uneventful ride all the way to Tallahassee. I slowed down about 30 miles out of Tallahassee because the FHP troopers are pretty tough in that area.
About 30 miles of so west of the I-75 and I-10 intersection it started to rain. I had noticed rain on the radar for the last 50 or so miles but it finally was raining directly overhead and I was glad. It really cooled off the temps then as it was hot. This made me feel a little better and raised my spirits. I reached the I-75 turn off at 5:43 PM and was glad to be on I-75 southbound.
I made my next to last gas stop at Pilot in Wildwood at 6:58 PM. It had been so hot riding across the panhandle I used up a lot more water than normal. I had to buy a gallon of cold water and refill my jug. I made this a pretty quick stop like the rest and was out in less than 10 minutes.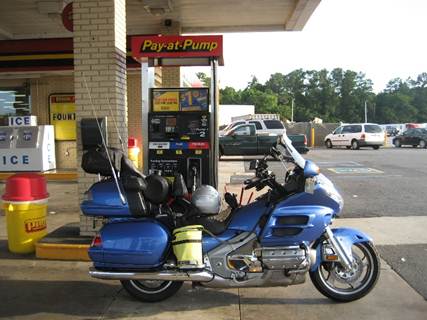 I now had 312 miles to go and the temperature had gotten back up into the middle 90's. In Florida in the summer it's not uncommon for it to be in the 90's even at 10:00 PM. I had one more gas stop to make to prove the last corner of my route. I was heading for a Shell station in Bonita Springs.
South of Wildwood and north of Tampa there is a stretch of I-75 that has some nice sweepers that are fun to ride. It's not the mountains but it's all we got in Florida. I really made some good time through that stretch of the road. I passed Tampa around 8:00 PM and traffic was not bad and was moving right along. I had been watching the radar and seeing a lot of heavy rain in southwest Florida right where I was going. There was a lot of red on the radar. I was hoping for it to move out before I go there. The one good thing is that it clouded up and the temperature started to drop and it sure felt better. I had been listening to some good rock n roll most of the ride but needed a little pick me up so I broke out the secret weapon, Sweet Tarts. J I had a roll handy just for occasions just like this. I popped a few and that was it. I knew I would have no problem making it now. I got into the rain around 8:30 PM and luckily the heavy stuff had dissipated some and it was just heavy winds and rain. I could see no problem and just had to back off a little on the throttle. I rode in the rain for about 100 miles or so.
I arrived at my last gas stop at 9:37 PM. I bought 6.13 gallons and took a quick bathroom break. I was back on the road pretty quickly.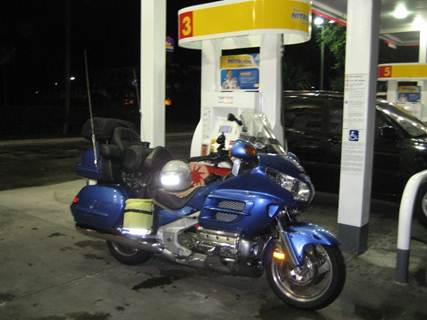 I now had 103 miles to go and a lot of time to do it in. I had to ride back across Alligator Alley and then to the station. By the time I made the turn on to Alligator Alley the rain had stopped and I was able to pick up the pace a little. I know many would think take it easy as you only have a few miles to go and a long time to do it in. But that is not me. I start like I finish and finish like I start. J
It was an easy ride across the alley and I did not see any big foots or gators. I arrived at the finish at ??:01 PM bought gas and got my finish receipt. Wow another great ride and I felt like I was ready for another.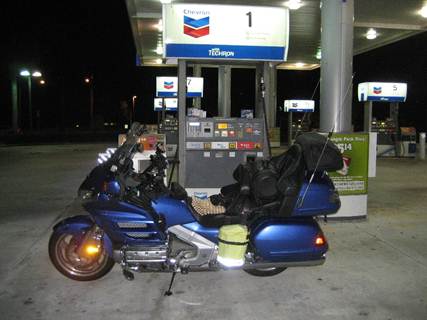 Here is my Spot tracking map courtesy of Jason Jonas and Spotwall.com.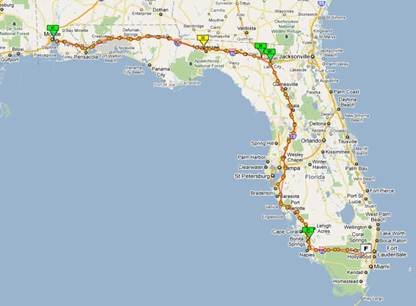 I did buy a nice souvenir for my collection.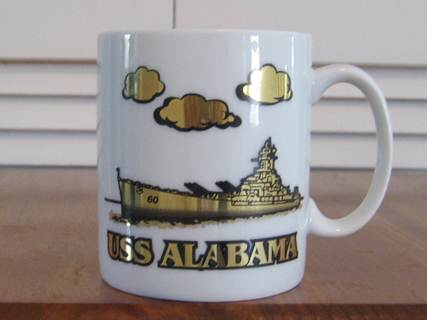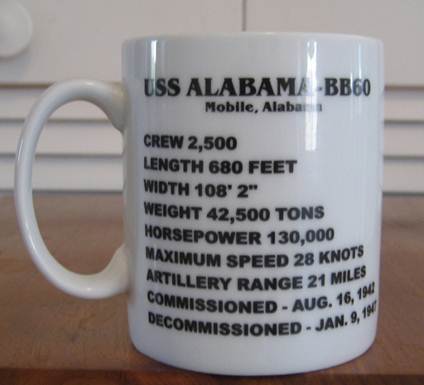 This was my 10th individual BBG and my 15th overall. I felt good and it was a very efficient ride. I think I am ready for my Trifecta attempt this coming October. Once I get this ride certified it will be my 21st certified IBA ride.
This was a great ride for all of the fallen heroes of America. I hope we never forget what they sacrificed for us!