2008 MTF Border 2 Border Ride Report
Greg Rice ( Travel_Man )
August 30, 2008
The Planning
Well I was ready to head out for the MTF B2B. It seems like a long time coming as I registered for the B2B back in March. The B2B was in my grand scheme of doing a lot of riding now that I have been lucky enough to be chosen for the 2009 Iron Butt Rally. So here is how I got to the MTF B2B.
Since I was selected for the 2009 IBR I knew I needed to get in more riding and to improve my stop times. One of my biggest needs was to be in multi-day rallies. I did not have the time to get away a week or more at a time to be able to enter the many good multi-day rallies so I wanted to do the next best thing. Ride!!!
I was attending the IBA National Meet and the MTF B2B this summer and since I live pretty far from both locations I decided to attempt BBG's to and from each. I decided to add one more BBG to my list and did a Florida in state BBG. I treated it like a rally and took photos of each gas stop.
Well I was successful with my BBG attempts to and from the IBA National meet. I received my certificate for the BBG to Tulsa at the meeting. I then backed it up with a BBG home to south Florida.
BBG To B2B Start
I live 1540 miles from Laredo, TX the start of the B2B so attempting a BBG was not a hard decision. I left out from my house at 6:30 PM after working all day. I was hoping to get out earlier but of course work got in the way. My plan was to ride through the night and arrive in Laredo the next day in the afternoon. My route was easy as it was up the Florida Turnpike to where it merges with I-75 and continues on to I-10. Take I-10 west to San Antonio and then take I-35 to Laredo. Not too much to remember. Don't really need a GPS for that.
It got dark pretty soon after heading out and the bugs on the Florida Turnpike were thick. By the time I got to Orlando I could not see through the windshield. Good thing I look over the windshield.
It started raining like hell around Ocala and rained all the way to I-10. The good thing about how hard it rained was that it cleaned the bugs off the windshield. :)
I hit the Tallahassee construction on I-10 late into the night when there was no traffic so I was able to blow right through.
Man it was dark on I-10 in the Florida Panhandle just the way I like it. I really like riding in the night. It is much cooler and hardly any traffic. The ride through the Panhandle was a lot of fun. I was yelling to myself how much I loved this!!!
I hit Mobile just before rush hour and had no delays getting through town. It was an easy ride through Alabama and Mississippi.
Just inside Louisiana you get on I-12 for a few miles to bypass New Orleans. Just after I passed I-59 I ran into Rob Wilensky on his Ultra heading for Laredo and the B2B. We stopped for a gas and talked for awhile. We rode the rest of the way to Laredo together.
We hit Houston early in the day and traffic was good and we had no problems getting through town. We stopped for gas at a Love's just outside of Houston.
About 50 miles out from Laredo it started to rain. It was not to bad at first but we hit a big thunder storm that had the rain blowing sideways and moving us all over the road. Just what we needed getting into town.
Once we got into to town I rode up to a bank next to the host hotel to get my ending receipt as I wanted to get an ATM receipt. Pulled up to the ATM and went to stick my card it and found the ATM was out of service. So now I had to find another place to get the ending receipt. There were no gas stations around but Rob had seen another bank on the other side of the Interstate. We rode over got my ending receipt and back to the hotel.
I finished the BBG to Laredo in just under 22 hours. Just about what I had planned. I did get terrible gas mileage with all the gas additives now being used. I switched to premium and my MPG's returned close to normal.
The Wait for the Start
We got checked in and looked around to see who else was there. We found that Jason was the only one there so far. We got cleaned up and had dinner with Jason. We noticed a couple other bikes in the parking lot by then but were not sure who they were. We saw one with an IBA sticker so we were pretty sure they were there for the B2B.
It was getting a little late and I had been up for 38 hours since I had ridden through the night. I headed off to bed to get some much needed sleep.
The next day B2B riders were showing up all day long. We found better parking that was inside the building. This later turned out to be a very good thing.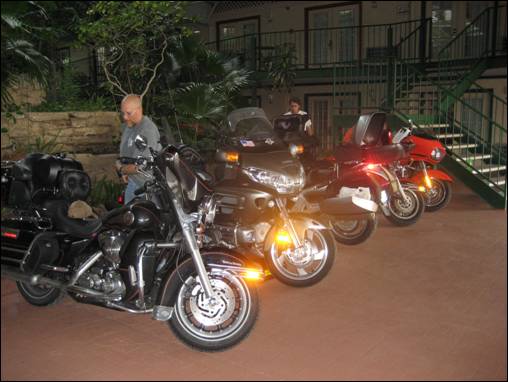 Nice inside parking
What a sorry bunch except of course the Super Barb!!
We spent the day doing last minute shopping by walking over to the local Wal-Mart and getting a few things like batteries and a new flashlight for me. Others took their Harley's or BMW's to the local shops for some love. Some wanted oil changes and others just wanted some luck. One B2B rider showed up on a new 2009 HD Road Glide. It sure was pretty.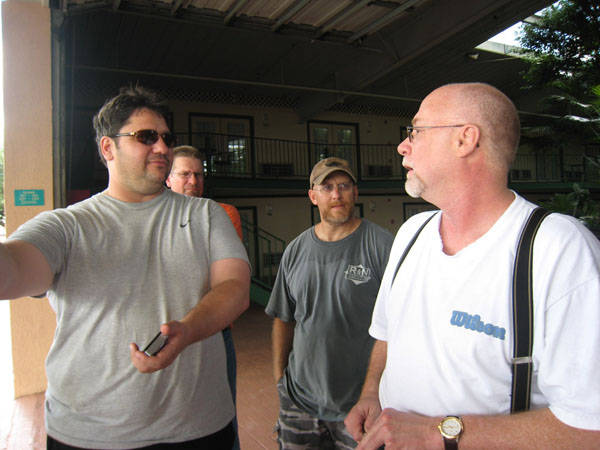 Jason doing what Jason does best!
Checking the air pressure one last time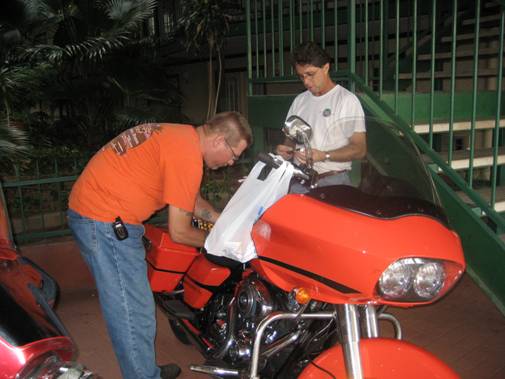 Helping create a bead seat
There was a pre-ride dinner at a restaurant about ¾ of a mile away. Half of us walked and the other half road. Dinner was great and we had a good time.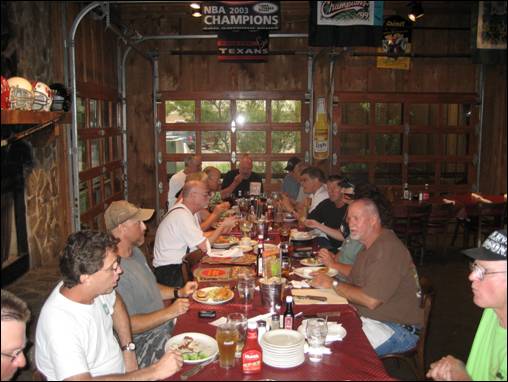 We all ate pretty good
Close to the end of dinner it started to rain and I mean rain. We waited around to head back hoping the rain would let up some. Well it did and we took off. About 5 minutes after heading back the rain came back even harder. The streets were flooded it rained so hard. We were getting splashed by the cars passing by. It was a tough walk back to the hotel.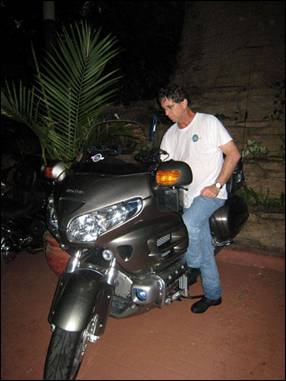 Soaked from the walk in the rain
After we got back and dried off some Barb started to sign our witness forms for the next morning. She also had some good cookies for desert.
Finally the B2B Ride Report
Wow the B2B what a ride and ride we did!!! I got to ride with the legendary Jason. It was like we were on a mission.
I got up around 3:30 AM to get ready to ride. I packed the bike took a last minute shower and headed down stairs to meet up with Rob and Jason. We were the last to leave the hotel and head for the border.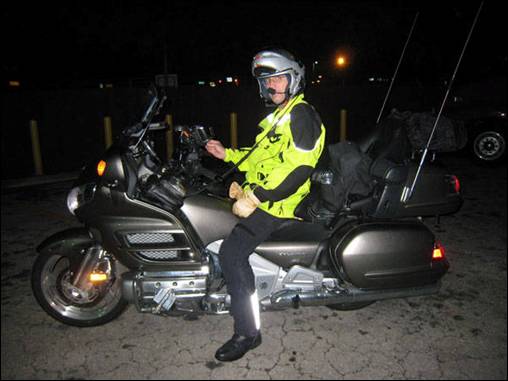 That's me ready to go in the hotel parking lot
We headed out to the border on I-35. It was about three and a half miles to the Rio Gran. I-35 dead ends at the border crossing so it was an easy ride to the border. We knew where we were going as the day before we rode down to check it out.
The Route
Nuevo Laredo to Emerson, Canada 1655 miles
We had to pay a bridge toll before leaving the US and when we crossed the bridge over the Rio Grand Mexican customs just waived us through. We were supposed to go into Mexico about eight blocks and turn left. Well I was leading and when I got to eight blocks it seemed like an alley so I kept going. Finally we came to a stop light and I asked Jason what he thought about turning left there and he said go for it. A couple blocks later I realized we were on a one way road going the wrong way. Just what we needed was to get stopped in Mexico! A few more blocks and we came upon a police car passing on the crossing road. They did not even look at us even though we were going the wrong way. A few more blocks and we should come to the end and have to turn left to head back to the border. Well we did come to the end but we could not turn left there as there was a big medium. We had to turn right going away from the border crossing. After about a half mile we came to a sign that said U-Turn for Laredo. We made the U-Turn and headed back to the border. I was feeling a little better now.
We had to pay another toll at the Mexican side of the bridge and road across the bridge back into US. US customs asked for my passport and was scanning it when the customs officer in the next lane yelled to let me go. I guess he had cleared a lot of B2B riders already. There were some super speed bumps that are after the US customs that are for real. I bottomed out on the first one. I had to walk the bike over the next two.
Great back in the US on I-35 heading north for Canada. I am already thinking what the hell are we doing. Who in there right mind thinks they can ride a motorcycle from Mexico to Canada in less than twenty-four hours. Hell, its 1650 miles much farther than a BBG.
On I-35 in Laredo a Laredo police car followed Rob and I most of the way through Laredo with his radar on. Thanks to the V1 and its providing which direction the radar is coming from I was able to keep us out of trouble before the ride even got started.
Out of town we ran into rain and mist and it lasted for the first 100 miles or so. Not bad just annoying. We passed a large group of B2B riders ( maybe 8 ) as we were the last to leave the hotel. A couple decided to tag along with us including Kit on his BMW LT. We only had one border patrol check point in south Texas to pass through that slowed us down some.
We rode through San Antonio with no problems as it was early Saturday morning. Coming into Austin was a little different as there were many motor cops with radar. The first one we came upon hit us with radar then turned it off so he could waive to us as we passed. Shortly after that we were under heavy fire from both radar and laser. We had visable contacts all the way through Austin. It was like a war zone the V1 did not stop beeping until we were far out of town. We did see one of the motor cops playing with his iPhone or iPod on the side of the road. The V1 worked well and kept us safe. I was wondering if they were waiting for the B2B riders.
Jason led most of the way through Texas and then we would switch up at gas stops.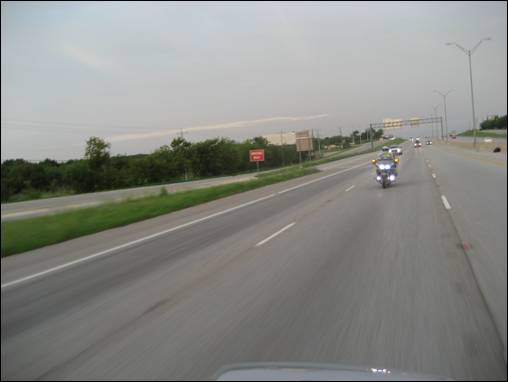 Following Jason in Texas
It was warming up now and I think at some point during the day got as high as 95 on my temperature readout on the wing. There was not too many more radar encounters until we got close to Fort Worth. Just the other side of Fort Worth the traffic really picked up. There was an Oklahoma Sooner game in Oklahoma and I guess a lot of Texans are Sooner's. The traffic was heavy all the way to Oklahoma City. We had to work pretty hard to keep up our pace.
We made our first gas stop at around 325 miles as the wing was sucking gas like crazy. I bought a little over 10 gallons. There was a bus load of Boy Scouts who was at the gas station who was slowing down the bathroom break. I had my trusty honey bun and we were off. Most of our gas stops were around 300 miles. I think one was around 250 miles close to the end.
After Oklahoma City the traffic really thinned out and we had only three or four more radar contacts the rest of the way to Canada.
In Kansas on the Kansas Turnpike we saw a burned out 18 wheeler on the south bound side. I guess that is where all of the Kansas troopers were because we had no contact with them in Kansas. In the Kansas plains the wind blew pretty hard and gave us our worst MPG's of the ride. It sure was beautiful riding through the rolling hills.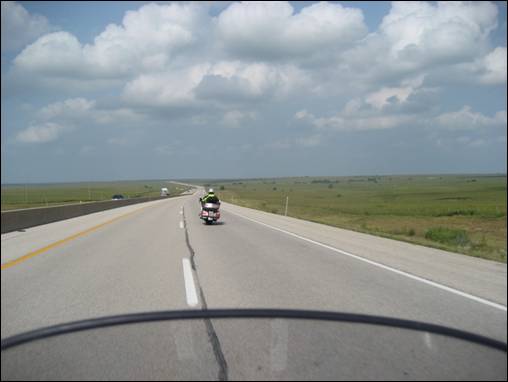 Leading the way through Kansas
I remember at one gas stop we came in a little hot and there semmed to be smoke coming off my rear tire. I guess we were making pretty good time. :)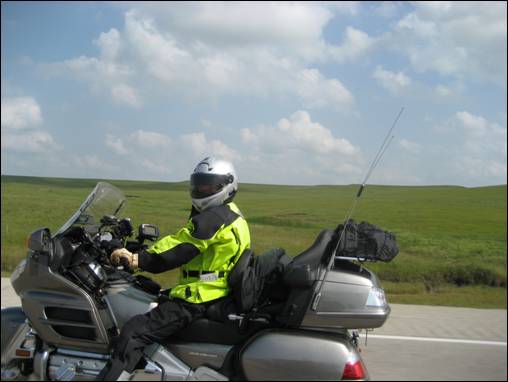 Me having a good time!!!
We rode I-35 up to Topeka and then took US 75 north. This road was much better than I thought and there was no traffic. We were able to keep the same pace as on the interstate. The ride up US 75 was about 110 miles where we got back on I-29 in Iowa. Man is I-29 in bad condition. I would have never thought it was an US Interstate Highway.
Shortly after getting on I-29 north bound in Iowa we saw an 18 wheeler in the ditch on its side. Traffic was not backed up much at all.
There were a lot of short construction zones on this stretch of I-29. In fact for most of the rest of the way to the Canadian border there was construction on I-29.
Once it got dark and we passed Sioux City there was no traffic only us out there. We would go long distances before we would see another car. Man is it dark in northern South Dakota and in all of North Dakota. It seems to be even darker than when riding the 100CCC in west Texas in the middle of the night.
Again there was a lot of construction on I-29. We had to exit off the highway a couple times at an exit and then get right back on as they were working on the overpasses.
We saw a couple troopers in North Dakota around Fargo and Grand Forks. Other than that it was mostly just Jason and I.
I was getting a little tired and we stopped for gas hoping to find the station opened so we could get something to drink to wake us up a little. The station was closed but the pumps were on so we bought gas and bought a coke out of a soda machine. The coke really did not do me any good and about 80 miles don the road I needed to stop again. We found an open station and I drank a Red Bull. Now I was ready.
Finally we came upon the border. Man it was a long ride to here and we had more to go. We came up to the Canadian Customs and they have a little window like at a fast food restaurant. The Canadian Customs officer started asking me a lot of questions and it was a little hard to hear with my helmet on. He was looking at my passport and asking why we wanted to get a receipt and then head back. I told him what we were up to and he looked at me kind of funny. Finally he said to park the bike and come inside. Oh great just what I needed. We had plenty of time but I did not want to spend it sitting in the Canadian Customs office. I sat for about ten minutes and then they gave me my passport and said have a nice day. During this time Jason was at the customs window getting his 200 questions. We both told Canadian Customs what we were doing ( IBA ride and needing a receipt to prove we were in Canada and return back to US ).
After entering Canada 22 hours after leaving Mexico I followed the GPS to the Scotibank in Emerson. We found the bank pretty easy and went inside to get an ATM receipt. We could not just get a balance receipt we had to take out some money to get a receipt. With our receipts in hand Jason and I congratulated each other and headed back to the border.
Once at the US Border checkpoint the US Border Patrol asked a lot of questions and said he had another rider already pass through about 10 minutes before us. The Border Patrol Officer asked if he could come out and check inside one of my saddlebags and of course I said yes. He came and had me open on of the saddlebags and then said okay have a nice day. I pulled up and waited on Jason. They did the same to Jason and checked one of his saddlebags.
That done we headed for the check in location to get our witness forms signed and check in. The location was about 5 miles back in the US. We arrived at the as station and saw another bike already there. Man I was thinking up got there before us. It was Charles Wilt. He had made very good time with his Sneakyleaker.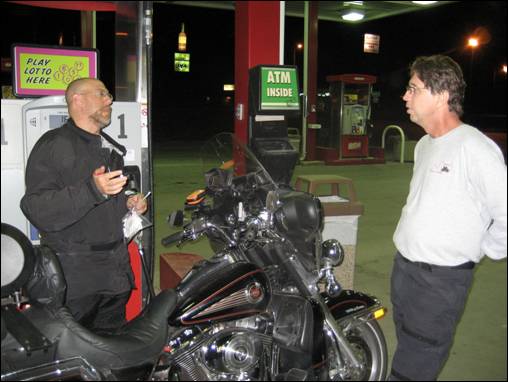 Rob at the Finish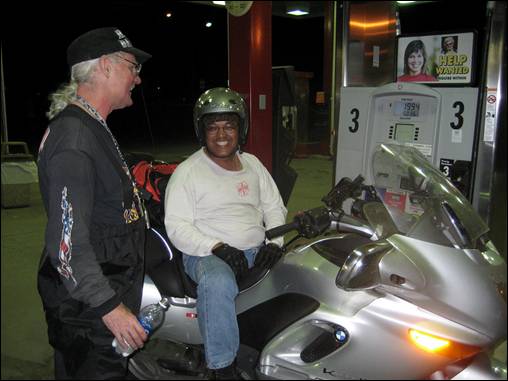 Charles and Kit at the finish
A little while after we arrived Rob arrived on his Ultra and then Kit on his BMW. We all did our paper work and headed off for our hotel to get some good sleep. It was now around 6:00 AM and we had been up for about 28 hours. We arrived at the hotel and they let us check in even though we were many hours before check in time. We checked in and all headed off to sleep after a little down time.
We all got up by 2:00 PM and we were getting hungry. Since this was a small town and Sunday all of the restaurants were closed. There was a grocery store a block away that was open so we decided to buy some hamburger and hot dogs and cook on a small grill outside the hotel. It turned out to be good food and a great time kicking back reminiscing about the ride.
Kit and Rob getting the grill ready
Full bellies and talking trash!
The End!!!
Thanks to Jason and Barb for the photos!!
Copyright © Greg Rice 2008