Greg Rice
Travel_Man
MTF 50CC The Hard Way
September 13, 2007
6100 Miles In 6200 Minutes ( 50CCTHW )
You figure it out!!!
This is my ride report for the MTF 50CCTHW ( The Hard Way ) that I rode September 13th and 14th along with twelve other riders. The 50CCTHW report is embedded in this report since I rode 6100 miles during my ride. Oh I also rode 1300 miles to get to the start of the ride a few days before the ride started. The 6100 mile ride just happened and was not really planned out. My original idea was to ride a 100CCCTHW. I had spoken to two other hard core riders and we were thinking about the 100CCCTHW. A week before the ride one had to withdraw and the day before the ride the other also had to withdraw from the ride. So I was thinking for the first 1500 miles of the ride what I would do. A couple calls home helped make up my mind at the 2000 mile point. The construction on I-80 also helped me make up my mind. I decided to change the ride and ride home from the end of the 50CCTHW. It was actually 120 miles farther than riding the 100CCCTHW. So that is how I got to the decision to ride 6100 miles. It is 3000 miles for the 50CCTHW and 3120 miles to my house from the end of the 50CCTHW.
Now for some legal stuff so no one takes offense.
Disclaimer: This report in no way is meant to harm any individual, group, association or anyone who may take offense to endurance riding. I release all members, groups and or associations from any liability related to this ride report. Some may feel it is immoral to take part in any of the activities mentioned in this report. This report is meant to be a fictional account of my ride. I did embellish some facts in this report so that it cannot be taken as how endurance riding should be done or how I rode this ride.
Disclosure: I will not be mentioning any other riderís names to protect the innocent or the guilty.
Disclaimer: Do not try this at home. This type of riding is only meant for crazy and irresponsible riders.
Disclosure: There may be some gory parts so if you are easily offended stop now.
Disclosure: All times are in Eastern Time unless noted.
The Beginning: I started planning this ride right after it was announce last October so I had plenty of time to prepare. I also bought a new 2007 Gold Wing in April so I knew I would have a reliable mount for the upcoming 50CCTHW. I did a few shake down rides like the Cape Fear 24 Hour Rally and eight SS1000ís that I did not document. I spent a lot of time getting the bike ready. As many know I have four GPSís on my Wing and I use all of them at some point or another. Getting all of the wiring completed was a pretty big job. I put on new tires and changed the oil three days before I headed out to New Jersey. I know the machine was ready but not sure of myself.
The reason I was not sure of myself was something that started on my vacation in August. I was on vacation August 1st to August 15th. I took my wife to Europe for her graduation present. She graduated in June with her Doctorate in Clinical Psychology. It took ten long years for her to complete. So she had a big vacation coming to her. We went to Madrid Spain for four days and then on an eight day Mediterranean Cruise which started in Barcelona and went to Sicily, Naples, Rome, Florence, Nice and back to Barcelona. From there we went to Geneva Switzerland for a couple days. So you see it was a big trip. On the third day of the vacation in Madrid I started to get sick, fever and bad headache. By the time we were on the cruise ship I was in very bad shape. I was peeing blood, fever, lots of pain and swelling of the testicles. I had an internal infection I know this because of something that happened in the past nine years before. I went to the doctor on the ship and he did his test and said yes I have an internal infection and gave me an antibiotic called Cipro. After a few days I started to get better. The doctor told me to go see my doctor as soon as I got home. We finished the vacation with me feeling somewhat better. I did miss many of the ports of call because I could not get out of bed.
When I got home I called my doctor and he said come right over. He gave me another prescription for Cipro and said I should get a CT Scan because of my past. Nine year ago I kicked cancers ass. I had a tumor growing around my kidneys and into my spine. I had major surgery to remove the tumor. I have a sixteen inch incision where I was cut open. They found the tumor growing into the spine and wrapped around the nerves to my legs. Well they decided to leave that part of the tumor in otherwise they would have had to remove the nerves also. They cauterized the remaining tumor and put about twenty staples in the area to close off the blood flow to the area so the tumor would not continue to grow. That was nine years ago and why my doctor thought I should get a CT Scan and because the symptoms I was having were similar to what I had nine years ago.
Well I had the scan and was surprised when the doctor called that afternoon. He said they found three masses, lesions or tumors. One in the liver and two in the bone in the pelvic area. This was fifteen days before the 50CCTHW ride. The doctor said that I needed a MRI and Bone Scan to get a better look at what was going on. So I did the MRI and waited for the report. I got the report the next day and the radiologist said he thought all of the tumors looked benign. This was great news. It was now six days before the ride and I needed to decide to go or no go. I was feeling better and really wanted to attempt this ride. Since I had to ride 1300 miles to get to the start of the ride I thought this would be a good test for me. So I hit the road the next day for my office in northern New Jersey. Okay thatís enough of the non-riding information letís get on with the ride report.
The Route: The route was pretty simple. It was I-80 New York to San Francisco.
<![if !vml]>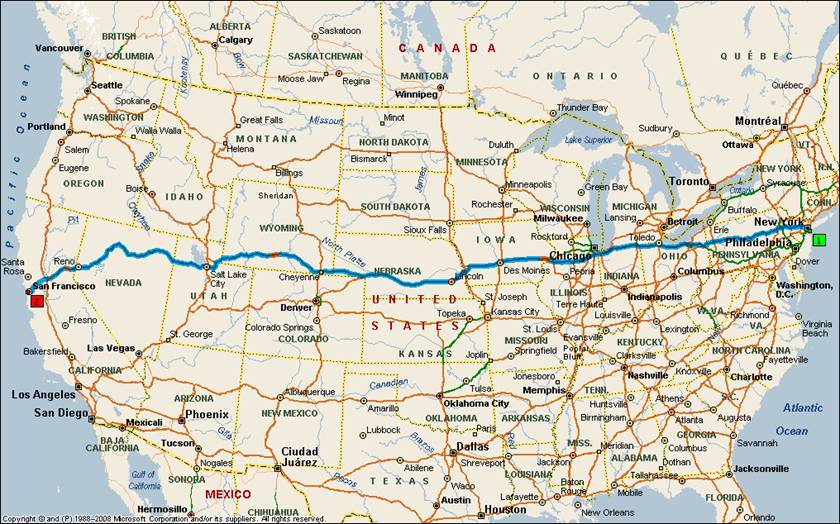 <![endif]>
Heading Out: I left Saturday evening ( September 8th ) for New Jersey around 7:00 pm. I left at night for a couple reasons one being I had a lot of work around the house to finish and itís not as hot as during the day. I also love riding at night. My plan was to ride through the night and get to the office in the afternoon the next day. The ride up was uneventful and was one of my quickest times. It took nineteen hours flat. I had three days in the office working before the ride. This also gave me time to recover from the ride up. I felt really good during those days and decided I was going to attempt the 100CCCTHW if the other rider was going to be able to make it.
Wednesday morning I saw the posting that the last one who was thinking about riding the 100CCCTHW was not going to be able to make the ride. I was a little down at the time. So this put a damper in my idea to attempt the 100CCCTHW.
Wednesday afternoon I left the office for the host hotel which was thirty-five miles away. It took about forty-five minutes to get there. When I arrived I saw there were many riders already there. I checked in and started to get my witness forms ready for the dinner meeting. By 4:00 pm it looked like all riders had checked in and we gathered at the restaurant. The food at Haroldís is good and in very large quantities. No one could eat all of their food. Some even packed some of the leftover food to eat on the ride including my riding partner. The start witness, Gregg Burger, signed all of our witness forms and wished us luck.
The rider I was going to ride the 50CCTHW with arrived right at 4:00 pm as he took his time coming up from the south. He never had thoughts of riding the 100CCCTHW as his wife was flying out to met him in San Francisco. We talked about our plans and what time to met in the morning. We had no planned stops and hoped to go around 300 miles between gas stops. We agreed to take turns riding in front. So basically every gas stop we swapped riders up front.
After dinner everyone gave the bikes a once over. I tested my ten dollar air pump from Wal-Mart and was surprised at how well it worked. I headed off to bed with a 3:00 am wakeup call scheduled. I was surprised at how easy it was for me to get to sleep as usually I can not sleep the night before a ride. I went to sleep still thinking I was going to attempt the 100CCCTHW.
<![if !vml]>
<![endif]>The Ride: 3:00 am came and the phone rang and I knew it was time to go. I dressed and packed the bike. I met my riding partner down at the bikes. It looked like we were ready so we headed out for the Mobile station on Coney Island, which was the starting location. It was about thirty miles to the Mobile. We met Gregg at the station and he rode with us over to the beach to get the sand and water. We needed someone to watch the bikes as Coney Island at night is not safest place in the world.
We were back at the starting location at 4:40 am and did our last pee stop and waited until a few minutes before 5:00 am to get gas and our starting receipt. Most of the other riders had headed out already so we wanted to get on the road.
Our route for the ride was I-80, so we needed to get to I-80 from the starting location. We had to cross the Hudson River and got to I-80 about twenty-five mile away. We took the easiest route to I-80 it was a little farther but we did not have to do a lot of turns. The ride started slow as we had to slow down crossing the bridge as they were escorting an oversize vehicle across the bridge. I was thinking to myself, I hope this is not a sign of the things to come. We took the New Jersey turnpike north to I-80 and headed west. We are going to ride I-80 from end to end.
There is a lot of traffic at 5:00 am in the New York City area but we made it to I-80 with no problem. It was clear and a little cool at the start. As we headed west in New Jersey it started to get cold. I had my Warm-n-Safe electric jacket on so it was no problem or so I thought. By the time we reached the Pennsylvania state line it was in the 40ís and I turned on the jacket but no heat came out. I felt around and found that I had plugged in the wrong cord. So now I was cold but did not want to stop until we needed gas. Our plan was to stop around every 300 miles so I had a ways to go before our first stop. I could not wait for the sun to come up so it would start to warm up. As we headed into Pennsylvania our elevation started to rise so it only got colder. I think it dropped to as low as 41 before the temperature hit bottom. Soon there after the sun started to rise and so did the temperature.
By 8:00 am I was ready to stop as I was still a little cold. We found a Travel Center of America and stopped. We had only gone 260 miles but I needed to get my jacket plugged in. When we stopped my riding partner said that he was freezing as he had not put his electric jacket on and was glad we stopped a little early. It was still only 50 degrees at this time. We gassed up, relieved ourselves and plugged in correctly and headed out. It was a ten minute stop.
We got back on the road and the temperature started to warm up some. I had told my riding partner to be careful when riding through Pennsylvania as they monitor their speed limit closely. Around mile marker 60 my riding partner and I had a little meeting with a friendly trooper. When the trooper walked up to my riding partner his first question was; "are we headed for San Francisco?" My riding partner was stunned and wondering how the trooper knew we were going to San Francisco? The trooper told us he had stopped an earlier rider and the rider told him about the ride and that more are on the way. Fortunately the trooper was good to us and we parted.
We finally made it through Pennsylvania and entered Ohio. The temperature was nice now in the 70ís. Our next gas stop was a little past half way through Ohio at one of the Ohio Turnpike services areas. It was 290 miles since our last gas stop. This was again a ten minute stop. Things were going pretty good except for the CONSTRUCTION zones. New Jersey had a lot of CONSTRUCTION on I-80, as did Pennsylvania.
I guess now is the time to mention the CONSTRUCTION on I-80. By our second gas stop we had been through twenty construction zones. Most were short distances but beginning to be a nuisance. By the end of the ride we rode through over sixty construction zones.
Back on the road, we came to the end of the Ohio Turnpike. Ohio was an easy ride but a little slower pace than we would have liked. They do not take EZ-Pass on the Ohio Turnpike at this time. We entered Indiana and its Turnpike. Again no EZ-Pass at this time. We stopped and got a turnpike ticket. There was not much of a wait to get the ticket thankfully. Not much in Indiana except their new animal warning system. On the Indiana Turnpike they have installed a system that is supposed to warn you of animals on the highway. I think it is mostly geared at deer based on the height of the infrared beam units mounted on poles along the highway. It looks like a good idea. When a deer pass through the beam, a warning lights comes on. We did not get to see it in action as there was no deer to be seen. It was also daylight. We came to the end of the Indiana Turnpike and paid our toll, again not to long of a wait. We had no gas stop in Indiana. We made sure to keep our speed close to the posted limit. Indiana was like Ohio, an easy uneventful ride.
We entered Illinois and had one more toll to pay for a small stretch on I-80. It was early afternoon and traffic was starting to pick up. The toll both only had a small back up. There was traffic, but it was not backed up but was also not moving at the posted speed limit either. The weather was great as it has been since the middle of Pennsylvania. In fact it was a little warm to me, I think around 85 degrees. Our next gas stop turned out to be in Morris, IL. It was 5:15 pm and the temperature was 78 degrees. This was 300 miles from our last gas stop. We made this another quick stop and hit the road wanting to make good use of the rest of the daylight hours. Traffic was good the rest of the way through Illinois and into Iowa. We were able to pick up the pace a little also starting in western Illinois.
Our next stop was Des Moines, Iowa, 285 miles down the road. It was getting dark and traffic was light. Up till now we had not seen any animals on the highway, which was good. I was not sure how it would be now that it was getting dark. We were able to keep the speed up all the way across Iowa as traffic was light and the speed limit is 70 mph. We made our gas stop in Des Moines and again another ten minute stop on back on the road. Traffic was pretty good through Des Moines with no major slowdowns except for the CONSTRUCTION zones. On to Nebraska.
Again I want to mention the CONSTRUCTION on I-80. It was terrible. It feels like they are working on every mile of the road. Iowa was not as bad as the rest of the states but none the less they had their CONSTRUCTION zones also.
We entered Nebraska and Omaha and came upon an accident that had I-80 closed. It had just happened and the troopers were just putting out the cones closing the road and forcing everyone off the highway at the exit. We were stopped for a while and then we were able to work our way to the exit. There was no one directing us which way to go to get back on the highway so we stopped for a couple minutes to look at the GPS and see where the next entrance ramp was to get back on the highway. All of the other drivers had the same problem but they probably did not have a GPS to help them out. We headed for the closest ramp to get back on I-80 and when we got there it was also closed. So back to the GPS and locate the next entrance ramp. It was about four miles farther. When we rolled up on the ramp we were smiling as it was open. We got back on the highway and could see the accident just behind us. We found out that the accident was a car hitting two construction workers and killing them. The road was closed for a long time. We were fortunate that we came upon it right after it happened before the traffic had time to back up. This added around twenty minutes to our time. This was the only accident on the ride that slowed us down. We were lucky in that aspect.
Back on I-80, we were making good time as the traffic was light. We only went 230 miles before our next gas stop in York, Nebraska. It was 12:50 am and 50 degrees. We made sure our electrics were working at this stop. This was a little longer stop as we discussed how far to go before our rest stop. We decided to ride a couple more hours and then find a cheap hotel for a couple hours of rest.
We made it to a Motel 6 in North Platte, Nebraska. This was 1540 miles from the start of the ride. It was 3:20 am and 45 degrees. We had been riding for twenty-two hours so far. We had another 1420 miles to go. We checked in got our receipts and unpacked the bikes. I was feeling pretty good about our time so far as we had ridden the hardest part of the ride in pretty good time. The rest of the ride was going to be open roads and higher speed limits. We took quick showers and off to bed. We had set a couple alarms to be sure we woke up in a couple hours. We got up at 6:00 am and had slept for two hours. WOW, I was hoping that would be enough for the rest of the ride which was going to take nineteen more hours according to my previous planning.
We still had plenty of gas so we jumped back on I-80 and headed west. It was still dark as it was only 4:30 am Nebraska time. We rode another 50 miles and then stopped for gas and something to eat. We stopped at Ogallala, Nebraska it was 7:30 am and it had warmed up fast to 65 degrees. We were at this stop for around fifteen minutes or so. It was still dark out.
I was surprised that we did not see any deer during the night. I was not sure what the deer problem was like in these parts. We did see a lot of small animals but no deer.
Back on the road, we entered Wyoming and the higher speed limits. I think the speed limit in Wyoming is 75 mph. I say I think because we did not look too hard for speed limit signs. We road another 300 miles before our next gas stop. We stopped in Arlington, WY. I was getting nervous before we came upon this stop as my gas was getting low. You see when I twist the throttle on the big wing it opens up and drinks gas like a town drunk. The wingís MPG drops down into the high twentyís when the pace is at the fun level. We had passed a gas stop at around 250 miles but it was too soon to stop. Right after we passed that gas station it looked like my gas gauge was in free fall. I started to search for gas stations on one of my GPSís. The closest gas was behind us and getting farther away. Finally a station showed up on the GPS about thirty miles down the road. It was called Arlington Outpost. I slowed down a little to conserve fuel. This was the first time I was worried about gas on the ride. I had taken the time before the ride to map as many gas stations as I could find and then load them into the GPS. I was glad I did as this as this stop was one of the ones I mapped.
When we got close to the station I saw an old broken down sign along the highway that said Arlington Outpost. Man was that sign old. I wondered if there was still a station there. If there was no gas at the Arlington Outpost the next station was thirty more miles down the road. We came upon the exit and I could see a couple old buildings but no gas station. It looked deserted and I was getting a little more nervous. We pulled off at the exit and stopped. We asked each other were was the gas station. We road around to the front of the buildings and saw some old gas pumps. No one was around and everything looked damn old and not used for forty years. We parked the bikes and I went inside and saw no one. I finally found a woman and asked if the pumps worked and she said yes like why the hell would they not be working? So we filled up and man was I was feeling better. Good enough to have one of my favorite honey buns and coffee. It was 11:00 am ( 9:00 am local time ) and 68 degrees. We took our time at this stop and had something to eat. Man was I glad this station was there and was open. This turned out to be the only time I was worried about gas on the ride.
We hit the road and headed west again on I-80. Wow is it beautiful here and the weather was perfect. The scenery was unbelievable. Riding I-80 in Wyoming is really nice. You can see snow on the mountain tops off in the distance. The road winds through some mountain passes with some nice sweepers for an interstate highway. It warmed up to the middle 70ís during the day. In my mind perfect riding weather. Traffic is pretty light out west on these roads. We only saw one or two troopers in all of Wyoming and they were not doing any hunting. Some day when I have more time I will come back here and do a little more riding at a more relaxed pace.
We road 265 miles before we stopped for our next gas stop in Evanston, WY. This is close to the border with Utah. We stopped at 2:30 pm and the temperature was 74. I know this because on my wing I have a pretty good outside temperature gauge and I write it down on the back of my gas receipts so I can put it on my ride log when the ride is over. This was a short stop for gas and other necessities.
Next gas stop will be in Nevada but we have to pass through Utah and Salt Lake City first. There are a few mountain passes that we had to pass over on our way to San Francisco and most of them were pretty nice. I-80 leading into Salt Lake City is a nice ride. Lots of twisties for an Interstate highway. We came upon a yellow Suzuki SV 650 in the twisties and passed him by. He decided to fall in behind us. The SV is a great bike for riding in the mountains. The next motorcycle we came upon was the new Kawasaki Connie. My riding partner and I were moving along at a pretty good pace on cruise control with our feet on highway pegs and I was watching a PPV movie from Direct TV on my GPS. We blew by the Connie in a curve as he tried to keep up. When we would reach a straight away the Connie would fly past us. Back in the twisties and we blow by the Connie again with the SV taking up the rear. Again on the straight away the Connie blows past. You get the picture. Not that my riding partner and I are good riders but we did give a good showing for the big old fat touring bikes even though we had already ridden over 2300 miles in the last thirty-five hours.
We could now see Salt Lake City. I was hoping traffic would not be too bad. It was early afternoon and there was some traffic but no backups. We made it through the city staying on I-80. It goes through town not around. On the west side of Salt Lake City we stopped along the lake to remove some gear as it was warming up and we were heading for the valley floor where it would reach 90 degrees. It was neat seeing all of the salt around the lake. We also saw salt factories with salt piled high. It is a beautiful place.
I-80 runs through the salt flats and right by the Bonneville Salt Flats, where they hold the speed test. In this area the winds really picked up here blowing around twenty-five to thirty mph coming from the west just left of head on. We were leaning into the wind trying to keep a good pace. I rode mostly in the left lane so I would have room to work with when hit by higher gusts which would blow me into the right lane. This lasted for sixty miles or so and was tough riding. It was also very hot.
We passed into Nevada and started to gain some altitude and cooler temperatures. My understanding about riding in Nevada is that you can ride a little above the posted limits with no real problems. There is not much along I-80 in this part of Nevada. It is 410 miles across Nevada and the only real city is Reno on the west side of the state. My riding partner and I picked up the pace even more once we entered Nevada. The road was in good shape, mostly straight and only a few vehicles around so we felt it was safe. We bumped up the speed a little more and I was on cruise control.
We stopped in Wells, Nevada at 6:00 pm after a long CONSTRUCTION zone. The temperature was 68 degrees and the weather was still beautiful. This was 255 miles since our last gas stop. We needed to stop sooner as the wing was getting drunk on fuel. It was a quick stop and back on the road.
We quickly got back up to speed as the road was again in good shape and we wanted to take advantage of the rest of what daylight we had left. We had been riding at this speed for quite awhile when I noticed a car creeping up on us from the rear. I was not sure if it was a trooper or what. I kept an eye on the car and slowed down just a little as my riding partner was not aware of the car. It took about fifteen miles before the car caught up with me and I realized it was just someone going a little faster than I was. I think the driver was also wondering who I was and took his time catching up to me. When the car passed he realized that I was not an LEO and he picked up his pace a little more. The car caught up with my riding partner who was in front and went on by him. My riding partner and I fell in behind the car following around a half mile back. We had a rabbit and we were going to use him. We rode like this for around 100 miles when the car pulled off at an exit. We eased the speed back down and keep going until we needed gas which was in Lovelock, Nevada.
The gas stop in Lovelock was only 242 miles since our last stop but man the wing was becoming a town drunk. I bought almost nine gallons of fuel which only left me with a half a gallon to spare. It was 9:00 pm ( 7:00 pm local time ) now. The temperature was 61. We talked a few minutes about the last 100 miles and then got back on the road heading for California. We were not sure if we would need to stop for gas before reaching the end of the ride. It was 325 miles to San Francisco from here.
A few miles down the road we saw the car we had been following earlier pulled over by a Nevada Trooper. They seemed to be mostly just talking so we are not sure what the outcome was.
We made it to Reno around 10:00 pm ( 8:00 pm local ) and breezed right through town with no issues. We then arrived at the US Custom Border check point on the California border and we were waived through. I guess we passed the look-see test. We stopped just past the check point and put on our electrics as it was getting cold and dark.
I-80 heading to Sacramento is in bad shape. It also is a mountain road with a lot of twist and turns. The right lane has deep ruts even though it is a concrete road way. There was a lot of traffic. It felt like riding the Dragon for seventy-five miles. It was the toughest part of the ride in my mind. I had already ridden 2600 miles and I was tired. Our pace was much slower compared to the past 1000 miles. I think we were only doing 60 mph most of the ride to Sacramento. We reached Sacramento around 9:15 pm local time. The ride through Sacramento was not bad. There was traffic but we were mostly able to ride the posted limit.
Now we are on the final 100 miles of the ride and I am feeling it. I know we are going to make it with plenty of time to spare. The road opened up with a less traffic. We were able to keep a 65 mph pace or slightly better in some places. Within fifty miles of San Francisco, you could start to see the city lights and my spirits were even better. I was no longer tired and was feeling great. The road is not in the best of conditions in California. In fact the road condition was the worst in California than any other state.
We had one more hard part of the ride and that was crossing the Bay Bridge. It is not really hard just tough getting through the tolls and on to the bridge. San Francisco is a beautiful site from the bridge. We crossed over the bridge with no problems and had a quick exit. We followed the GPS to the end point of the ride which was a Shell station on Lincoln Way.
I saw the Shell station at the last minute and pulled in up to the pumps. WOW, we made it. It took forty-five hours. It was 10:55 pm local time and 1:55 am east coast time. There were two other riders who had arrived two minutes before us. They had left the starting point in Coney Island before us.
We were all excited about completing the ride. We stood around talking about what happened along the ride. The MTF witness was not there so we started calling him. We left him a few messages and he called back and said it would take him about thirty minutes to get there. We had a soda and stood around talking. We were all still pumped up and not feeling tired at all.
I had planned this ride for many months and all of my planning said it would take forty-five hours and that is exactly what it took.
The MTF witness ( Jerry White )arrived and signed all of our paper work. We stood around and talked for a while with the witness for another thirty minutes.
All of the other riders were staying over in San Francisco and not headed for home for a couple days. I called home and after talking with the wife I decided to head for home and not attempt the 100CCCTHW. I was a little sad but knew it would be another day would come that I will make the attempt.
I did not want to stay overnight in San Francisco and fight the traffic in the morning so I hit the road and headed for I-5 south to Los Angles. Man was I feeling tired now. I had to cross back over the bay bridge and wind my way out to I-5. I headed south for about a 100 miles and found a hotel to stop.
Wow, now I am 3100 miles from home and only a couples days to get there. So I hit the road. I will add the ride home from San Francisco later as it was a longer ride and much harder.