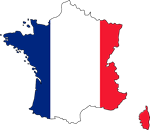 Support The French!
I have been trying to make it to Bite The Wieenie RTE for many years and this year I am finally going to make it. I have to be in Lake Elsinore, CA for a few days prior to Bite The Wieenie for work so I am going to ride out instead of flying. Since I live 2700+ miles to my destination I might as well attempt a IBA BBG 3000 to Bite The Wieenie RTE at Pinks Hotdogs in Hollywood, CA.
---
Some info on Bite The Wieenie RTE from Dean Tanji. Welcome to the 15th annual "Bite the Wieenie" at Pink's Hot Dogs in Los Angeles, Saturday, Nov 21, 2015.

This is the weekend before Thanksgiving Holidays AND it coincides with the Progressive International Motorcycle Show (IMS) in Long Beach, CA. The "Bite The Wieeenie" Ride To Eat is unique ... not to many riders can say they rode a 1,000 miles just to have a hot dog!! And if you're new or interested in the Iron Butt community, this is a golden opportunity to see long distance motorcycle rigs and talk to Iron Butt big dogs.
Pink's is an honest-to-goodness Hollywood icon, sub-cultural gathering spot and past IBR bonus location. Whether you're Mike Kneebone, Pope Francis, Lisa Landry, the Donald or Elvis, everyone waits in line. And the 1-hour+ wait at midnight for a $4.20 chili dog is a unique Hollywood experience.

Jacked up pickups, bouncing lowriders, Porsches, pimpmobiles, junkers and LD motorcycle rigs all share a miniscule parking lot while stretch limos and Hummers circle the block while their contents wait in the 1-hour+ line. Besides us LDRiders with ATGATT, it would not be unusual to see unique body piercing, facial tattoos, the best body modifications that money can buy, spikes and dreadlocks, prom dresses, grunge street wear and barefoot surfers standing in line.
---
I am heading out from home late Saturday night / early Sunday morning and I plan to arrive at the Holiday Inn Express in Lake Elsinore, CA late Monday night. I live 2700+ miles from my destination so adding another 300 miles was not that big of a deal, I hope.
I recently made the move to Bluetooth since Garmin came out with a new truck GPS with the ability to connect to a cell phone and a Bluetooth headset at the same time like the Zumo models. I bought the new Dezl 770 and a Sena 20s along with a Sena SM10 and I will be testing these on this ride. The Dezl 770 is connected by Bluetooth to my cell phone and to the Sena 20s. I also connected the Sena SM10 to the headset of the Gold Wing and then connected it to the Sena 20s by Bluetooth to get all of the audio from the Gold Wing including the navigation prompts from the built in navigation, radar detector, XM radio and MP3 player. In my testing ( about 500 miles ) everything has worked great. I even connected with Joe Green ( 2015 IBR Finisher ) by intercom with his Sena 20s over a 1 mile range and it worked well.
I will be riding home starting the Sunday after Bite The Wieenie RTE riding with Joe Green who is also riding out to Bite The Wieenie from Fort Myers, FL.
Below are two interactive maps that you can zoom in and out using the + and - buttons in the bottom right of the map and drag the map with a mouse. They show my planned route ( Google Maps ) and my current location with the use of a SPOT satellite tracking device ( Spotwalla ).
---
This is my planned route
---
This is my current location from Spotwalla